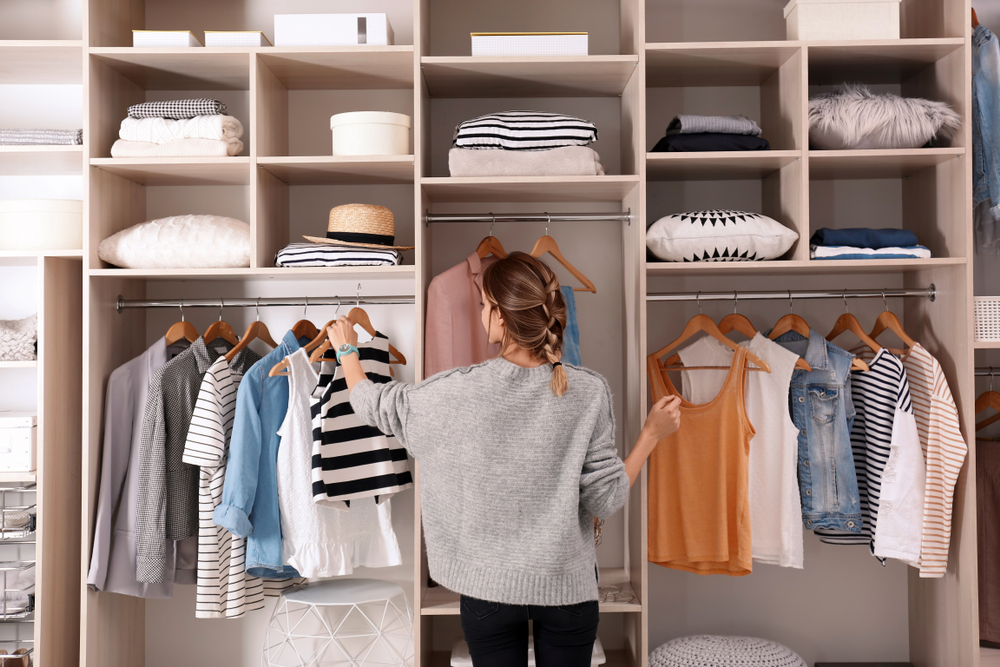 I've always been one of those people who loves systems and thrives with structure. List-making is my absolute jam, and I've been known to drop what I'm doing to organize under my bathroom sink "just because." I used to dream of using my obsession with order to create a house that rivaled those in Real Simple.
Once I had kids, the fantasy of having a perfectly organized home faded. We had more stuff and less time, so sneaking off to sort my sock drawer just wasn't in the cards. Overall, I've adjusted pretty well to a more "relaxed" version of organization (I only have occasional meltdowns), and channel my OCD energy into my day job.  
But after spending 8+ months dealing with the unpredictability of COVID and being confined to my home, along with two active children, my urge to organize was at an all-time high. (Where my fellow control freaks at?)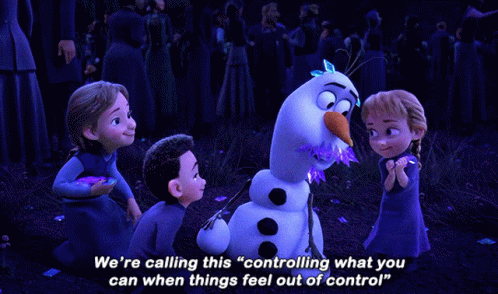 One night, while staying up too late and delaying responsibilities, I discovered The Home Edit on Netflix.
If you have also been living under a rock like I had and are not familiar with The Home Edit, here's the synopsis: Founders Clea Shearer and Joanna Teplin were introduced by friends because of their mutual love or order and efficiency, and after their first meeting decided to start a home organizing business together. Their Instagram page of color-coordinated eye candy quickly blew up and caught the attention of celebrities like Reese Witherspoon and Dan Levy. 
Their show on Netflix follows the bubbly duo as they take over a specific room in their clients' home and completely transform it, sometimes within only a few hours. Clea and Joanna's approach to "edit, categorize, and contain" their clients' spaces is also about creating a system that is easy to maintain. It's kind of like a next-level Marie Kondo, but much faster paced and without the whole "sparking joy" thing.
After binge-watching the show (I legit watched the whole season in three days), I was ready to take out a second mortgage on my home to purchase every item in The Container Store and organize ALL. THE. THINGS. 
But, after coming down to reality and realizing that, A. We don't have a Container Store in Jax, and B. I'm a working mom with limited time and budget, I was left trying to figure out how to organize in a way that works for me and my family. Following some failed attempts and enlightening discoveries in my organizing journey, here are some of my recommendations:
Give yourself a hard deadline for "The Edit." Getting rid of stuff may seem like an easy task, but it is a seriously arduous process, especially if you're planning on selling or donating items. It wasn't until our neighborhood decided to hold a garage sale that we finally got our act together. So, even if it's a fictional deadline, give yourself a timeframe to clear out that clutter before you dive into organizing.
Be prepared to make multiple trips to various stores to find the right bins, baskets, and boxes. Before watching The Home Edit, I figured professional organizers had some kind of sixth sense that allowed them to calculate the exact size and amount of containers needed for a job. Come to find out, they just buy a bunch of options and it's totally trial and error from there! Since most of us don't have the option to drop hundreds of dollars in a single trip, try one or two products from a single store — if you end up liking them, grab more! If not, it's much less to return. 
Use what you have and make it work. You'd be surprised at the amount of organizing you can do with items you already have on-hand. After upgrading the bookshelf in our kids' room, we decided to use the old one as a toy shelf in our playroom closet. It cost us nothing, and gave us so much more functionality! Using temporary storage containers like diaper boxes can also help bridge the gap in between purchases, and will help you gauge how much storage you actually need.
Tackle an area that you see and use frequently. For reasons unbeknownst to me, I tend to start organizing areas like cabinets, closets, and dressers first. You know what those things have in common? They can all freaking CLOSE and hide the clutter within them. When you're first getting started, I'd highly recommend organizing an area that will have the biggest impact on your day-to-day life. Are you a mom of multiples who spends a ton of time making meals for your crew? A pantry or fridge reorg may make the most sense to start with. Are you rocking that WFH life without a true workstation? Sounds like a room rework is your first step.
Be patient. Full disclosure: I am not a patient person. I do not enjoy taking on projects that take multiple days or weeks to complete. Unfortunately, unless you have Clea and Joanna on speed-dial, or are best friends with a professional organizer, it will take a while for you to see progress in your organizing projects. Don't give up! Keep chipping away at that goal, and you'll get it done.
Don't count on your kids caring about (or following) the system you create. As much as I'd love to tell you that a system of organization will magically make your kids put things away in the right place, you and I both know that's a stretch. While it certainly does help kids to have a system, make sure you consider what's practical for your kids based on their age and personality. I may have gotten a little overzealous with organizing my 5-year-old's T-shirts in color order. Case and point, the before and after about a week…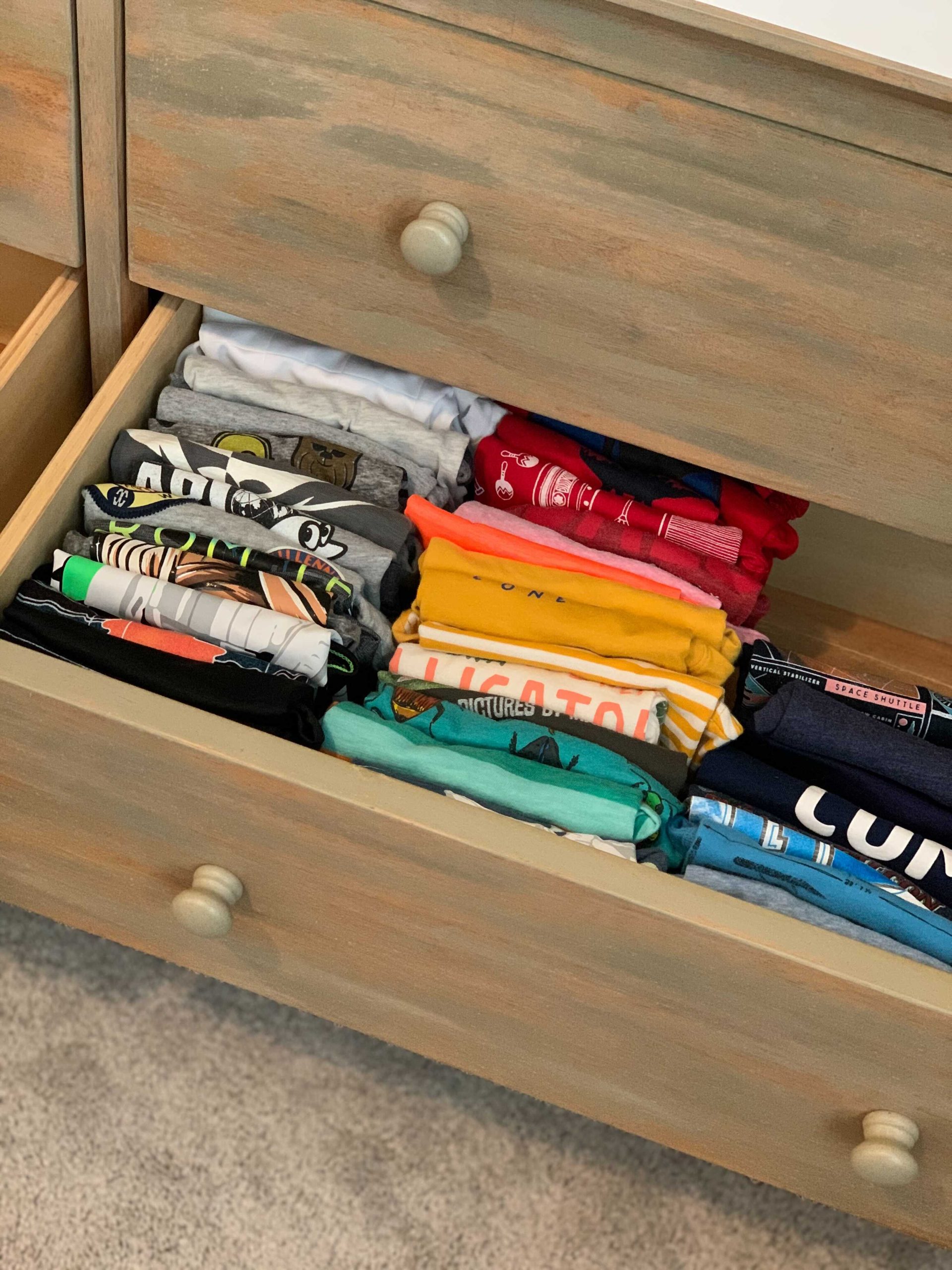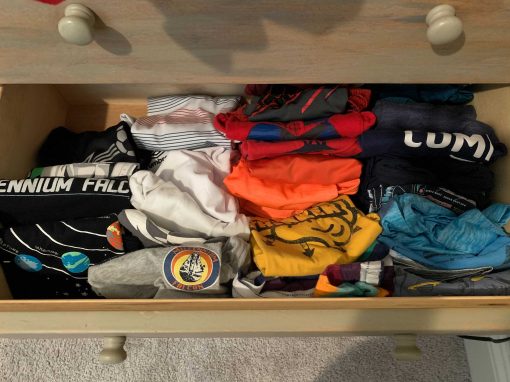 What are your tips and tricks for organizing like a mother?