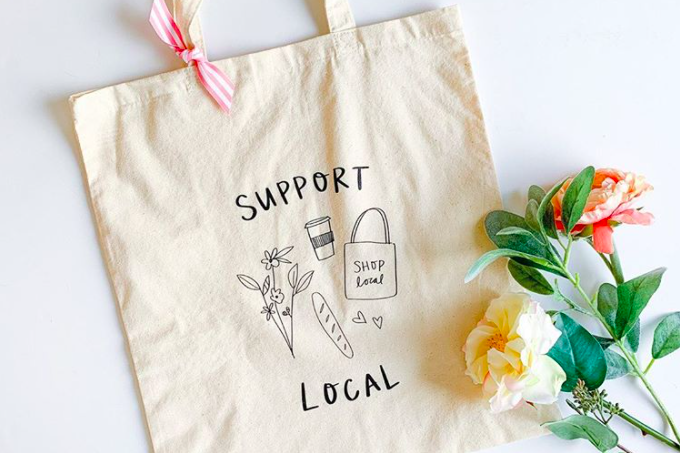 I may be partial (full disclosure, I own a small local shop) but shopping in a real, locally owned store is so much fun! I love visiting a place that a real person has poured their love and energy into and finding exactly what I was looking for or something I didn't even know I needed — but can't live without. I get overwhelmed at the options available online, and I love knowing that if I walk into my favorite local boutique they will have already combed through everything and selected only the best items. Plus, money spent locally has a much bigger impact than money spent with a multinational giant. 
For every $100 you spend locally, an average $68 of that stays in your community. Compare that to virtually nothing staying local when you shop a big e-tailer. Most of the time, you won't pay much, if any more, for the same or better products, and the money you spend has so much impact. Did you know that local businesses support charity at more than twice the rate of national chains? When you shop small, every purchase makes a big difference. 
But, like so many other moms over the past few months, I haven't had much opportunity to browse local boutiques and have embraced online shopping more than ever. Much to my surprise, I discovered online shopping can be fun, too! Even with stores open, it is nearly impossible to get away from the kids long enough to actually enjoy a shopping trip, but I can browse an online store uninterrupted every night after they go to bed.
Also worth noting? Shopping locally or shopping online isn't an "either/or" proposition. Many local shops now have great e-commerce sites, so you can have the convenience of shopping at home with the same personalized service and community impact. You've probably seen the meme that says, "When you shop local a real person does a happy dance." Well, when you shop local online, a real person does a happy dance every step of the process — from choosing the items, to putting them up on the website, to fulfilling your order, to shipping off (or even hand-delivering) your package. 
Ready to have fun shopping small online? Here's a roundup of some awesome local businesses in the Jacksonville area that would love to happy dance while packaging up your order!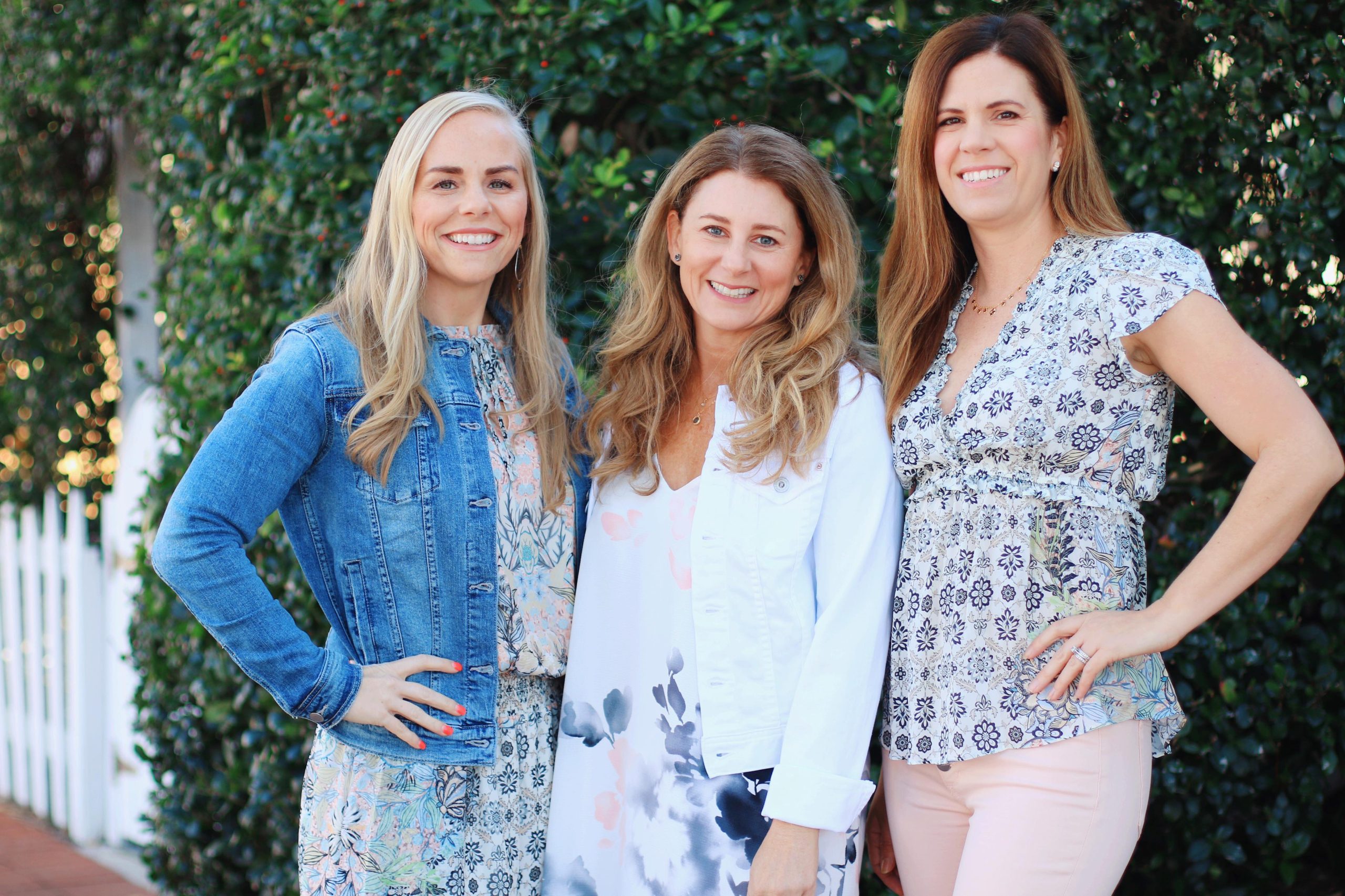 Clothing
Cabana Life, headquartered in Ponte Vedra Beach, offers fun and fashionable sun-protective clothing and swimwear with 50+ UV protection.
Colie's Clothing and Gifts is a cute little shop located in Fernandina Beach with a cute website to match. They offer a wide range of casual clothes and accessories at reasonable prices. 
Fig & Willow boutique in Neptune Beach features stylish women's tops, bottoms, and dresses, as well as locally made jewelry and accessories.
Jaffi's, also located in Neptune Beach, is another women's clothing boutique that offers a hand-selected but extensive collection of fashion-forward styles.
Katherine Way is a line of dresses and golf attire made in the USA and headquartered in Jacksonville.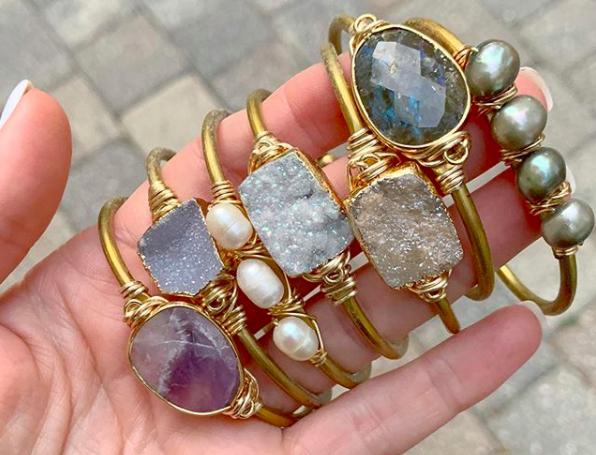 Jewelry & Accessories
An Unlikely Pear is an online-only shoe store out of Jacksonville Beach that aims to provide the same extra touches and specialized customer service as a small local shop. 
Anney Life Designs boasts handcrafted leather bags, wallets, and accessories designed by Jacksonville native Annsley Edwards.
Elizabeth Sarah Collections features one of a kind pieces of jewelry or items made in extremely small batches.
Couture Jems offers handmade and customizable jewelry designed and created by local designer and mom Julianne Elise Marie (JEM).
La Socique Studio is run by mother of two and jewelry maker Kimberly Hanna Wallace, who makes one-of-a-kind jewelry while minimizing environmental impact by working with recycled metals and found sea glass.
Carrie Wilson is a local makeup artist and who sells her own collection of high-quality cosmetics online.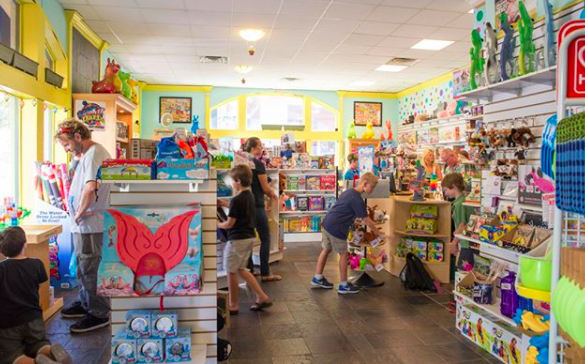 Children
Villa Villekulla Toys is a classic but funky toy store located in Fernandina Beach. You can find a wide selection of toys for kids of all ages online, and I'm the one who'll be happy dancing while packing your order! 
Happy Bug Boutique is a stylish and affordable girls' clothing boutique owned by a local preschool teacher and mom of three.
Hobbie Horse Boutique in Avondale offers a wide selection of classic, high-end layettes and children's clothing and accessories. 
Kyds Children's Boutique in Neptune Beach offers fun children's fashion and accessories from newborn to size 16, in addition to shoes and toys. Patrons can currently shop their Instagram!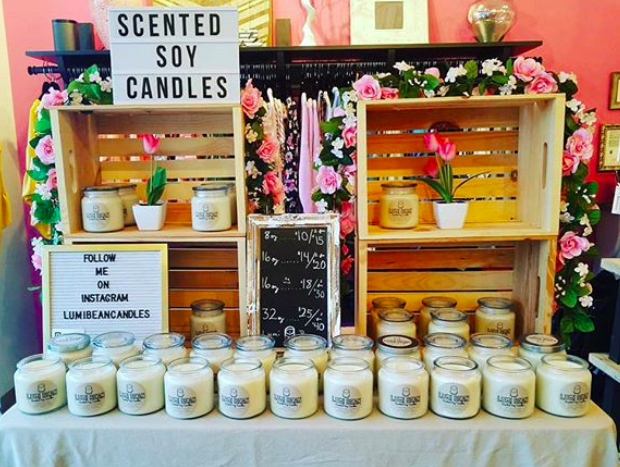 Groceries & Home Goods
Traders Hill Farms is a sustainable aquaponics farm located in Hilliard and offers bread, eggs, lettuces, herbs, and more available for purchase online. 
Front Porch Pickings features customized boxes filled with fruits, veggies, and other goodies from local farmers delivered to your front door. Everything from grass-fed beef to local kombucha is available.
Lumi Bean Soy Candles manufactures scented soy candles right here in Jacksonville and will ship or deliver. With scents like Honeydew Melon and Quarantine & Chill, you can't go wrong.
Bold Bean Coffee Roasters is allowing Jacksonville's own Bold Bean Coffee, as well as merchandise, coffee filters, and equipment to be delivered right to your door. 
Stubbees is known as a "hive-derived apothecary" and offers everything from local honey and elderberry syrup to soaps and tableware in their curated online shop. 
Declaration & Co is a stylish clothing, accessories, and gift shop located in Avondale and offers everything from teas to tumblers and candles, as well as a selection of cute printables and downloads. 
JaxCo Furniture offers stylish furniture at really reasonable prices, and much of their huge selection is available online. 
SIC CUPS is based in Jacksonville, and these triple-layer vacuum-insulated stainless steel tumblers will keep your cold drinks cold and hot drinks hot for hours.
Are there any local online retailers we missed? Sound off in the comments!