Name that tune: "When I'm gone, When I'm gone, You're gonna miss me when I'm gone." Those lyrics are from Anna Kendrick's rendition of "Cups" in the movie Pitch Perfect, in which she enhances the song with a beat of cups. It's a beautiful tune, but if you're like me, you have a different perspective on cups. You're tired of sifting through a cabinet sea of unmatched drinkware, loading and unloading the dishwasher, and waiting out the drying rack. We have a love/hate relationship with these things, and on a daily basis we think, what is UP with all these cups?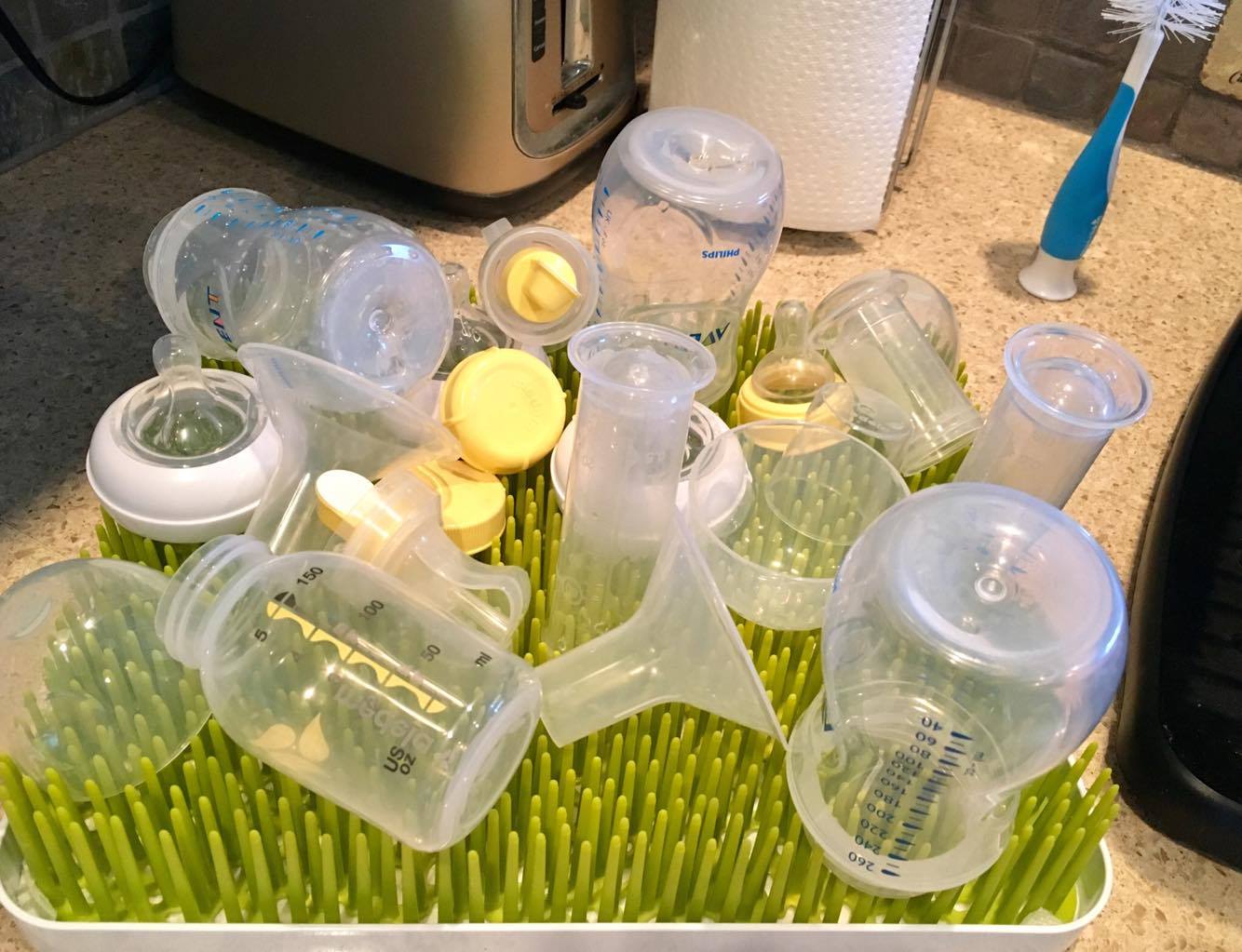 Baby Bottles 101: No matter which route you take to feed your little one, many of us look forward to the day when we can look longingly into our baby's eyes and feed them a bottle, or pass the duties off to daycare, daddy or grandma, head to work, grab a nap or head out for a kid-free shopping trip. We have an organized array of bottles we researched, put on registries, washed and steamed to fill with "liquid gold" breast milk or the gentle powder. We even had all the warming accessories ready to put into action. When they hold it in those tiny hands, oh the feeling they can do something on their own. From slow flow to fast flow, BPA-free, pumping accessories, formula scoops, bottle brushes and more — we know what an absolute chore it is to keep up with all the parts and keep them clean during those sleepless months of early parenthood. Lose the coin toss? You're washing bottles tonight.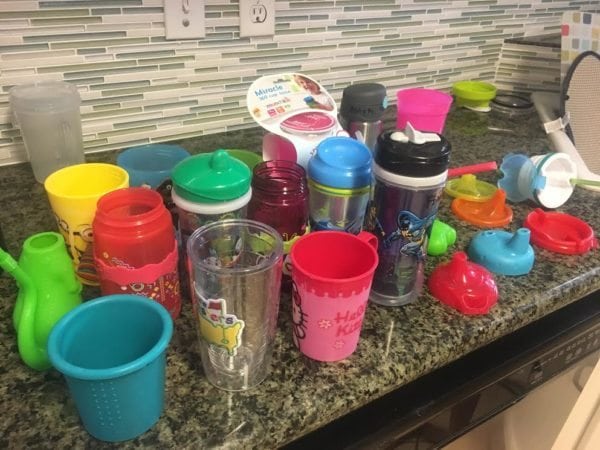 Sippy Cups 102: Once you "graduate" from the late-night bottle washing, you move on to sippy cups. I can tell you I have yet to find a sippy cup that passes the doesn't leak, easy-to-wash test. First, there are the tiny plastic stoppers that come in all shapes and sizes and are different for every cup — WHY? Those stoppers are the key to being the leak-guard, and they're small and usually clear, and magically disappear to sippy cup Heaven on a daily basis. They are also known to break a garbage disposal. And cleaning, don't get me started. From hand washing with too much dish soap, to going in the dishwasher only to come out soaking wet or missing parts, sippy cups are one of motherhood's worst nightmares. And the ones with characters? If your 2-year-old loves Paw Patrol today, but Mickey Mouse tomorrow, you better have an arsenal of characters ready at their demand or it may be the end of the world as we know it. I think my family also loves to collect the rare sippy cups — we currently have curated a collection of different brands with different tops and some tops with no bottoms and bottoms with no tops. These things disappear faster than Halloween candy and only if you're really lucky will you find a long-lost sippy cup under the seat of the car after a warm Florida day.
Water Bottles 103: The water-bottle-type flip cup. Once your child hits preschool it has been known to move on to the water bottle cup. These come with straws, flip tops, those pesky plastic stoppers — and a variety of their own issues. Lose a straw? It's over. They rarely fit in the lunchbox pocket designed to hold a water bottle, and they can magically leak in the backpack water bottle pocket and soak the backpack. Sometimes you toss that backpack on your shoulder unknowingly and soak your behind on the way into school. And labeling? Do you Sharpie or use a customized name band? Whatever way you go, you better label or your child's BFF or teammate will be walking away with your water bottle, and you'll be hitting up Amazon Prime after bedtime to order more.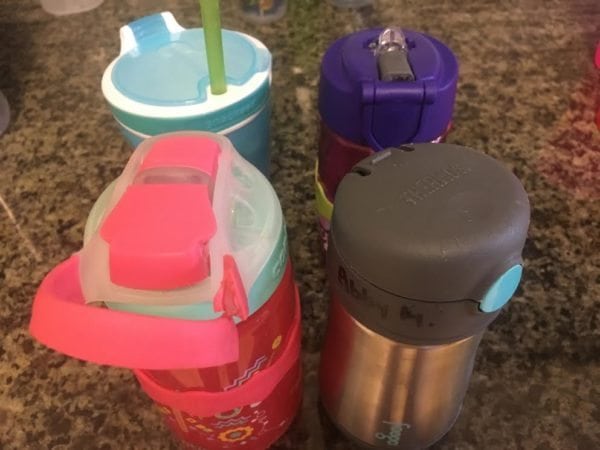 Regular Cups 104: The regular cup. If I spent as much time teaching my child how to use a regular cup as I did searching for the perfect bottle or sippy cup I would have been binge watching Netflix or doing mani/pedis everyday long ago. Yet I still find myself wiping up the floor spill after spill, wondering of the day when I will only have regular cups in my life with no spills and no more kids cup to order at restaurants, and more countertop space. And using the glassware collection that was given to me as a wedding gift years ago? Not even my husband uses those. And no matter how many cups your child has in their "collection," they always love whatever mom's drinking best.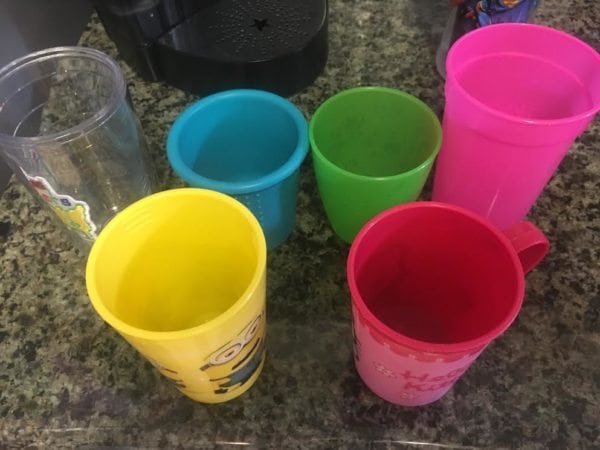 Whatever your cup situation, I know I'm sure gonna miss those baby bottles, sippy cups and water bottles when they're truly gone, but in the meantime, I'll keep washing parts and searching for the perfect one, and trying to find humor and sanity in all these cups! 84f3564fd6495ec934e5716f57d2ea3563a863fdabca6c66f0