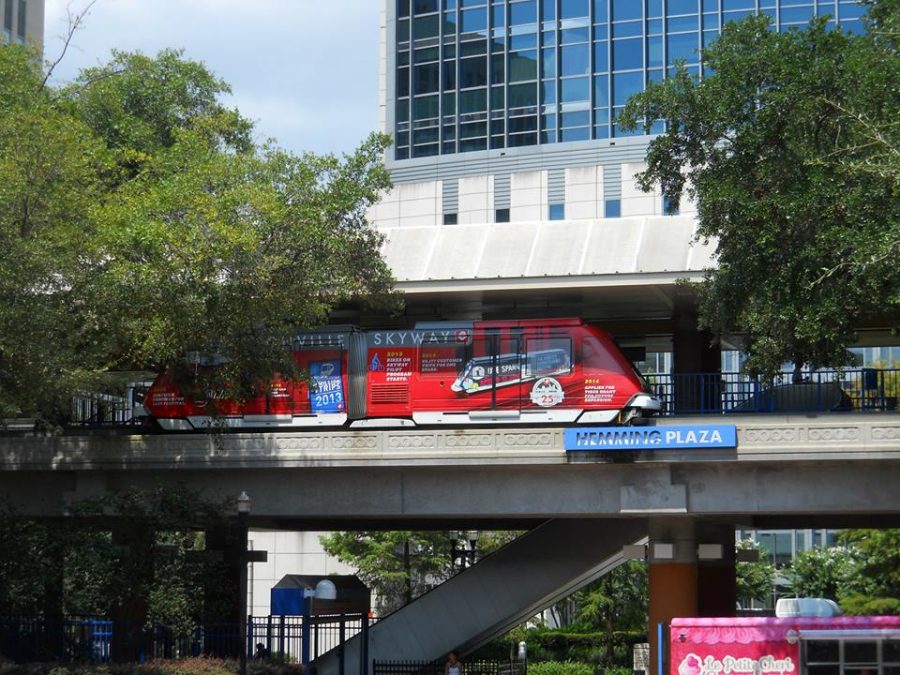 Downtown Jacksonville is a great place for families; there are tons of things to do, from museums and parks to amazing restaurants that are both kid-friendly and sure to please even the most devoted foodies. Even better is that there are plenty of free activities to give you an entire day of fun, including the Jacksonville Skyway!
Where To Start on the Jacksonville Skyway
There are lots of stations to choose from, but for me, the best place to start is at the San Marco station. Located at the corner of San Marco Boulevard and Mary Street, within walking distance of MOSH, Friendship Fountain, the Prudential Building, and River City Brewing Company, there is ample parking available, and you can easily get wherever you need to go on the skyway loop. But make sure to pay attention; you will likely need to change trains when you get to Central Station.
Currently, the skyway runs — for free! — Monday through Friday, from 6:00am until 9:00pm. It's also open on weekends for special events, so if you're making a weekend trip, make sure to check the schedule first. If you have kids using a stroller or have children with special needs, there are elevators available, in addition to the escalator and stairs.
What To Bring
If you're planning to spend the entire day downtown, then of course, you'll need to bring your typical essentials: diapers, wipes, a change of clothes, snacks, and whatever else your family will need. But it's also a good idea to bring some other goodies. If you're members of the Jacksonville Public Library (and you should be!!), then make sure to bring your library card so you can take advantage of all the fun. It's also a good idea to bring your camera because you know there will be tons of adorable photo ops as you explore downtown.
Where To Go
The great news about downtown is there is no shortage of things to do. Even just riding the skyway is enough to thrill my littles; they love riding the train, looking at the river, gawking at the skyline, or checking out sites like the Prime Osborn Convention Center, which used to be a working train station! But when you're finished flying through the sky, there are plenty of fun things to do on the ground, too.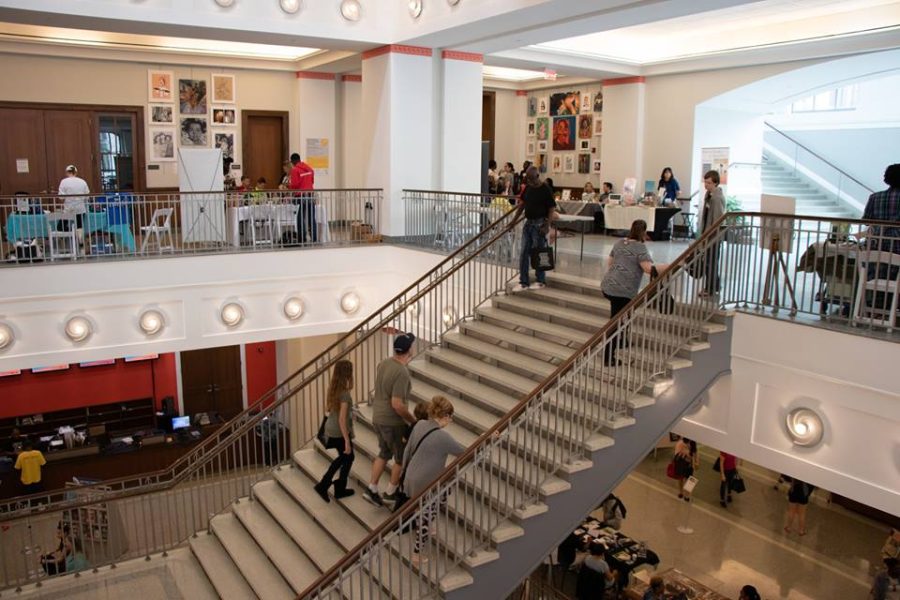 The Main Library can be accessed by getting off the skyway at the Hemming Plaza station, and while every branch of the Jacksonville Public Library is wonderful, the Main branch is simply incredible. From incredible murals to comfy crocodile couches, your kids will be thrilled the moment they see it all. While you're there, in addition to the usual checking out books, you can pick a Traveling Tales kit to take home, which includes books, puppets, songs, craft ideas, snack recipes, a music CD, a DVD, and a flannel board story, all set to a theme. There is also a Summer Reading Program, storytime, and even the chance to become a Green Team Energy Detective with JEA!
After you've had your fill of the library, you can walk right over to Hemming Park, where is often something fun going on. Depending on the day of the week, you can check out the Jacksonville Art Walk, which is free and includes a Kid Zone, or any number of free festivals and celebrations. The Museum of Contemporary Art also offers free admission during the Jacksonville Art Walk!
If you exist at the Jefferson station, there's a little-known treat in store for you there, too. On Forsyth Street, you can stop by the Sally Corporation, maker of dark rides and animatronics, and take a free tour on Tuesdays and Thursdays most of the year (but be sure to make a reservation!).
If you get off at the Rosa Parks station, you can go by Cancer Survivors Park, which features scale replicas of Jacksonville's seven bridges, and then walk to the Ritz Theater and Museum, where children under three are free, and an adult ticket is less than $10, and learn about the incredible African-American history and heritage right here in Jacksonville.
Crossing back over the river again, you can stop at Riverplace station, and stop at Treaty Oak Park. It's a perfect place to enjoy a picnic lunch underneath the majestic branches of the 200-plus-year-old oak tree, and then head over to the Riverwalk, where you can make your way all the way down to Friendship Fountain, and maybe even spot some dolphins along the way. And then, you'll be right back where you started again, making it easy to head right to the car to pack your kids, surely exhausted from their free and yet still fun-filled day, into the car and go home.
Be sure to check out Skyway Saturdays, too! Friends of Hemming Park and our Downtown partners for a full day of family fun in the heart of Jacksonville! The Jacksonville Transportation Authority (JTA) will operate the Skyway one Saturday each month to provide free rides and convenient parking for all of our guests. Start on the south bank with a visit to Museum of Science & History, Jacksonville; hop on the Skyway for a trip across the St. Johns River to attend events and participate in activities in Hemming Park, at MOCA Jacksonville, at Jacksonville Public Library and Sweet Pete's Candy. Shop at Wolf And Cub and Chamblin's Uptown and finish the evening at a Hemming Park signature event with free concerts, food trucks and more. Check our individual event pages for all of the details.
What are your favorite things to do on the skyway loop?