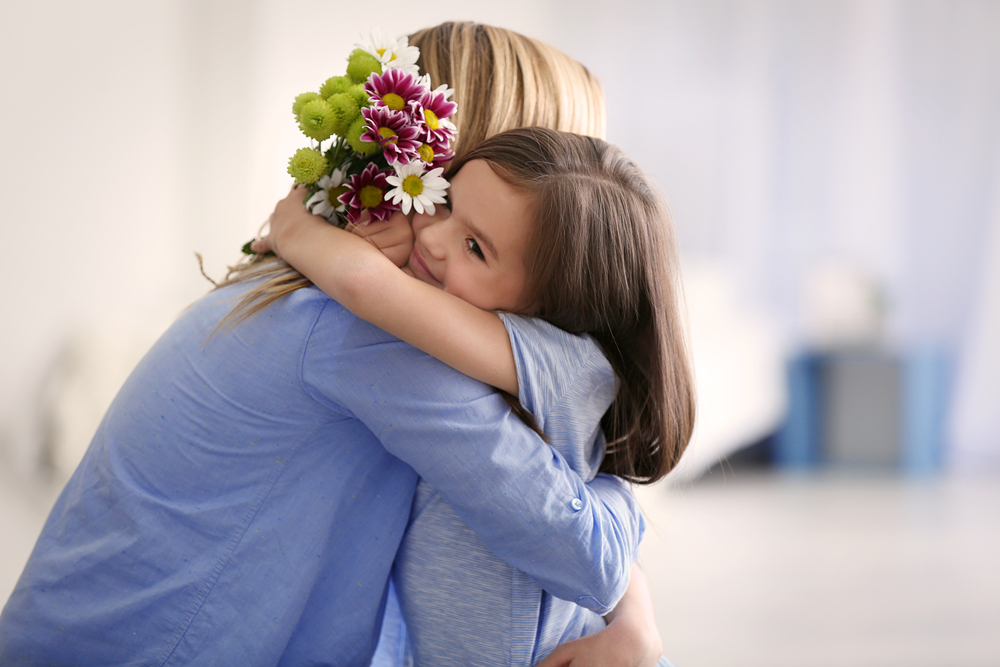 Let's be honest, this Mother's Day isn't likely to be the kind of break that all of us moms really need. No spa days. No staycations or mani/pedis. Heck, even just getting some alone time would be hard! But that doesn't mean that Mother's Day has to be a total bust this year.
The Jacksonville area has tons of fantastic options to still make our day special, even while social distancing. Many local businesses are hand-delivering gifts, while others have arranged for easy pick-up options, so you can treat the main mom in your life without having to put anyone at risk. Read on for a few of our Jacksonville Mom faves — from sweet treats and caffeine fixes to gift packages and pampering, we've got you covered! (And then be sure to check out our guide to Mother's Day Brunch: Where to Dine, Pick Up, + Celebrate In & Around Jacksonville — including some delicious takeout options.)
Sweet Treats
Hudson Cookie Co. is delivering delicious cookie cakes and care packages, including this adorable M-O-M set. Custom orders are available with at least three days advance notice.
Local favorite Sweet Pete's has tons of sweet gift packages, and they have shipping, local delivery, and pick-up options available. They're also offering 15% off Mother's Day gifts with the code MOM!
Peterbrooke Chocolatier, another Jacksonville mainstay, has multiple Mother's Day gift boxes. You can either order one online, or go into a store to pick one up yourself.
Maddy D's has closed their cafe for the pandemic, but they're still taking orders for their delicious edible art. They have cookies and desserts, and you can either get your gift delivered or pick it up by appointment.
Coffee and Tea
Bold Bean has tons of options for the coffee lover in your life. Whether you want some of their locally sourced and roasted coffee beans, merch, gift cards, or even a subscription so she always has her favorite coffee on hand, they've got it.
Vagabond Coffee, a Murray Hill favorite, is taking all of their orders online and offering curbside delivery to minimize contact as much as possible. You can get some of their whole bean coffee, a delicious quart of their Lott'o'Latte, or one of their handpainted cold brew bottles.
Brass Tacks has a coffee shop on the Southside, but you can get a subscription of their coffee blends or espresso delivered right to your house once or twice a month.
Condaxis Coffee and Tea has responded to the pandemic by offering FREE shipping on all of their items! So you can order coffee or tea, all Fair-Trade Certified and using only the finest ingredients.
Gift Options
Jaffi's Boutique, a Jacksonville Mom favorite, has clothes, shoes, accessories, jewelry — everything you need to make mom feel fabulous!
Declaration & Co. has tons of great products available all year, but they've got some especially adorable gift boxes just for Mother's Day! Coffee, necklaces, graphic tees, candles — they've got it all!
The Gilded Shell is a Jacksonville Beach boutique with gorgeous coastal-themed home decor and gifts, all with a golden touch. And they're offering free shipping for all orders over $49!
Boozie & Co. boasts gorgeous handmade leather bags, purses, totes, wallets — plenty of exquisite items that are made with high-quality materials that will last her a lifetime.
C'Santos was created by local mom Cristina Santos is the creative director and jewelry designer behind C'Santos. They currently have a special offer just for Jacksonville Mom readers! Use code "WeLoveMom" for 15% off your purchase!
Fig and Willow is dedicated to bringing affordable fashion-forward clothing for the everyday woman! They're here to get you out the door easily and in style, so you can spend your time on the more important things in life. They believe when you look good, you feel good, and you do good!
Couture Jems has beautiful jewelry that can be shipped right to your door for Mother's Day. They have options to fit every mom's style, with pieces made right here in Jacksonville that are one-of-a-kind.
Trust us, Saint Florals is a fantastic option that's way better than those 1-800-Flower delivery places.
SIC Cups have endless options for moms, from rose gold stemless wine glasses to tumblers that will keep her coffee hot. They also have personalized options you can have your kids help make for an extra-special tumbler, just for her.
Zig + Zag Balloon offers balloon delivery, but these aren't your average balloons. They're works of art to help take your Mother's Day celebration above and beyond!
Frances + McKee will ship a gorgeous gift box — with items like unique candles, lovely notebooks, and fun cooking essentials — right to your door.
EarthWorks has tons of options for all of our garden-loving moms. Maybe a gift card would be best, so she can pick out her own gorgeous plants and flowers, or you can treat her to some pottery, garden art, a beautiful porch swing — the possibilities are endless!
Mom Babble: The Messy Truth About Motherhood is a new book of essays by Fort Myer's mom Mary Katherine Backstrom and touches on every topic from postpartum depression to breast cancer to raising "feral" children. Read our book review here!
Pampering
Drybar may not be an option for a beautiful blowout right now, but you can still treat her to some of their incredible styling products to make her feel gorgeous every day — and toss in a gift card for when the pandemic ends.
The Spa at Ponte Vedra Inn & Club is closed for now — but you can still order a spa gift card, so when she's finally able to get out of the house, she'll really have something to look forward to.
Degree Wellness is temporarily closed during the pandemic, but you can still purchase a gift package for her. When the time comes, she'll be able to have a day to herself that will leave her feeling refreshed and rejuvenated!
Cabana Life is a lifestyle designed to help you and your family enjoy the sun while staying protected. Their mission is to create sun protection that makes you look and feel your best. You can get $20 off any purchase of $100 using the code May20 during Skin Cancer Awareness Month.
Pure Hydration is an IV wellness spa, and you can gift her with a membership. Every month, she can get an IV infusion of her choice, as well as exclusive treatments only available to members.
Carrie Wilson, a local makeup artist, offers one-on-one makeup lessons, which would be perfect for any mom. A session with Carrie can help give her the tools to make herself feel beautiful each and every day!
Experiences
Omni Hotel Amelia Island for a relaxing night away from the kiddos (you may even get invited along, but no promises).
Jaiden Photography, owned by local mom and business owner Stephanie Jaiden, will beautifully capture and edit your family photos. Because how many times are the moms the one stuck snapping pics? Get 10% off a family photo session if you mention JACKSONVILLE MOM. Bonus points: Really blow her mind by doing the styling for the photos! Melody and Rachel at Kyds Boutique are happy to help with the little ones, while the gals at Jaffi's can help create a coordinating look for Mom.
Jax Cooking Studio is now booking Date Night Cooking Lessons and to-go orders for weekday meals. A date she doesn't have to plan and not cooking at home? Win-win!
Creative Grain Studio is still offering fun DIY crafts for moms, social-distancing style! They have awesome take-home kits so your main mom can have some unique artwork she made herself.
And don't forget to check out our guide to Mother's Day Brunch: Where to Dine, Pick Up, + Celebrate In & Around Jacksonville!