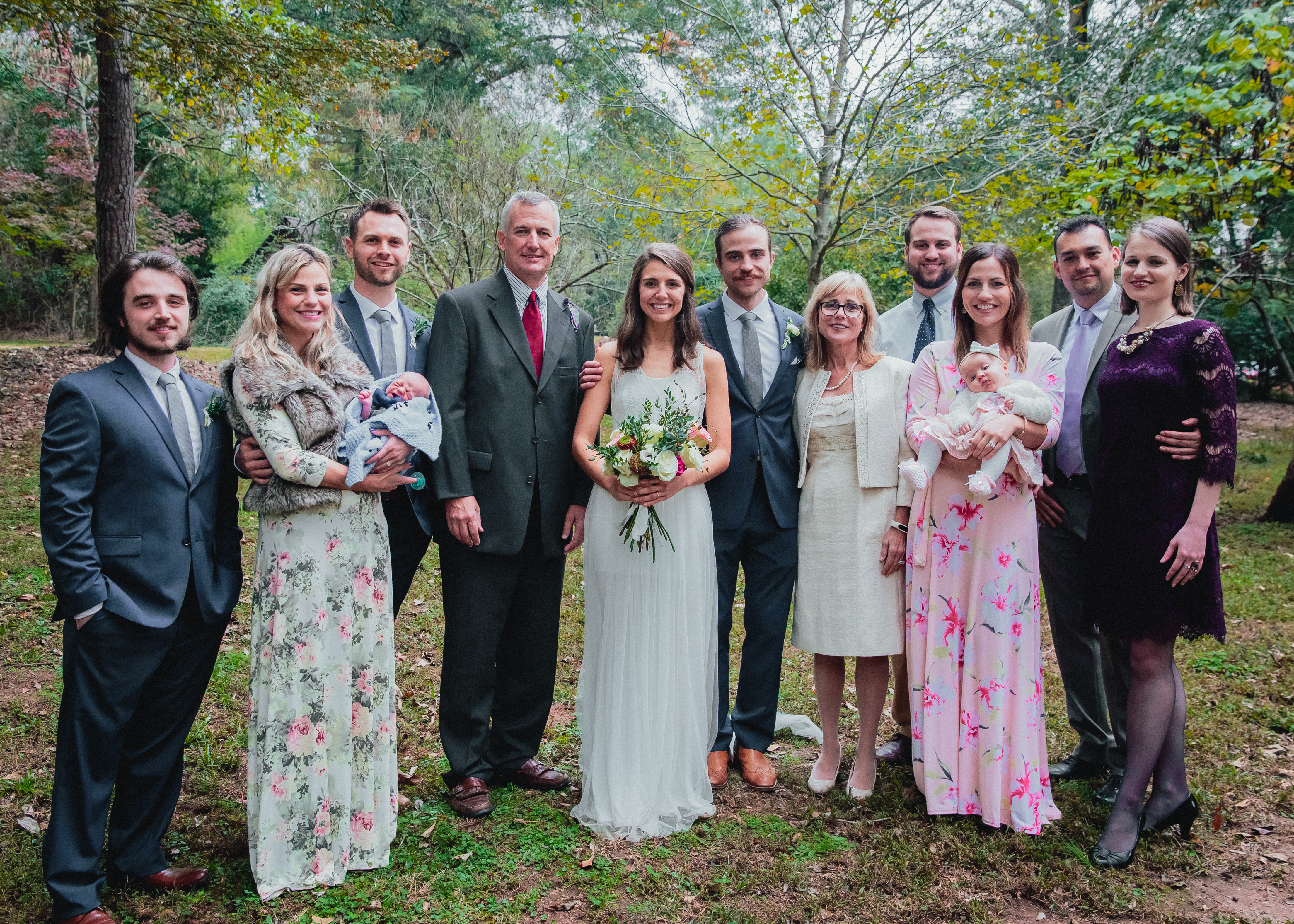 When Sandy Jacoby's husband Steve got laid off his job in 2012, they took a leap of faith by selling their car and house and moving to Nicaragua. They originally planned to live there for one year until they saw there was a serious void of employment opportunities for the Nicaraguan people. Together, Sandy and Steve decided to turn their hardship into something positive. They started the nonprofit Sheep Not Goats and built a farm for the sole purpose of employing Nicaraguans. They raise tilapia and grow plantains, guayabas, and other native fruits and vegetables.
But working on the farm in 98-degree temperatures can be exhausting and very difficult for a woman to withstand so Sandy found herself constantly trying to think of some type of employment for the female population. When Sandy was expecting her first grandchild, Sarah Kate, in 2017, she decided to make a beautiful, soft blanket with sheep on it — something unique that her granddaughter could use for a long time. That was when Sandy realized she had found that viable employment opportunity she had been seeking and had the idea to teach women how to knit baby blankets (just like the one she originally made Sarah Kate) and SheepDreamzzz Baby Blankets was born.
Knitting didn't exist in Nicaragua, and because knitting needles also don't exist in Nicaragua, Steve made the needles out of metal for the women to practice on and once they were ready to start their blankets, they transitioned to circular bamboo needles that Sandy brings from the U.S. The SheepDreamzzz baby blankets are sold in the U.S., and the women keep all of the profit, enabling them to apply their earnings where they are most needed — typically for food and clothing. The blankets are available in several different colors and are made by a total of 20 women who all work for Sandy three hours a day during the week. The women have created a strong bond and sense of community as each woman works on their own blanket, also helping when someone might be struggling to complete their work. Right now, Sandy mainly focuses on helping women who are moms, women with husbands who are unable to work, widows, and older women.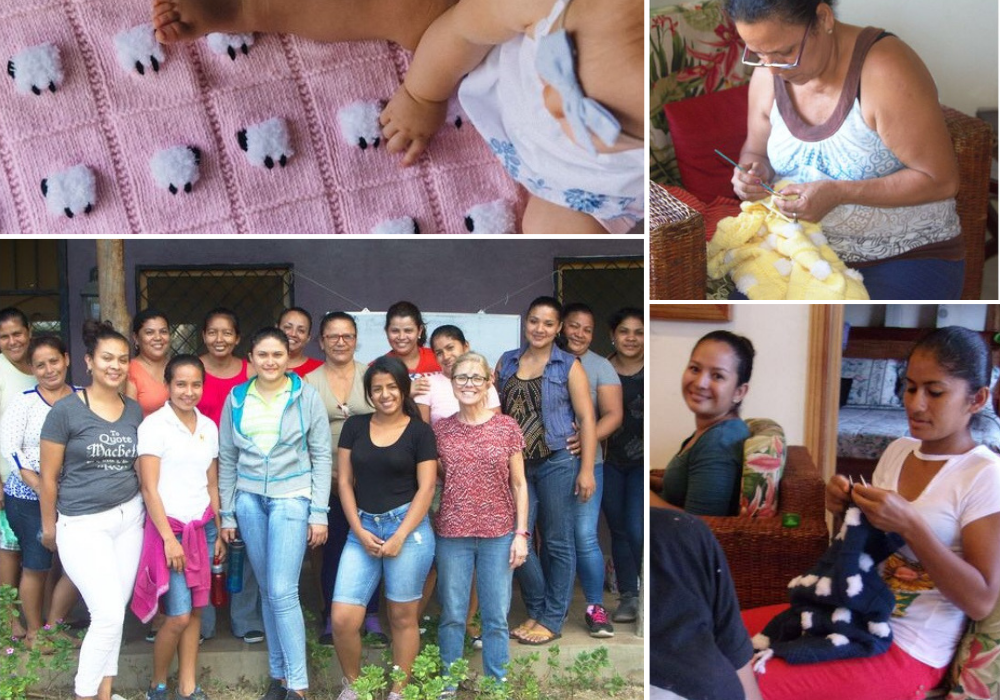 Before moving to Nicaragua, Sandy was primarily a stay-at-home mom to their four children and was also an adjunct Spanish professor at a community college in Mason, Ohio. She currently has two grandchildren, Sarah Kate (20 months) and Malachi (17 months), and she is expecting her third grandchild soon.
Sandy has lived in St Augustine for the past three years, and she and her husband travel to Nicaragua three times a year and stay there for approximately six weeks teaching and training women, as well as maintaining the farm. When they travel, they bring an immense amount of yarn to Nicaragua and return to the U.S. with several of the soft blankets, which are available for purchase at sheepnotgoats.org.
Three fun facts about you:
My nickname growing up among adults and teachers in my life was "Little Miss Sunshine."
I make a mean cheesecake — in fact, 30 years ago, a restaurant in Ortega used to buy them from me.
Having spent my childhood in Venezuela I had an Ocelot as a pet. We trained it to use the toilet and was as gentle as a kitten unless you gave it raw meat — then watch out!
What is the one thing that motivates you and pushes you to do more?
My personal relationship with God is the biggest motivator in my life and I am always being called higher in giving more of myself and time to others. I love being able to help others and make a difference. My husband and I feel that we have been very blessed in life and value opportunities to help others who through no fault of their own are struggling just to survive. We wanted to "give back" and like getting out of our comfort zone. At the same time, we've built many friendships with people we would have never known otherwise, and we've found there are many others who share our goals. Above all, our faith and desire to love others as God calls us to keep us in this fight.
What is the biggest challenge you've had to overcome?
Since living in Nicaragua, the biggest challenge has been to NOT see life through critical eyes. As a foreigner, there are many cultural differences especially when it involves interpersonal relationships. Sometimes with these cultural differences, we have to always check ourselves to not think the U.S. is the standard or only standard of doing things. Since starting Sheep Dreamzzz baby blankets, there have been two main challenges. The first is that Spanish is not my native tongue and the second is that knitting is non-existent in Nicaragua, meaning there's no yarn, needles or other resources needed to knit in the country and no one has any knitting experience. Each time we fly to Nicaragua we bring hundreds of skeins of yarn so that each woman can make three blankets a month. We always hold our breath as we go through customs in Nicaragua wondering if customs is going to confiscate the yarn or slap a stiff tariff on it. Thankfully the people who open the suitcases are very appreciative of the help we are providing the women in Malpaisillo. At the beginning of the Sheep Dreamzzz project, it was awkward using words that simply didn't exist for them in their language, but in time and with the women's determination to learn and my determination to teach them we "communicated." Something else that was new and a bit challenging was teaching them the importance of developing a critical eye with regard to their work and to fix any errors. It's been an ongoing process that has led to the women being expert knitters.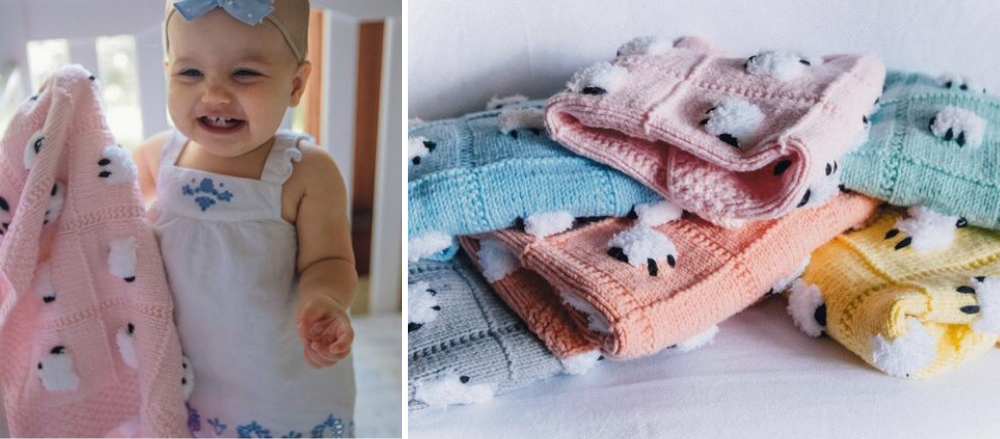 How do you balance work, time with family and time for yourself?
I just turned 60 in December and my husband of 39 years and I are empty-nesters, so life is a lot easier than when we had five children to raise. We are SO thankful for technology because it is through FaceTime that I can daily talk to my two grandchildren. I think it is very important to arrange, rearrange and carve out time for yourself and your family (or in my case as an empty-nester, for my husband). Nicaragua is much closer to the equator than North Florida is, so most days it's in the high 90s to low 100s. The heat would zap my energy every day on a daily basis and soon it became obvious I needed an afternoon "catnap" to get my energy back, but I knew I could never comfortably take one while 20 women were working in my living room. I made an executive decision one day and changed the knitting schedule from afternoon to morning so that after lunch I had that time to rest. It is important to me that when my husband comes home from a long and hard day at work, he'd have a refreshed wife waiting for him.
How do you define personal success?
Personal success is having a purpose in your life, living it out and making a difference. For me, it's accomplishing something that will have a lasting impact on helping others. Things are very tough economically in Nicaragua and I believe that, considering the children and extended families of the women who knit, many people are going to be able to not only survive but improve their lives. In some cases, this means something as simple as being able to afford a school uniform or even to pave a dirt floor.
What advice do you have for other moms?
Many young moms say to me, "When my children are older I'd like to do what you're doing and take them to another country to live for a year," and I always say that I wish I had done this when my children were young because I believe for them to see what little people have and yet they are happy and NEVER complain will have a great impact on them. You are your child's greatest role model. They love to imitate you, after all, you are their standard. Treasure every stage of your child's life and guard in your heart the simplest and sometimes silliest gestures that made your heart do flip flops, such as a smile, a giggle, blowing a kiss, and them running to you with all smiles. Never doubt or forget in your child's eyes, "You've hung the moon!"
Moms Doing More in the 904 is a series that highlights local moms who are making a big difference in our community. Want to tell us about an inspiring mom who is doing something great? Tag us on social media @JacksonvilleMom with the hashtag #MomsInThe904.