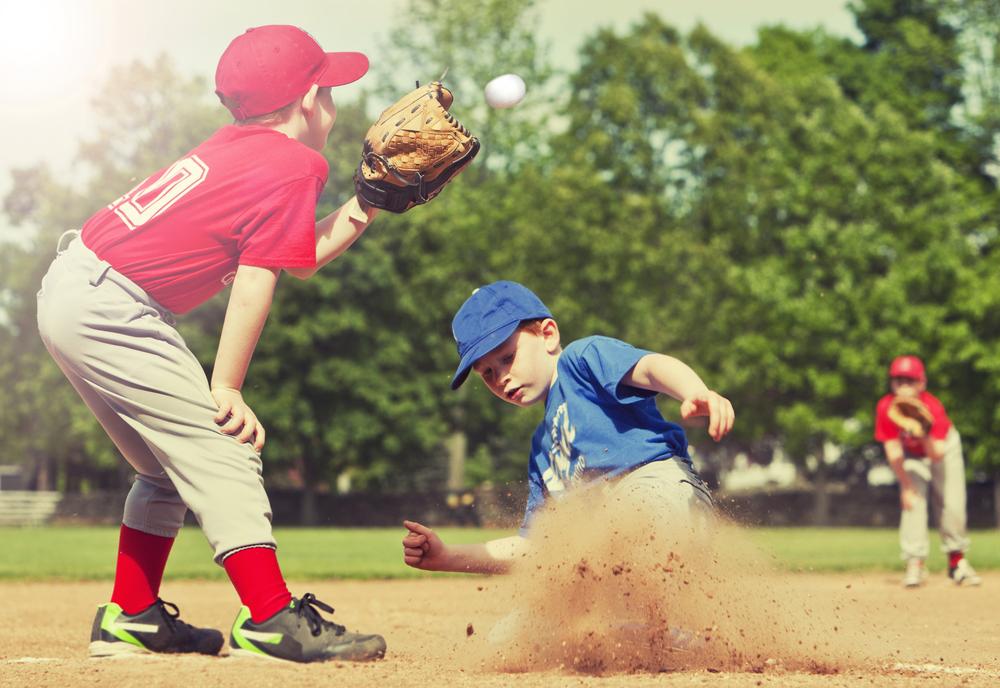 Parents of babies and young kids, prepare yourself now. Youth rec sports is not what it used to be. Perhaps it is because we live in the second fastest-growing city in the country, but what we've experienced since my son has begun kid pitch baseball is a travesty. There is nothing more heart-wrenching as a parent than saving up to buy brand new catcher's gear for your child along with the expensive wheeled bag, and watching him lug it to and from every practice and every game, only to never get used. 
The Benefits of Youth Sports
I've been an athlete nearly my entire life. Now, I'm not a naturally gifted athlete, but my parents enrolled me in sports from the youngest age possible because it teaches so many great life lessons — perseverance, respect for authority figures, teamwork, and likely because it made me more tired at the end of the day and I fell asleep more quickly. A lot of the same reasons we decided to enroll our kids in sports. But baseball is different for us. While I never played, I grew up watching my dad and brother play, and to say I have an obsession with the game is a huge understatement. I then went on to watch my husband play in college, and having played nearly his entire life, his love of the game is strong. There is just something different about the sport of baseball. At least for those who respect it. 
The Travel Ball Difference
Soccer was the sport I excelled at the most. However, I still continued to play only rec soccer through middle school and until high school. Why? Because I had two younger siblings, and my parents ran their own company. And life. Life is so busy! I get it so much now as an adult. It is why we often say "no" to some things as a family because it's very easy to get burnt out in our fast-paced society. And oftentimes we look up at the end of the weekend wondering what we were chasing. I digress. 
But it seems everyone is in travel ball now. We have friends who started their kids as early as 6U (stands for age 6 and under) because they think their kid is the next Ken Griffey Jr. If the word travel isn't enough to scare you away, then I'll warn you about the cost. Jerseys, special equipment, or matching cleats and bags are just the beginning. Along with travel, although mostly inside the state, comes hotel, gas, and food expenses. Not to mention not living in your home on the weekends, which if you work in an office, means it's virtually untouched. Speaking of work, be prepared to ask off for early weeknight practices and games. You can get to the fields by 5 p.m. in Jacksonville traffic, right? 
The Inequality Factor
The main issue is that most leagues, at least our current league (though I've heard that others in the area have this, too), requires travel baseball players to also play on a rec team in the spring. That means the majority of the team is made up of travel players and has the same travel coach, with a few non-travel players. 
Let me preface this by saying that we refuse to coddle our children or give them special treatment. They need to work hard and earn things in life, just like we did. We may even be more old-school than some (we hate participation trophies). That being said, if the travel ball players are getting special treatment on the rec team, that means you'll be having to fight for, at a minimum, equal treatment. Which leads to inequality among teams and players who feel hurt and left out. You have to be an idiot to not notice it, and believe me, my kid notices.
I'm not asking for a lot in the small fee I pay for rec sports, which I get doesn't compare to your travel baseball fee. All I'm asking is that my kid be treated fairly and get a fair shake at playing positions he enjoys. And maybe that you don't cancel practice after a long weekend of travel ball, er, I mean because you had something "come up." Oh, and please don't allow other kids to use my son's catcher's gear if he can't. We will be voting with our feet and moving to a different league next season, so if anyone can recommend a baseball league in Jacksonville that doesn't have this insane inequality amongst travel vs. rec, please let me know in the comments below. But I'm starting to think it no longer exists, and I need to move to a small town. #willtravelforfairbaseball