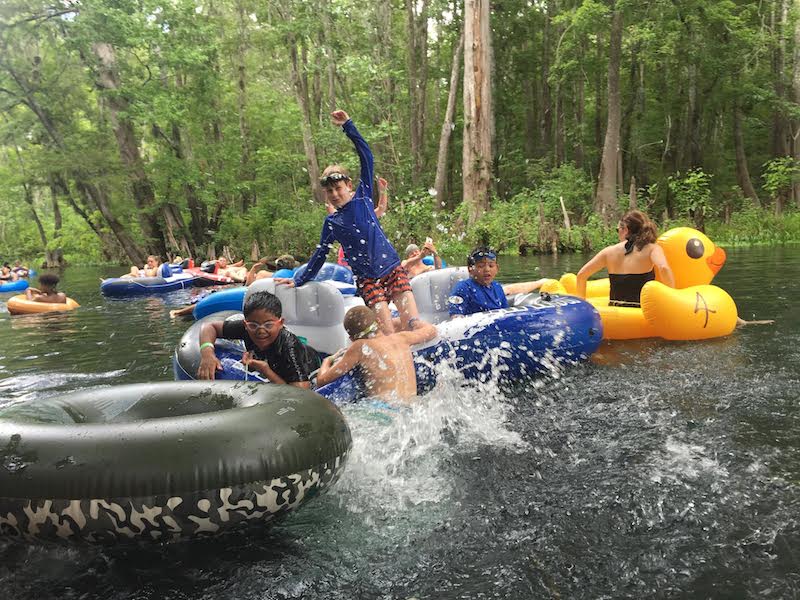 Ichetucknee Springs is a Florida State Park where the beautiful Ichetucknee River flows for six miles. Tubing down the river is a popular family activity at Ichetucknee. Our family joined three other families to experience the Ichetucknee for the very first time this summer. Here are some of my tips for tubing this natural Florida landmark:
1. General Info: The summer tubing season runs Memorial Day through Labor Day from 8 a.m. to 7 p.m. If you can, go on a weekday to avoid the crowds. Also plan to arrive very early. Your entire family can go tubing. If you have little ones who are not great swimmers, definitely bring a life vest for them. Older children will have a great time tubing and swimming in the river. But note: The water is COLD. We went on a very hot day in July, and the water was still a cool 72 degrees.
2. The Drive: You should pack up breakfast in the car and head out early! Ichetucknee Springs is located in Fort White which is northwest of Gainesville. It will take approximately two hours to arrive from Jacksonville. Allow extra time to stop and rent tubes from one of the tube rental locations outside of Ichetucknee Springs State Park.
3. Cost: The admission into the park is $6 per vehicle, up to eight people. It will cost $5 per person (plus tax) to get a wristband for the tram service that will take you to and from the river entrances.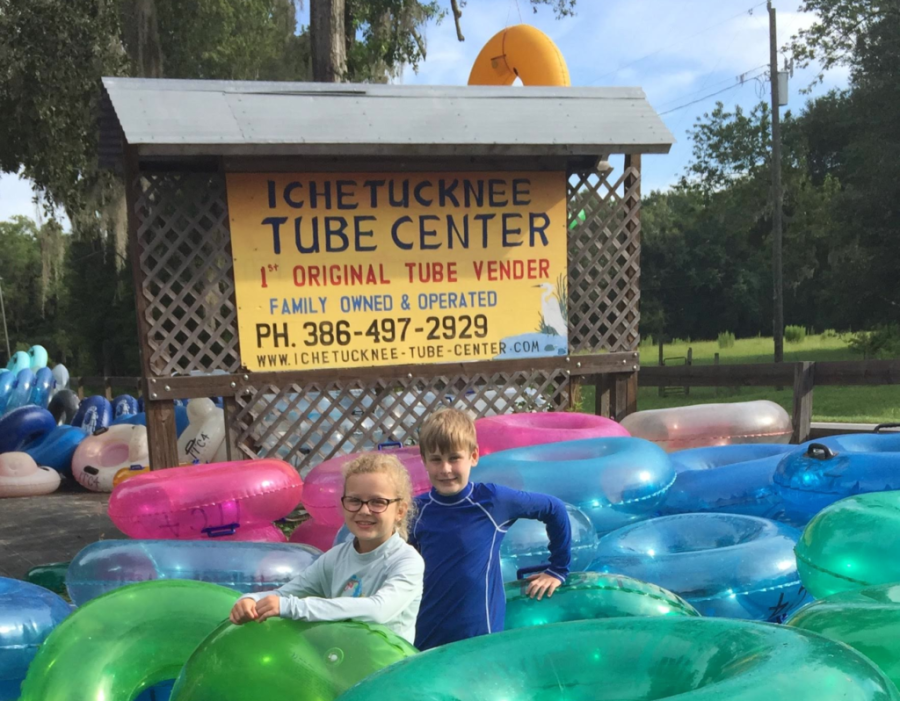 4. Tubes: My son brought his boat raft and my husband brought a river tube. We purchased both from Academy Sports. Then we rented two more tubes when we got there. There are a few rental locations outside of the main entrance. We rented from Ichetucknee Tube Center on Elim Church Road. They have a discount coupon on their website. The tubes will rent from $5-$20 depending on the size. There are two and three-seater tubes if you have children that want to ride with you. Be sure to rent tubes with bottoms for the little ones who don't want to feel the cold water. Older kids will want to move around so they can have the open bottom rafts. When you are done for the day, you can turn in your tubes at the tube drop-off locations at the South Entrance. They make it very convenient for you.
5. Parking: You should park at the South Entrance. There are shuttles there to take you to the North End where the tubing starts. It will take you about 3.5 hours to float back to the South Entrance from the North End. One tip is to have your driver drop off everyone at the North End first. Then they can park and take a shuttle back to meet you. You need to get to the river VERY EARLY if you want to tube at the North End. We arrived at 8:30 and the North End was already closed. There is a daily limit of 750 tubers from the North End.
6. Where To Tube: I mentioned the North End as the prime tubing start for those of you who want the full 3.5-hour tubing experience. My group tubed from the Mid-point Launch and it was great. I would definitely recommend this option for your first time at the river. A tram took us to the Mid-point Launch from the South parking lot. It will take you about two hours to float down to the Last Take Out where a tram will shuttle you back to the parking area. There is also an exit at the 45-minute mark at Dampier's Landing. You can always get out there and walk back to the South parking lot.
7. What To Bring: Bungee cords or rope are key! I felt better once our entire group was tied together. I'm a little nervous about kids floating down the river alone, but your older kids might have fun with that. If not, definitely bungee everyone together at the start so you can enjoy some relaxing time. You need a waterproof case for your phone and a waterproof bag to hold any items you want to bring. You don't want to bring too much — the bag should be for your camera, keys, sunscreen, bug spray, and any necessary items. Remember to apply sunscreen and bug spray before you begin. You may also want to bring goggles and a snorkel mask for when you or your kids jump in to explore. If you want to bring water, it needs to be in a plastic tumbler. No disposable water bottles are allowed.
8. What NOT To Bring: You can not bring any food or drinks (besides a water tumbler) on the tube. There are no pets, fishing items, tobacco, alcohol, or disposable items allowed on the river. They may inspect your bag before you float, so it's best to not try and sneak in anything.

9. What To Wear: I recommend water shoes for the entire family. You will be walking down a rocky path with your tubes so a good pair of water shoes are necessary. The water shoes will also be great if you want to swim in the river. You definitely want everyone in bathing suits and rash guards for extra protection. You might also consider a surf-type bodysuit if you are especially sensitive to the cold water. Bring towels and a change of clothes for the ride home.
10. Food and Extras: You can not bring any food down the river, but you can definitely pack food and drinks in a cooler for a picnic lunch when you are ready for a break. We saw many families grilling out at the picnic areas at the South Entrance. There is also a full-service concession stand at the South Entrance that serves burgers, hotdogs, sandwiches, and salads. It also has a gift shop with goggles, snorkel masks, bathing suits, water shoes, and more. If you bring your own lunch, then you should stop in the gift shop for yummy ice cream treats. Enjoy!
Have you been tubing with your family? What additional tips do you have?
About the Author
Pam Kaye is a work-from-home mom with two awesome kids, Daniel and Annabel. She moved to Jacksonville in 2007 when her husband, Mark Kaye, became the morning show host on radio station 95.1 WAPE. Having children inspired Pam to start her blog, PopMommy.com, where she writes about her family and everything "pop culture." Before mommyhood, Pam worked as a publicist for the movie and radio industries. Follow her on Instagram (@popmommy) to learn all about her tweens, her travels, and her obsession with Taylor Swift. Pam loves checking out new Jacksonville restaurants, cheering on the Jags, and meeting amazing children through her family charity, Kaye's Kids (www.kayeskids.org).