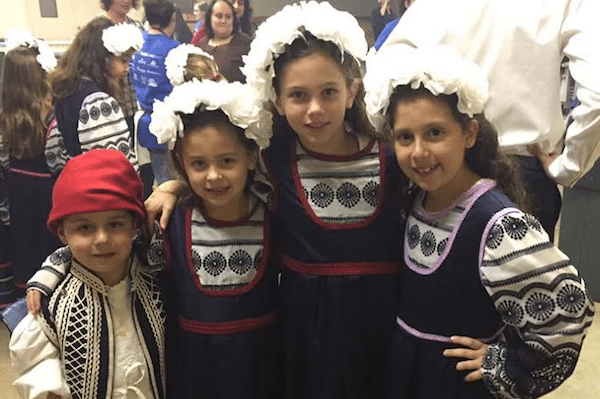 As I write this, I hear my children talking to our Amazon "Alexa" to their YiaYia and Papou (Greek for Grandmother and Grandfather) for the fourth time today. It's not because they live up north and rarely get to see my children. No, because my parents live five houses up the road. And they typically stop by every time they pass our house. And did I mention yet that my brother and his family live on the street behind us?
"Alexa" is just one more way for all of us to stay even more connected aside from living in the same neighborhood and minimize any boundary that could have existed within our pretty stereotypical "Big Fat Greek Family." Even 16 years after My Big Fat Greek Wedding was released, I still get asked the question, "Is your life really like that?" Well, YES! Yes, it is. Aside from having the Greek flag on my garage door (thankfully due to the neighborhood guidelines, otherwise I'm pretty sure my husband would have it painted!) I'm pretty much living the life.
Despite our ever-changing society, being a Greek mom means the same for me as it did my own mother. It means chasing your children around the house with food because even though they've eaten a full meal, you still want to feed them more. It means forcing your children to go to Greek school or Greek dance practice because every "good Greek boy or girl" knows how to speak and dance Greek. And it also means one barrage of guilt trips after another to make your children do exactly what you want them to do. We did invent drama after all. But more than that, it means passing down our culture and traditions.
As Greeks, we live to feed people and invite them into our homes. We cherish friendships and want "xeni" (Greek for outsiders) to feel our warmth and hospitality. We are people with intense emotions, whether laughing or crying, and most of those emotions are shared at the kitchen table where we enjoy meals from recipes passed down from one generation to the next.
About the Jacksonville Greek Festival
For these reasons, I think, people continue year after year to remark about how much they enjoy our Jacksonville Greek Festival. For instance, a comment a shared on our Facebook page:
"My family and I LOVED the festival this year. The dancers were extraordinary. The food was amazing. The desserts were incredible. And the warm and welcoming Greeks in the community just added to our wonderful time. We will definitely be going back! We feel like family."
What most people don't know about our Jacksonville Greek Festival (held Feb. 16-18, 2018 at Morocco Shrine Auditorium) is that it really is a family affair. Our children in the Greek community practice year-round, learning Greek dances from around the islands. The women of our church (and a few men, too) spend countless hours in the kitchen perfecting someone's YiaYia's perfect recipe for dolmades (grape leaves), pastichio (a Greek-style lasagna), moussaka (yep, if you've seen the movie you're probably giggling) and so many other signature Greek dishes. And the Greek men? Well, just as Toula Portokalos' mom so perfectly stated, "Ah, the man is the head, but the woman is the neck."  It's an entire year of preparation from men, women and children to host our great city of Jacksonville and present them with the very best of our Greek culture and traditions.
Why do we do this? Because whether they came to America from Greece or their parents did, Greeks are proud of their heritage and look forward to sharing it with others during the Jacksonville Greek Festival weekend. But there are a couple of other reasons we pull together to raise money during this annual event.
If you've ever noticed as you drive down Atlantic Boulevard, there is a beautiful white church — St. John the Divine is a Greek Orthodox Church, although many of our parishioners aren't Greek but have converted to the faith. Our church has grown. Our pews are full. Our Sunday School classrooms are packed. And it's time for us to break ground and build a bigger church on Beach Boulevard (coming in the summer of 2019). Proceeds of the Jacksonville Greek Festival support our new church home.
A portion of the proceeds also benefit Wolfson Children's Hospital, a wonderful place that provides exceptional care for children of our parish and their families.
I'm pretty sure we can all agree that our world is changing so quickly. After all, I never thought a digital personal assistant named "Alexa" would provide my parents with one more way to keep tabs on me. But as Greeks, we revel in our rich traditions that cause us to roll our eyes as children but fill our hearts as parents. And while we know that change is good, some things are just meant to stay the same.
We invite you to join us for the annual Jacksonville Greek Festival on Feb. 16–18, 2018 at Morocco Shrine Auditorium, 3800 St. Johns Bluff Road. Admission is $3/person; free for children 12 and under. Enjoy live music, authentic Greek food, shop Greek souvenirs and more. For more information, visit JaxGreekFest.com.
About the Author
Maria Chrissovergis is the president and owner of Maria Chrissovergis Public Relations
and Marketing Agency. After spending several years in front of the camera as a news anchor and reporter for NBC, ABC and CBS affiliates, she decided to focus on bringing the spotlight to clients in need of marketing and advertising. After nearly 10 years of being off camera, she returned to First Coast News NBC and ABC where she began her television career and joined the weekday talk show, The Chat and a magazine-style show, First Coast Living. While running her agency and being on TV is a large portion of what is on her plate these days, it's not the main course. Maria stays focused on her family and on her faith.  She and her husband Milton have two children who also keep them quite busy. Maria is also very involved in her church and serves as the Choir Director at St. John the Divine Greek Orthodox Church. Maria was also featured on the cover of Family! and Carousel magazines, both including articles about being a working mother and was also profiled in the 904 magazine as one of the leading agencies in Jacksonville.