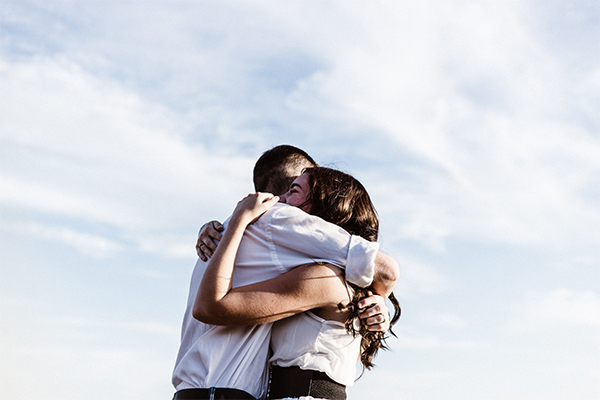 I laughed a few years ago when I looked up traditional 11th-anniversary gifts on The Nest — it's steel, by the way. There were all sorts of amazingly stupid 11th-anniversary gifts listed. Buy him a motorcycle or a sword (a sword? for what? dicing carrots?). Buy a sculpture made of steel (so your kids can climb on it?). The only gift I could get behind was a steel wine screw. Four years later, here we are, looking at year 15 — and The Knot says the 15-year gift is crystal and recommends a Swarovski crystal ornament of their favorite pop character. What kind of marriage do these people have?
If there is one thing a decade and a half of wedded bliss has taught me, it's that the fibrous reality of a long marriage is completely disengaged from all the tripe we are fed about the institution. Perhaps that's a good thing — were it otherwise, no one would ever get married. This time has been an eternity and a blink of an eye, and the hardest and easiest years of my life all in one. That doesn't sound like a love letter. But after so much time together, we are both too exhausted for that.
In 15 years, we've learned to steal our joy in small moments. We've learned to forgive each other much during these years — to give and take on sleep, to be flexible with frustration and patience, to pause our conversations mid-sentence and pick them up hours and days later. We have given so much of ourselves to our children that we as a couple, from anniversary year number one, have been idling in the background, biding our time, waiting to noticed again. (We see you, I promise.) In so many years of marriage with four kids, we have simply tried to survive. Some years will be like that. Some years we will lose it all — our sanity, time to ourselves, healthy dinners, finishing a meal, date nights, patience, sleep, and clean laundry.
Anniversaries are not lists of gifts to give. I know that now. The thread color of the monogram on my wedding registry towels that I agonized over is now ruined from years of mopping up dirty baby bathwater. There are still labels on the wedding china pieces we have moved and moved and never set on the table. And the romantic love poems I collected in college while working through my English major no longer seem to fit my ideas of love. The thorough depth of 15 years of marriage eventually out-complicates even the best writing in the world.
After 15 years, we know the essence of us and what we have created together. Most of all, we understand that we as a couple are still there, sometimes waiting patiently in the background, but never forgotten. What we have built is really that simple, even if sometimes impossibly difficult. By 15 years, you have been through sickness and health (several times), richer and poorer (several times). There's been a good deal of better and a whole lot of worse, too, (sometimes more, it feels like). Most of the time, 15 years means dinner is a peanut butter sandwich or a bowl of cereal at 8:45 p.m. Most of the time 15 years is two more loads of laundry to do after you've already folded four. Four lunch boxes to make. Snacks to pack. Blankets for a nap at preschool to put by the door. And five more workdays to get through before you have a second at home again to say hello to each other on Saturday morning.
Fifteen years also teaches you having and holding is sometimes all that gets you through. Because while there are some amazing trips to fun places with to-die-for-meals and views, most of the time there aren't. You think that before you get married those things will always happen — every weekend! And even after your first year of marriage and maybe into the third or so year, they do. And then by 15, you have a life you absolutely never saw coming, in any way, shape, or form. And those trips are just precious gems of memories to hold onto when you're losing your mind cleaning up kid puke again.
Fifteen years later, you're just glad they're asleep by 8 p.m. so you can have a celebratory glass of prosecco and sit in absolute silence, looking at each other. And you're thinking, watching each other drinking prosecco as the sun goes down behind the fence in the backyard, 15 years means you actually think it's funny you had to buy your own card for your anniversary because your spouse had no time to go to the store and asked you to pick one up for him.
My favorite scene in all of Schitt's Creek is at the end of the second season when they are all dancing together in the barn at the party. Despite the terrible year they've all had, they all have come to realize the importance of family (and it's Moira and Johnny's anniversary). The song they dance to as a family is called "Precious Love." Fifteen years is this safe, comfortable, and precious love, the peace it holds, and all it has taught me.