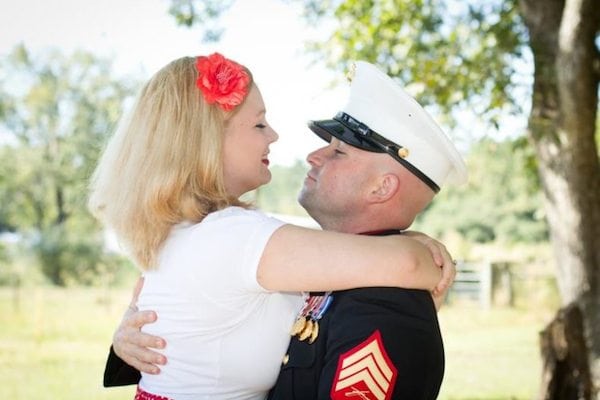 My husband and I met when we were just kids, but we didn't get married until over a decade later — when he was serving his country as a United States Marine. For the first few years of our marriage, our lives revolved around the military. We endured deployments and training, which took him away from our family for weeks at a time. He missed the birth of our second son because he was in Afghanistan. Matt survived four combat deployments and lost multiple friends. It was a difficult, wonderful life, and we originally planned to stay in for the full 20 years and retire.
But ultimately, after he served nine years, it was time to get out. And I'll be honest, I was terrified. Military life was what we were used to. Matt loved being a Marine, and I loved our Marine Corps life. As chaotic and stressful as it was, there was stability. There was camaraderie. There was support. I knew what to expect, for the most part (which was mostly to always expect the unexpected). We had a community around us of Matt's fellow Marines and their families. Leaving the Marine Corps meant leaving all of that behind, and we found ourselves feeling a great big nothing in front of us. What would the future hold now? What would Matt's new career path be?
Adjusting to civilian life was difficult, both for my husband and for us as a family. The good news is that Matt is eligible to use not only his GI Bill, but VA Vocational Rehabilitation, which is what we ultimately opted to use. So for now, he's going to school full-time at Jacksonville University, pursuing a career in medicine. There's some level of comfort in having something to strive towards. But on the flip side, gone is so much of what we have come to know and love from our time in the Marine Corps. For Matt, that is the daily discipline, routine, tradition, and camaraderie that Marines share. For the kids and me, in many ways, it's more chaotic now than our time spent in the military.
But the good news is that there is a Student Veterans Association at JU, which Matt has joined and which helps with the transition — having other veterans who can understand what it's like is so beneficial. It's also difficult for civilians to relate to a veteran; the honest reality is that a civilian (which includes me) will never understand what being a service member, and then a veteran, is like. Service members, in my experience, seem to have their own language and way of speaking. Matt often talks about how great it is to spend time with veterans every time he has been around them, because they get it. I can't understand his mindset. I can try to help and be supportive, but ultimately, I can't know how he feels. Having other veterans in his circle who understand is invaluable.
One big negative is health care. While Matt was still in the military, the entire family had Tricare. Now, Matt has to rely on Veterans Affairs hospitals and clinics for health care, and… well, you've all seen the headlines. It's not great. There are insanely long waits for him to be seen and ridiculous amounts of red tape. And even when you get an appointment, there's no guarantee you'll keep it. Take, as an example, an appointment that we waited three years to get, only to have the doctor cancel the morning of the appointment. Yeah, that was fun. It's like jumping through flaming hoops in order to get him any kind of care, which is beyond frustrating. On more than one occasion, Matt has complained that there's just no point in even trying, because the VA doesn't care about him or any other veterans. And based on our experience, that of our friends, and of thousands of other veterans across the country, I sadly tend to agree. It's an endemic problem, and I'm at a complete loss as to how I can help him.
So how do I help my husband? That's one of the most difficult things about being a veteran's wife. In the Marine Corps, as I said above, we had support. We had resources. I knew how to help him, I knew how to be there for him. And sure, there are technically resources for veterans now… but again, the VA is not exactly helpful. There's not much there to tell me what I can or should be doing as a wife to help my husband when he struggles, or how to be there for him now. And it's not just our family who has found it difficult; the Pew Research Center reports that post-9/11 veterans have a tougher time readjusting to civilian life than World War II, Korean War, or Vietnam War veterans did.
I will always be proud of my husband's service to his country. And part of us will always belong to the Marine Corps. But now, we are living the civilian life, and while it can be tough, we are making it through, day by day, and we are making it through together. Ultimately, that is the most important thing. Civilian life has been a major adjustment for our family to make, but we are still here, still whole, and for that, we are grateful.