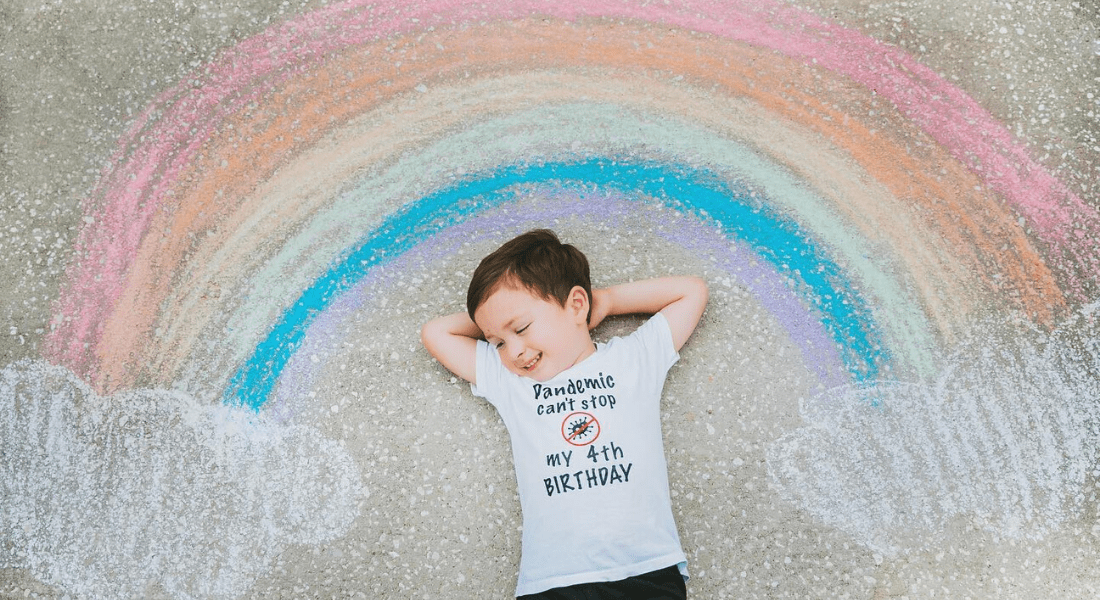 We're all still grappling with how the coronavirus is affecting us. Social distancing is going strong, leaving us craving human interaction besides our kids. Meanwhile, the news is running a regular drumbeat of depressing information: how many people have died lately? How much have the cases increased? Which hospitals are getting overloaded? It's necessary, but it sure doesn't help bring joy to anyone during this difficult time.
Enter #904RainbowHunt.
The group on Facebook was founded by Lee Ann Jones, and in less than a week, thousands of First Coast residents have joined. Jones, originally from upstate New York, saw the positive effect it was having there, but there was nothing like that here — so Jones took action. "I wanted this for our community," she explained in an interview with Jacksonville Mom.
The movement is international, with its roots in another country stricken with the coronavirus. "I believe the rainbow idea initially started from the children in Italy putting their rainbow artwork out for others to see," Jones said. "The idea of the rainbow hunt brings a sense of community and togetherness from a distance since everyone is so isolated."
And it seems that people are craving that community. "I honestly never thought creating the #904rainbowhunt would take off like this," she said. "I started Saturday evening with maybe 20 to 30 friends, and it's at 4.2k members already." Jones, who is an ICU nurse, can especially understand the need for something happy to take us away from our worries. "Sometimes we need a distraction, and how perfect is this?" she said. "Children are great at showing us their ways to cope. Encouraging them to engage in this rainbow hunt, and to have something positive to look forward to, is the goal really. Spreading hope! We need hope and optimism right now."
Others in surrounding areas, like Lake City and Savannah, have also begun creating rainbow hunts for their communities. On the Jacksonville Mom Instagram page, there is also the #JaxMomChalkChallenge, which allows families to exercise some creativity together, while also bringing a little bit of happiness to their neighbors. Photos of rainbows, butterflies, and hearts have begun popping up on social media, with beaming toddlers and proud artists showing off their work. The #ChalkYourWalk hashtag also showed people's efforts nationwide and across the globe at bringing cheer. But it does more than that; it brings people together, even as we all have to remain separated. It's a reminder that even as we all feel alone, we're going through these trials as a community. These movements are bringing happiness, which everyone can relate to.
"I have people commenting that do not have children that they appreciate the rainbow hunt group because of the positive vibe it is bringing into their life right now," Jones said. "Besides my children, I'm hearing about how other children are so excited to see rainbows in their community. It's nice to feel connected and I think this is just what the hunt is doing."
Join the Facebook group here, make sure to tag your photos #904rainbowhunt, and be a part of this local community movement!