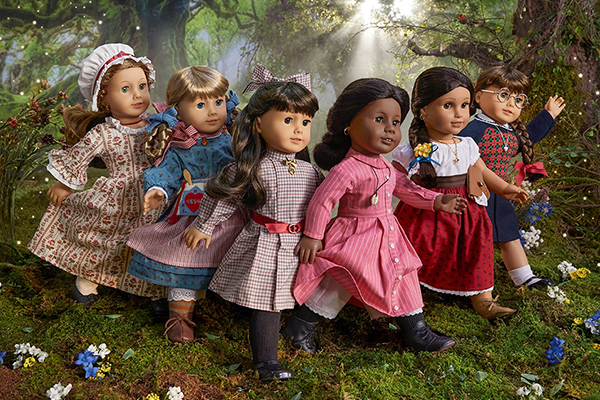 Yes, you read that right. In honor of the 35th anniversary of American Girl dolls, the company has just re-released the original cast — Kirsten, Samantha, Molly, Felicity, Addy, and Josefina. Included with each retro-inspired American Girl packaging will be the character's first paperback book with a vintage cover. So break out those checkbooks, er, I mean credit cards, and get ready to relive all your childhood fantasies!
I admit, I've always been in love with these dolls. If you're as old as I am, you remember very originally that there were only three dolls — Kirsten, Samantha, and Molly. It was on a bus ride to school in fourth grade (hello, 1986) when a girl showed me a catalog (you know, a printed magazine with pictures in it and a paper order form you had to fill out in pen and mail in?! with a stamp?!), and I fell head over heels in love. That Christmas I opened a burgundy box with a white bow and was startled at how real and alive Kirsten looked. I spent about the next six years of my life spending every cent I earned on Kirsten's accessories (although I never did earn enough for that birthday set table and chairs).
Felicity was introduced to the world when I was in middle school, and after pressing redial eight million times on our touchtone landline phone, we finally were able to get through to purchase tickets to the doll and girl tea in Williamsburg where Felicity made her debut. Williamsburg was right down the road from where I grew up, and we drove over in a big wood-paneled station wagon. I remember getting sick off of marzipan and wearing my Kirsten summer dress to match my doll. Felicity was my second doll. She sparked an interest in colonial history that has never left me.
Then I went off to high school and fell in love with field hockey and poetry. Four years later, I left for college where I fell in love with working at the student newspaper, American history, and a boy or two. The books I cried over with the stories I loved, and doll accessories I so carefully cared for, sat in a trunk in my bedroom at home for about 15 years. A mouse ate the tip of Felicity's nose. The fake flowers dried to dust. Finally, the trunk made its way to Jacksonville when I got married, and we bought a house.
A year later, I had a daughter. She wasn't yet 2 when it was announced that Samantha was going to be discontinued. No way was I letting my daughter grow up in a world without Samantha! With a real job and a paycheck, I could buy what I wanted this time, no parents to stop me, and I got a few things to keep for my daughter in the trunk. Then… one day, finally… my little girl was old enough.
Out came Kirsten, Felicity, and Samantha. We got the catalog. We ordered a new doll, Rebecca, for Hanukkah so my daughter could learn about the Jewish side of her family — Rebecca grew up where my husband's grandparents lived in New York. We read all of the doll's stories, explained difficult parts of history, had conversations sparked by the books about animal cruelty, child labor, immigration, slavery, skin color, war, and religion.
My oldest daughter's in middle school now (thank you American Girl, for the life-saving, un-awkward The Care and Keeping of You books for all those don't-wanna-have conversations). The dolls sit in their trunks again. I'm happy I also have a growing 5-year-old I can share the world of American Girl with, too, eventually. I look forward to reliving my retro childhood again and to sharing the stories of these dolls with her as she grows up. And maybe I'll buy her a doll of her own.
Okay, who am I kidding? Of course, I will.