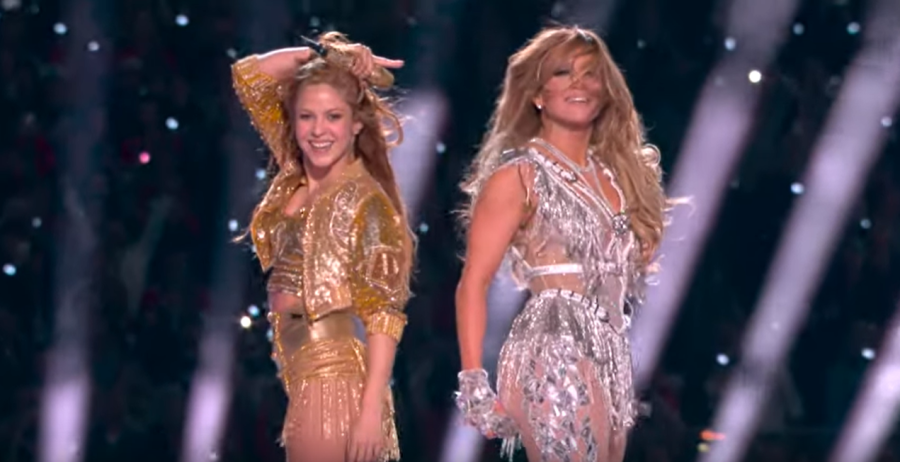 Last night was Super Bowl LIV, and if you're like most of America, the game itself was kind of an afterthought. I mean, who really cares if the Chiefs or the 49ers win? The overwhelming consensus seemed to be that people watch for the food, the commercials, and the halftime show. This year's performers were Shakira and Jennifer Lopez, and as a lifelong fan of Shakira's, I was super excited, but also nervous. After all, some of the recent shows have been absolutely amazing — Lady Gaga, Beyonce — and others have been a complete and total bust (Maroon 5, I'm looking at you).
Shakira and J.Lo's show, it turned out, was polarizing. Social media lit up like fire with people giving their thoughts.
Some absolutely loved the Latina spectacular, applauding both women for unabashedly showing pride in their heritage. Both women sang in Spanish at points, and one particularly powerful moment was when Emme, Lopez' daughter, sang "Born in the USA" while Lopez sported a Puerto Rican flag. Shakira, who is Colombian, also gave a nod to her Lebanese heritage with a zaghrouta straight into the camera. While it instantly became a meme-able moment, a zaghrouta is actually a traditional Arabic expression meant to show happiness and exuberance. Other people loved seeing two women — both mothers, both older than your typical Hollywood starlet — showing unabashed sex appeal. J.Lo gave a nod to Hustlers, her most recent movie, by taking a turn on a stripper pole, and both Shakira and J.Lo proudly shook what the good Lord gave them.
But others felt like the halftime show went too far. Lots of people expressed their discomfort with watching such an overtly sexy show that aired during prime-time, with their children, parents, or grandparents watching with them. There were crotch shots while dancers gyrated in skimpy costumes, plentiful views of J.Lo's butt, and of course, the aforementioned pole dancing. Many were quick to point out that they didn't mind the sexy display, except they were watching with their kids — and felt it was inappropriate.
For me? I didn't feel like the dancing was too sexual, personally. Shakira is known for her belly dancing, which is rooted in Arab tradition and is a skill that requires enormous muscle control. (Have you ever tried to belly dance? It is hard!) Other parts clearly took inspiration taken from both Latin and African dances. I could have done without the stripper pole, yes, but more because I am tired to death of hearing about Hustlers, y'all. We get it, J.Lo. You had this movie where you showed the world how amazingly hot you still are at 50. Now move on. But beyond that, I was mostly disappointed in how little time Shakira spent on my screen. Offended? Not so much. After all, no one raises an eye when any male performer — Adam Levine, Justin Timberlake, Bruno Mars — strips down and gyrates around on stage. It's only women who can't show an ounce of sex appeal, while also being required to be sexy at the same time. It's a lose-lose situation for female performers, really. Remember Gaga getting raked across the coals after her halftime show because her stomach showed slight rolls thanks to a few unflattering camera angles? Yikes.
What did you think? Did you love the halftime show or hate it?