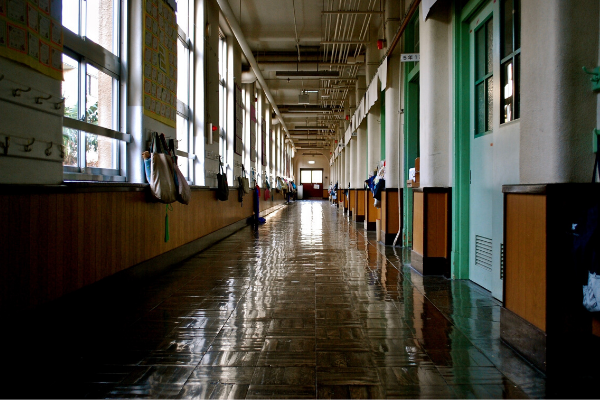 School is supposed to be a safe place for our kids. But if you're a child with a disability, it can be anything but. And one Jacksonville mom learned that lesson the hard way. Marina Falk claimed that her 6-year-old daughter, who has ADHD and a mood disorder, was handcuffed by police and escorted to a behavioral health center after the administrators at her school decided to Baker Act her. Marina Falk admitted that her daughter did have a meltdown. But what school officials did next, she says, is inexcusable.
"She had the meltdown at school — she was pushing over chairs, screaming, yelling, and running away from the teacher," Falk told the Florida Times-Union. "The police escorted her in handcuffs and refused to let her come home with me."
Duval County Public Schools and the Jacksonville Sheriff's Office deny that Falk's daughter was handcuffed; body cam footage later showed Falk's daughter was escorted from the school without being handcuffed. They do admit Baker Acting her though. And when Falk went to see her daughter, she said that she was "drugged up" and wearing a diaper, despite the fact that she's fully potty trained.
"They claim their staff is trained to handle children with mental disabilities," Falk said. "My daughter was diagnosed with a mental disability. She is not like other kids. She looks normal, but she is not normal … I want my daughter to have an education just like everyone else. I'm hurting so bad right now."
As sad as it is, Falk's experience is far from rare. This kind of discrimination against children with disabilities is endemic across the country.
In Philadelphia, a 6-year-old girl with Down syndrome had the police called on her because she made a finger-gun at her teacher. Both her teacher and the principal said they knew she didn't mean it as a threat, but they called the police anyway. And then there are the isolation rooms in use at countless schools in numerous states, but most notably in Illinois. There, children with disabilities are physically restrained, sometimes forced to lay facedown on the floor, in padded rooms — usually the size of a closet or toilet stall — by themselves, while staff ignores their screams and pleas to be let out. And children with disabilities are much more likely to face discipline, including suspension, than their neurotypical peers are. The discipline gap is even wider for disabled children of color. This kind of discrimination isn't just wrong; it's illegal, under the Americans with Disabilities Act. And yet it persists, largely unnoticed outside of the disability community.
Everyone has the right to an education. And children with disabilities deserve to have educators who are trained on their unique and individual needs. Instead, they are too often met with seclusion, discrimination, segregation, physical restraints, and isolation. It's immoral, unethical, illegal, and plain wrong. A disability does not mean someone deserves to be treated as less than. Children, all children, deserve better than this.