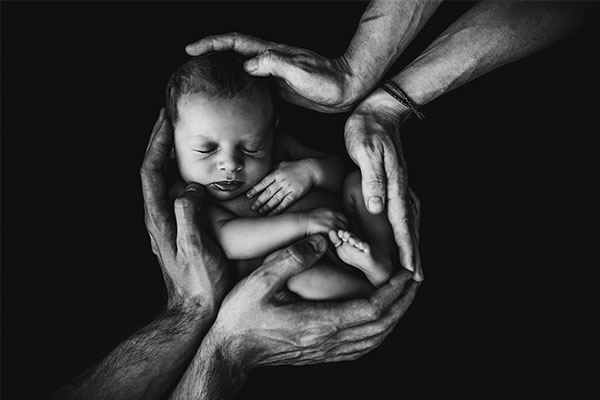 I keep Publix gift cards in my car sometimes. Often there are people holding signs by the stores that are closest to our house. One day, with my daughter in the car, I slowed down to hand one of them a gift card. "Don't, Mommy, don't open the window!" she said, scared. He looked just like the man who carries the snow shovel in Home Alone, the one Kevin's brother tells him is a murderer. But I did and gave him a gift card.
"Honey, what if that was your little brother? Wouldn't we want someone to feed him if we couldn't?" I asked her. "You can't just think he looks scary. You have to think of who he IS. He's someone's brother. Someone's son."
She got it.
Becoming a mother is the most life-changing thing that has ever happened to me. It has fully changed how I view the world and people. Becoming a mother myself has made me realize that, no matter who someone is, what they look like, what they believe, who they love, or how they act, they are somebody's baby. I never realized how powerful love is until I had a child. I never experienced a love so strong. I never understood how you could love someone so much who hurt you, drove you crazy, kept you up all hours, whom you loved more than yourself, until I had a child to care for.
Think about that. That precious moment when this grown-up standing in front of you was first held by their mother or father, grandparent, nurse, a caretaker. At that moment they were so loved, they were brand new and welcomed to the world with joy — joy for the love of a baby, for the potential they held, a gift and child of God. We find it so easy to love and care for babies, and we are not so great at caring for and loving all adults, especially those who need more consideration, acceptance, kindness, assistance, and attention. Adults who are often in their current situation through no fault of their own, but for reasons that set them up to struggle even before they were born.
But regardless of all that, they were — are — somebody's baby. When you say to yourself, "I can't accept this person," are you thinking of them as an adult? Or as someone's child? If you are thinking of them as an adult and simply what they appear to be physically in front of you — broken, tall, mentally ill, purple-haired, large, short, LGBTQ+, small, a person of color — think of them as someone's beloved child first. Not to belittle who they are now, but to remember how happily they were welcomed before life intruded, and how much they are loved by someone — their mother, their father, an adoptive parent, a grandmother, their family. That love started the precious moment they were born, and it doesn't stop.
As mothers, we know firsthand how fierce and raw that new baby love is. We also know we would do anything, anything, for our children, regardless of how old they are. Glennon Doyle Melton often says, "There's no such thing as other people's children." But it doesn't stop there — it only starts there. Because every human being started out a precious life, beloved and celebrated, we must continue to see them that way. No exceptions, no conditions — even though babies grow into adults.
As a mother, I welcomed each of my children with joy. I keep loving them because of their spirit and personalities, their heart, and their funny sayings. I love them even when it's hard to like them. But mostly because, no matter how grown up they get, or what mistakes they make, they will always be my baby. Everyone is somebody's baby.
As long as I'm living, my baby you'll be.