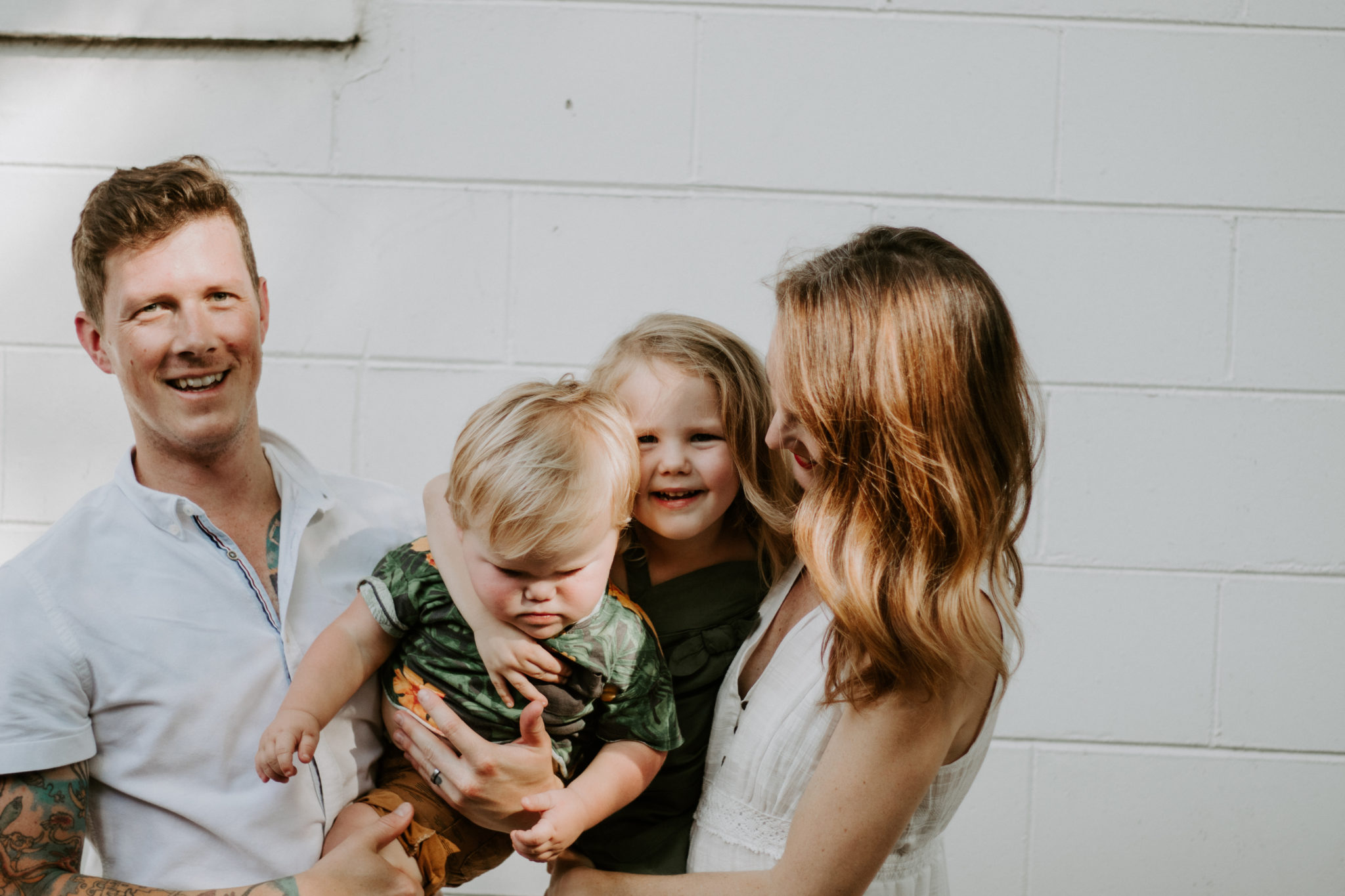 To clarify: This article isn't about the disparate amount of responsibility that falls squarely onto a mother's shoulders and why that's not fair. (Though it generally does, and it's really not.) This article is about me letting go of the reins a little bit and letting Dad do his thing. I also want to acknowledge that, in being a part of a two-parent household, my perspective clearly doesn't reflect what it's like for those badass women out there taking motherhood by singular storm. But if you find yourself in the fortunate position to share responsibility with somebody, please consider this my encouragement to do so.
Okay, back to dads. And what happened when I finally let my husband be one.
It's easy to see how the role gap happened for us. When my daughter was born, I wasn't "neurotic" as first moms go. (I had the benefit of being super actively involved in my nieces' lives.) You wouldn't find me fending off strangers or dousing her with antibacterial. But you would find me there — always. I barely took an eye off of Adair because I was so damn amazed that she was real.
Between exclusively breastfeeding and leaving my full-time job to focus on freelance projects, I was, quite definitively, the primary caregiver. Jonny would take over every now and then, usually at bathtime. And he'd occasionally snag her on a Saturday morning before I got out of bed. But, by and large, I took Adair on and I loved it.
The fact that we'd have different opinions didn't hit us until we had to consider how we'd address less fun stuff, like sleep training and discipline. And then it looked something like this: I would make a plan, I would tell Jonny the plan, I would employ the plan — modifying when I felt necessary — and then I would get mad when he would fail to read my mind. He would feel defeated. Judged. Not trusted. And, to be fair, he wasn't wrong.
I'd like to say that by the time she turned 1, and we found out we were having another kid, that I had completely adjusted. That I'd relinquished control and was enjoying a few carefree moments alone. However, life isn't a movie montage, and I didn't magically figure out how to empower my husband to the tune and brevity of a Madonna song.
Instead, we got pregnant again, moved across the country, got new jobs and started what was, by and large, a whole new life. By the time no. 2 (Fitz!) came along, I knew something would have to give, I just didn't know by how much. For the first 23 months of her life, if Adair needed something, I was the one to give it to her. And now I couldn't even carry her to bed by myself. I'm embarrassed and a little amused by the fact that, while I was recovering from my C-section, I'd have Jonny "help me" carry her up and I'd pretend to put her in her crib because she and I both needed it.
I'm lucky because my children's father cherishes his role. He wanted to help, to be involved, to call shots, and honestly, I just didn't let him. And while I could write an entire essay on gender-normative stereotypes and how they perpetuate an imbalance of parenting and household responsibility, that's not really what this is about.
It was about Jonny "not understanding" what leggings go with which tunic or why Adair should be wearing her sandals instead of ballet flats. It was about him giving Fitz his bottle right before bed as opposed to 45 minutes prior so that he doesn't develop a sleep association. (Because me nursing him to sleep the first 14 months of his life surely didn't do that. Eyeroll here.) It was about the dinner he made of pasta and parmesan cheese, with a side of string cheese and some more carbohydrates.
It was about everything he was doing "wrong," that I was better off doing myself.
But how well off am I, really? When I find myself waking in the middle of the night, anxiety-ridden with all I have awaiting me. When I forget the towels for water day at school and am late for a meeting. When my arms are tired, my back is aching and my mind is irritable. For someone who feels at her best when she is needed, I realized that not only was I not at my best, I wasn't even all that good. And so, I let go of my ego. I stopped trying to be the woman who did it all, because, regardless of what Instagram would like us to think, that woman doesn't exist.
If Jonny wants to pack snacks, what do I care what it is? If he's willing to put the time in to get them dressed, why is it important if their outfit is "on brand," or, ya know, matches? If he will get out of bed with them in the morning, why on earth would I care if the TV is on? This kind, brilliant, generous and handsome man has not only kept himself alive the last 35 years, but he's also saved my own life (figuratively speaking) on more than one occasion. There is only one person on earth who loves these kids as much as I do and instead of micromanaging him, I should celebrate everything that he's willing to do.
Turns out, if you "let" your husband do some parenting, it's highly likely that he'll want to do even more — without being asked. Win, freaking, win scenario. But more than that, he was able to demonstrate his strengths as a father. He's patient and fun and willing to run around the house with them for hours on end. He's intuitive in his own right, often knowing when to let them struggle just a little bit longer which, in turn, allows them to feel so proud of accomplishing something on their own. I can already tell there will be a time when our kids seek him out over me.
Besides, without him, I'd never get a photo from daycare that my daughter's outfit was put on backward and that she was thoroughly enjoying her time "titillating" her classmates.