Two years ago, I trained. I trained REALLY hard. I had my will tested the entire race. In the end, I felt like I failed… remember this? The sweet lady in the med tent tried to cheer me up in between my tears, but the nagging voice in my ear let me know I needed to redeem myself. Last year, I wasn't able to participate due to previous commitments, so I set my mind on making sure I was able to participate this year.
Starting this January, I decided… I'm all in! I've trained and have incorporated cross training, as well. I'm healthier and focused, though training didn't come without some complications, as I've been dealing with a constant calf cramping in the middle of my runs… but I pushed through! Rest (yeah right, I'm a mom, remember?), ice, compression, elevate had been on repeat.
I'm one of those people who likes to train alone. Why? Because I'm always the one in the back. I'm always the person everyone has to wait for to finish… and sometimes, some don't wait. It's okay. I'm not fast, haven't been since my college days. So when it comes to preparing for a race, I ALWAYS train by myself. I don't have partners or accountability people, and that's okay because this run is for me.
A week before the Gate River Run 15K race, I posted a question on my Facebook page asking if anyone I knew was going to be running/jogging/walking the race. I was so excited when many of my friends commented saying they were going to be there, as many of us planned to meet before or after.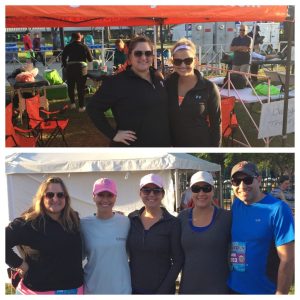 But it was ONE person — ONE person who changed something  for me. She messaged me the next day to ask if I was running with anyone. I replied no, I'm running alone. She asked me to join her and a few others that were zoned for my same time. I could not type YES fast enough. No one ever asks me to join them or wants to join me. It's become so normal for me, that it doesn't phase me anymore. But this day, it did. And I cried. Because someone DID WANT ME. She wrote, "We don't have to run our best race, we just have to finish." That's my kind of mentality! Be your best. She will never know how much that actually meant to me. (Well, she may now. Hi, Cheryl!)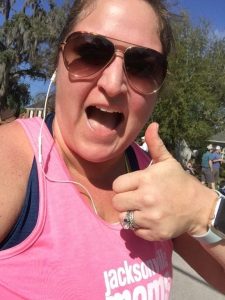 Race day came, we all met up beforehand, and we all ran/walked the race together. There were times I needed to stop to catch my breath or because I was feeling some leg cramping. Being the stubborn person I am (see above), I told them to go on without me. I lost sight of them during the second half of the race, but I persevered. And guess what? They were all waiting for me at the finish line. ALL OF THEM… along with my mom and kids! Emotions took over and tears welled up. The high I felt at that moment made the weeks of pain worth it.
As parents, we always talk to our kids about how they feel after they've played a sport.  No matter whether they won or lost a game, we always ask Did you have fun?  Because that's all that matters!  And it really is.