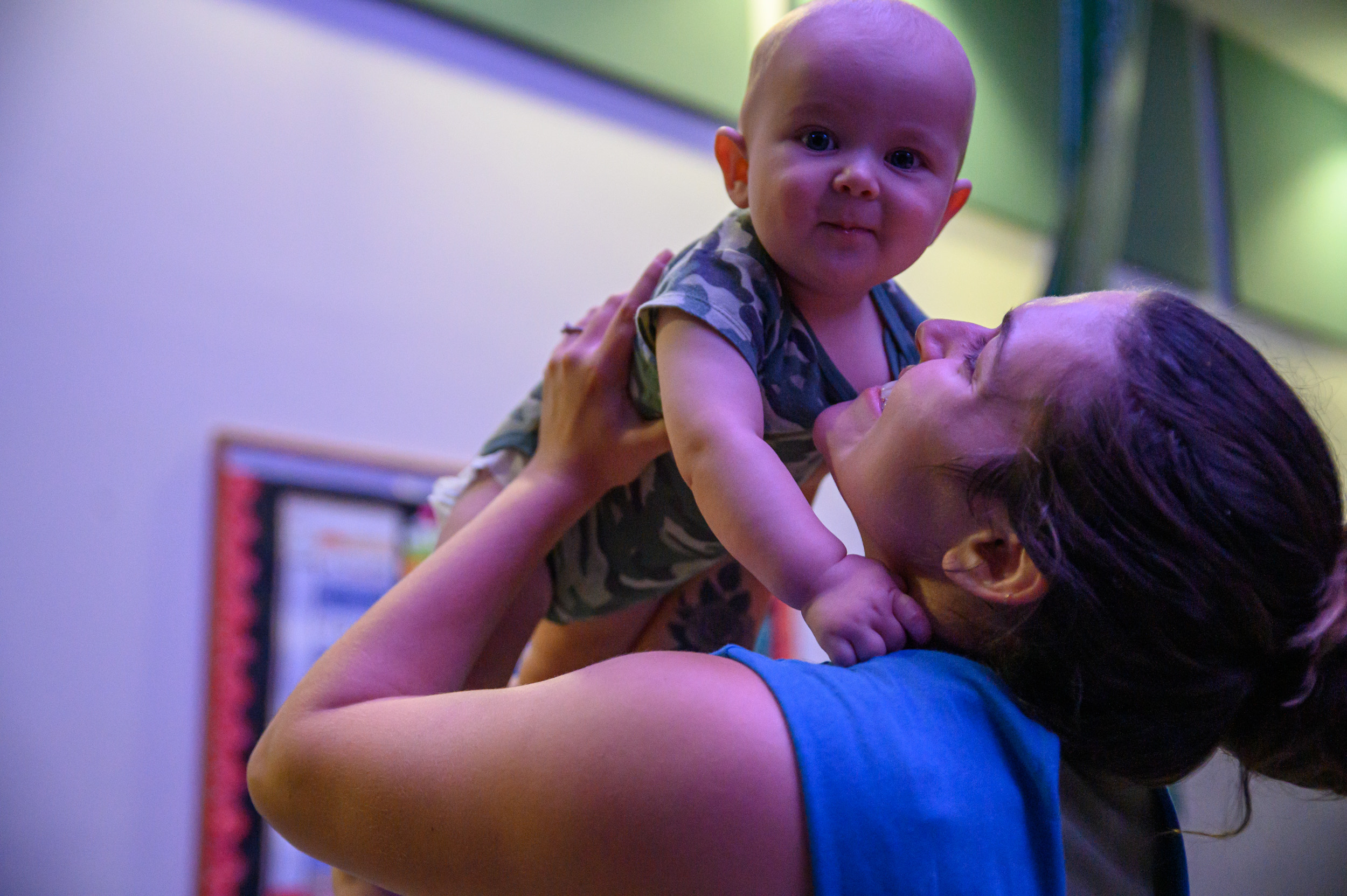 Five months after my 21st birthday, my husband and I decided to start trying to have a baby. I know what you're thinking — are you insane?! You're so young! You just started legally drinking… why do you want to spend your early twenties raising a baby?! All of these are valid questions! Questions that ran through my mind, too. Here's the truth: Being a mom is all I've ever wanted to be. Seeing those two little lines pop up on that pregnancy test was the best thing that ever happened to me!
To preface, my husband and I got married super young, too. We met in middle school, but we started dating in high school when I was a sophomore and he was a senior. High school sweethearts! After dating for years, we got married in April 2020. Total COVID lockdown wedding?! Yep! Only about 10 people were there. It was outside. We spent our wedding night at Hotel Palms in Atlantic Beach, which graciously opened its doors to us in such an uncertain time. We didn't have a honeymoon due to travel restrictions. It's been a wild time! So, having a baby so young was a natural next step for us in our long list of uncustomary lifestyle choices.
That being said, this unconventional choice to become a mom at such a young age hasn't come without its challenges. FOMO is real when you see your friends posting pictures at the Jumbo Shrimp Game for Thirsty Thursday, and you're at home watching Word Party for the 3197th time. Not to mention, the perpetual feeling like you don't relate to anyone. Most moms I meet are older than me. Most women my age aren't moms. I've grown to appreciate that fitting in was never what I was supposed to do anyway.
The highlight of my life is raising my son. Since becoming a mama, I truly know what they mean when you hear the phrase "bundle of joy." Never have I experienced more unbridled joy than holding my baby for the first time. Then watching him smile for the first time and hearing his little baby giggles. Now he's crawling, and the amount of pride that I get when he completes these milestones is overwhelming. He is my sidekick. He loves going to Target just as much as I do. He's my twin in so many ways, including looks. He's the sweetest baby already, and I am so proud of the little boy he's growing into.
Some people might say I'm missing out on the fun part of being young. The lack of responsibilities and the happy-go-lucky freedom of having no children. To that, I say this: I have a different type of fun now. Watching Disney movies, cooking family dinners, and playing peek-a-boo with a smiley 8-month-old is the most fun I've ever had. Trading in nights out for diaper changes isn't for everyone —  but it has definitely been the best thing for me.
Ultimately, the journey to becoming a mom is unique for everyone. Whether you become a mom in your teens, 20s, 30s, or 40s and beyond, every journey is individually complicated, challenging, beautiful, and fun! There are so many reasons to celebrate becoming a mom — at any age.
About the Author
Born and raised in Jacksonville Beach, Olivia Gesner is proud to call Duval her home! She is a devoted wife to her husband, Noah, stay-at-home mom to her precious son, Micah, and dog mom to her Golden Retriever pup, Cece. Prior to becoming a stay-at-home mom, she enjoyed pouring latte art at her favorite coffee shop, Bold Bean, where she managed the Jacksonville Beach location. Now, you can find her drinking pour-overs at home, while trying to balance taking care of her sweet baby and lively puppy. In her free time, you can find Olivia volunteering at her church, exercising at TitanUp Fitness, listening to a true crime podcast, or watching football with her family! (Go Gators!) She is passionate about loving people and making everyone feel seen and valued! She dreams of one day traveling with her family all over the world, to explore and create new memories!