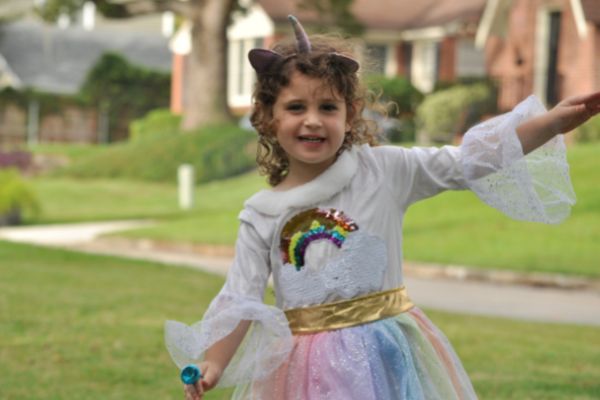 I have four kids. Four wonderfully made, beautifully different kids. One has to be outside playing with a ball at all times, one spends all his free time on his computer, one locks herself in her room to dance on a regular basis. Their personalities are all so different, and it is a joy and a challenge to parent all of them in the way they need.
Our third is the girl of a girl-boy twin set. She's as rambunctious as her brother, but unlike him, she will sit and color, craft, paint, and draw for hours. She loves to play with all her little toys — the random ones from the Happy Meal box, the little plastic cat from Valentine's Day, the old princess passed down from her big sister. She'll create small worlds in her head in a split second, suddenly lost in whatever she is imagining.
She's the one who makes me slow down. Her pace is not frenetic like her brother. She's the one who has to be told over and over to get on her shoes because she wanders off and starts to play. It takes her longer to get her words out, so I have to stop and listen and ask questions. She sometimes stumbles over what she wants to say, or has to repeat herself as she looks for the right word. If it is possible for a child to take five minutes to take one step out of the car, she's a shining example. The word "hurry" is not in her vocabulary.
As an office mom of four, of course there are times this drives me nuts. We're always late for everything. Always tired, always trying to get dinner done, pick up the house, lunches made. I admit I rush her more than I should. Lately, I've been making every effort to meet her at her pace. To listen to her observations about the sky or a neighbor's house, to eavesdrop on her talking to herself and her animals and dolls as she makes up a story for them, to let her sit a little longer in the bath tub as she washes each of her Paw Patrol pups and talks to them.
This little girl of ours has her own vibe. In some ways, she's very much like her other three siblings. In other ways, she moves at her own speed and on her own schedule. Trying to make her keep up with us and our rhythms, I'm learning, just doesn't work. Instead, everything devolves into tears and more stress. So now, each day, I sit down to hear what she has to say. I try not to rush her through her tasks. I help her put her shoes on. I match her speed and slow down and take the time she needs so I can enjoy this little girl of mine as long as possible.