Holidays in a military family can be something of a Choose Your Own Adventure. Far from family and the comfort of holidays at home, you're forced to create your own traditions–sometimes with people you barely know. I'm not from a large family myself–one sister, a few cousins, aunts, uncles, and grandparents scattered throughout Texas and the rest of the country. You'd never know that, though, if you were at my parents' house for Thanksgiving, or Christmas, or even Super Bowl Sunday.
Every holiday brought cars parked for blocks, bonfires blazing, and PEOPLE–packed to the gills, crammed inside our little bungalow and laughing out into the yard. Their friends, along with their friends' children, friends of friends, neighbors, and co-workers, became their family when they found themselves the only Prices living in Florida, far from those Texas roots. At any given time, there were five or so people completely unrelated to me calling my Mother "mom," relying on my Dad for rides to work or visits in the hospital, or living in the spare rooms that my sister and I had long since vacated. It was wonderful.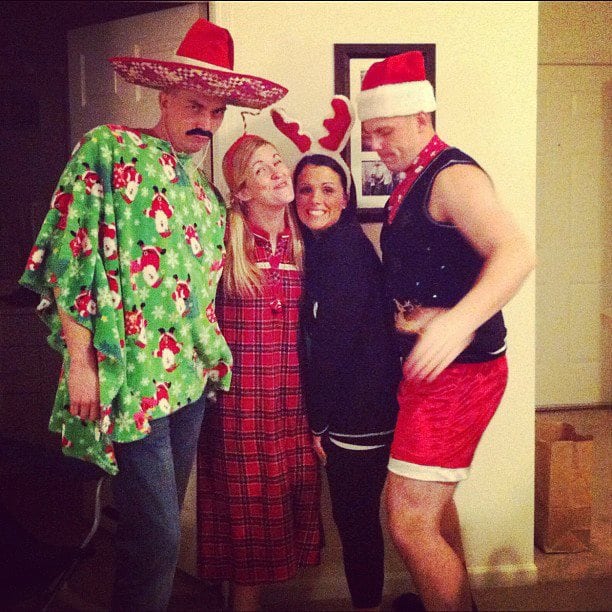 It was also great practice for life as a Military wife. In the years since my husband joined the service, we've been lucky enough to be able to spend Thanksgiving and Christmas together every year, including last year, which was our son's first shot at both. I know we're lucky that his Deployment schedule has been what it has–allowing us to open stockings and eat our mashed potatoes in person and not via Skype. And I know that there are so many families out there like ours who're on the opposite rotation–one where Thanksgivings are spent in galleys, and Christmas presents are opened at 3am when mom or dad's ship has internet access, so they can "be there, too."  The fact is, whether we're fortunate enough to be with our military spouse or not, the odds are that we're not stationed anywhere near extended family and that military leave schedules and holiday fares (coupled with military pay grades) don't leave much opportunity for getting to them.
Because of this, I've become a master at creating our own traditions and at modifying versions of the well-loved ones Derek and I grew up with. On Christmas Eve, we all get a new pair of holiday-themed pajamas, just like Derek's grandmother always sent he and his siblings. (Modified tradition: Ours don't match). Mac gets his in a heavy duty Christmas box that we store to use each year, along with a christmas book, movie and treat. (New tradition) Every Halloween, my family gets together to carve pumpkins, roast the seeds, and drink questionable amounts of seasonal beer. This year, far away from them in Jacksonville, my friends and I had a Fall playdate to paint pumpkins with the Littles, then got our families together another night to carve the grown-up version, seasonal beer still intact.
The giant Thanksgiving feasts that I helped my own mom chop up for years are this year being swapped out for the Friendsgiving to rival all Friendsgivings. (If I told you how many children 2 and under would be there, you wouldn't believe me. Or come). A few weeks after that, Mac and I are hosting a Christmas cookie swap at our little, currently-on-the-market, Murray Hill bungalow. Is it the 5pm til midnight mass (If you were still in any shape to make it) Christmas Eve open house my parents threw every year for 20 years? The one I still actively mourn and can almost taste the tortilla soup from? No. But it's the Christmas fun my own babies are going to enjoy and remember that same wistful way when they're out on their own, far from me and turning their friends into family, too.