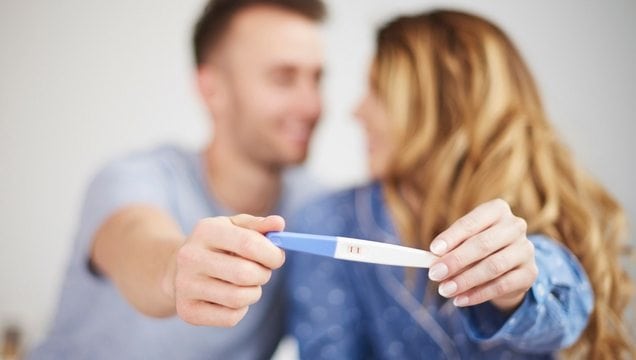 I will be the first to admit, I'm just a little bit of a control freak. Given the life I live as a military spouse, there are many things that are 100% out of my control. Where we live, when we move, the house we live in, vacation time, etc. is all very dictated by husband's job. As much as I despise the unknown, this life has been great for me, because it has forced me to realize I can't control everything and sometimes I just have to sit back, relax and hand it over to the man upstairs.
We've been contemplating baby #2 for a while now and perfectly good strangers love to ask us when we are adding a brother or sister for our daughter Charlotte, who is 2 ½. I wrote this post back in August and even though we are ready (or so we think), only time will tell. Back in December, my husband got word that he would be transferring into a different community within the military and with that good news, we felt comfortable to start trying for baby #2.
Rewind to 2013, when we got pregnant with Charlotte. My husband had just returned from his 2nd deployment and I was BEYOND ready to have a baby. Two weeks after he returned, I saw those two little pink lines (faint, but totally there). I couldn't believe it! I was pregnant! So, with all that said, I am anxious, but also nervous. Will I get pregnant month one of trying or will I experience secondary infertility?
I told myself that this time, I wouldn't do ovulation sticks or obsess over getting pregnant. I'm 28 and have several more years to conceive children before I hit the "advanced maternal age" category. So, after going off birth control, I retrieved my ovulation calculator app from iCloud. I just wanted to see what my dates would be. I had mentioned to a friend that we were going to start trying and she offered up some leftover ovulation sticks that she had ordered from Amazon. I took the bag and put them under my sink and didn't really think about them until several days later when I was in my ovulation window. I was out showing homes that afternoon and felt a little different. I got home that evening, pulled out the ovulation sticks (remember I said I wasn't going to do this) and sure enough got a positive. I ran out of the bathroom so excited, and my husband was SO confused! I quickly reminded him this was JUST an ovulation test and I wasn't pregnant, yet.
For the next several hours, I was super giddy. I couldn't believe that my body was doing its job and this could be the month. My husband quickly reminded me that we had a special, adults-only trip coming up in just two weeks and it may be better to wait until next month. I was crushed. After much debate, we did abstain (for a couple of days) and now only time will tell if I am pregnant or not.
I really want to savor this moment and how special it truly is. We likely won't have any more children after baby #2 and the emotions begin to flow when I think about how this could be the last time we get pregnant. It is truly a miracle. At the end of the day, I hope I can remember that it really is out of MY control. What is, will be and I know whatever is meant to be, will be!
What's your story? Did you conceive very quickly or did it take longer than you expected?