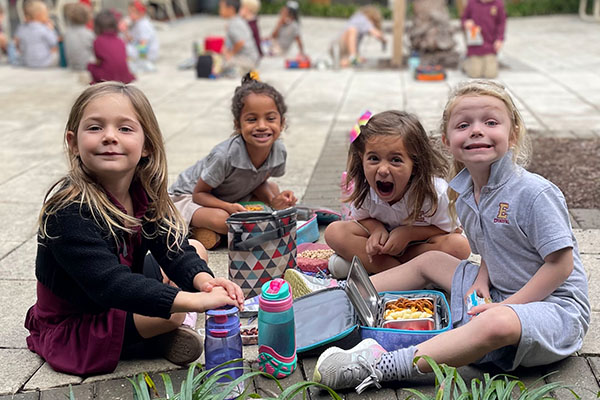 It's that time of year again… back to school time! As a preschool teacher, I always get so excited to see school supplies line the shelves. That means one thing — it's almost time for school to start!
Many parents wonder what they can do to help prepare their children for going back to school. Here are some helpful tips from a teacher… and the most important things don't have anything to do with academics.
Practice independence.
For younger children, make sure your child is familiar with skills like zipping their backpack, taking their lunch box in and out of their backpack, opening water bottles and snack containers, handling bathroom needs, putting on shoes, etc. These may seem silly, but being able to do these things will help make your child's day easier. For older children, make sure they know how to open a locker combination, take them on a school tour, and walk their class schedule with them to help them become familiar with the layout of the school, and talk about ways they can stay organized like using a planner and setting up a homework station.
Celebrate going back to school.
Our family started a tradition many years ago of having a big back-to-school family dinner complete with the students' favorite foods, small gifts, and words of affirmation to help get the new school year off to a great start. This has become one of our family's favorite traditions.
Read books about school.
Books can help ease back-to-school anxiety. My students always enjoy seeing things in books that are similar to things we have in our classroom. "Look! They have a circle time carpet like we do!" or "We have those same blocks!" Some of my favorite back-to-school books are I Don't Want to Go to School by Lula Bell, Lola Goes to School by Anna McQuinn, Miss Bindergarten Gets Ready for Kindergarten by Joseph Slate, and Ming Goes to School by Deirdre Sullivan. 
Talk through feelings. Reassure your child that it's okay to feel nervous on the first day, and remind them that the teachers get a little nervous, too! 
Our "Dear Parent, From a Teacher" series helps parents obtain the tools and insight to ensure a successful school year for their children. If you are a teacher who wishes to write a guest blog for this series, please email your topic to [email protected]
About the Author
Melody Harding is a lifelong Jacksonville resident. She has a B.S. from Jacksonville University in Elementary Education with an emphasis in Early Childhood. She has been teaching for 25 years and has been an educator on the Episcopal School of Jacksonville Beaches Campus for 16 of those years. When she is not teaching, she enjoys spending time with her family and friends, cooking, and looking for shark teeth.