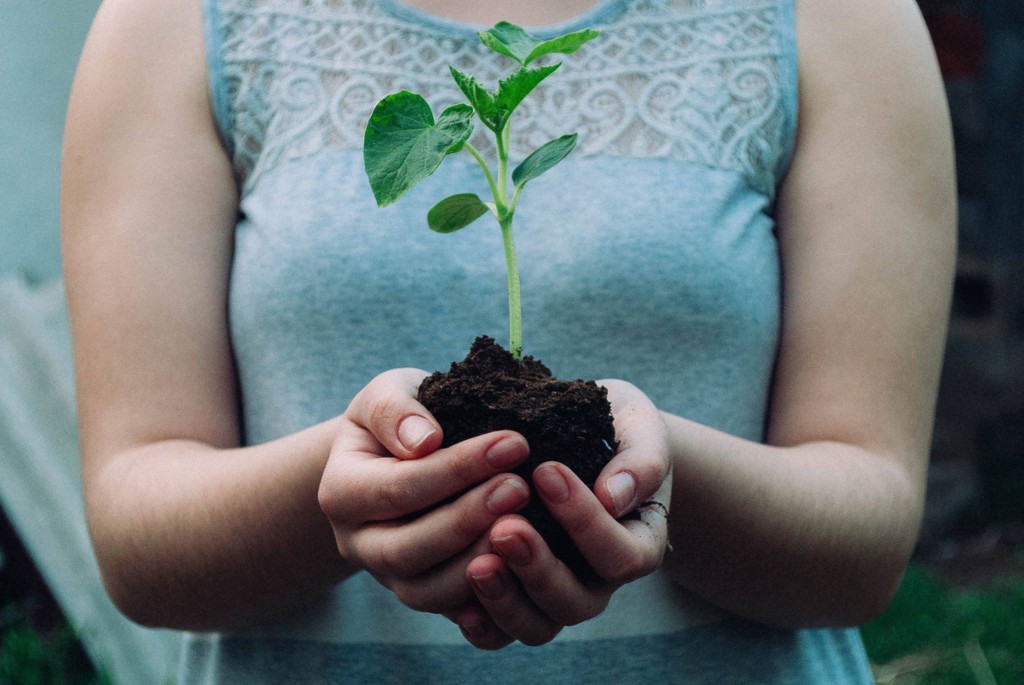 I'm the last person who should be giving gardening tips, but I found myself in a place where I HAD to do something about our front yard situation. When we moved into our new home last summer, everything was dead. Okay, we had one tree. But no flowers, no shrubs, no pretty palms like the rest of our neighbors. So we had to start from ground zero. Or I should say that I had to start from ground zero. We couldn't afford a landscaper, and my husband's work schedule did not allow time for yard work, but he was able to lend a hand from time to time and a few yard tips since apparently everyone knew more about gardening than I did. But I have learned a few things, and now that it's a perfect time to start planting outside, I thought I would share some basic, beginner's gardening tips for those wanting to dip their green black thumbs in the dirt.
Clean out the garden. Hoes, dirty hands, sweat — this sounds exciting! I assure you it's not, but it must be done. Clear out all the dead leaves, plants and weeds. I like to keep trash bags and trash bins close by for easy disposal. Other basic tools you'll appreciate are gardening gloves, a small and large shovel, and a rake. After everything is cleared out, it's a great time to fertilize your soil. I used an all-purpose fertilizer from Miracle-Gro.
Lay some garden fabric. This is an absolute must. Just do it. You will thank yourself every couple weeks when you walk by and pluck one dinky little weed sprouting up. In the meantime, your neighbor who didn't lay garden fabric is spending a good two hours of their Saturday every month pulling weeds. After you lay the garden fabric is when you'll want to plant your items. I cut an "X" in the fabric the size I wanted to dig a hole, pulled back the fabric, added some potting soil/fertilizer and buried the plant. But first, you'll need to pick what plants you want. This leads to my next tip.
Ask a professional for help. I went to Plant Ranch Nursery off of Beach Blvd. and San Pablo. They were extremely helpful. Luckily I brought pictures of the area I wanted to plant. I told them my budget and a gardening specialist drafted up a sketch of what we could plant. Then he took me around and helped me pick out all of the plants. I gave him an idea of what I liked, and he steered me away from bad choices (e.g. plants that wouldn't last through a freeze, plants that would poison my children —important things like that). He also helped me pick out fertilizer, gave instructions on how to plant everything, and offered to come plant them himself for a small fee (I believe it was $5/plant). I more recently went to ACE Hardware on Atlantic Blvd. to buy some flowers and also received some great help and advice while I was there. So wherever you go, find someone and tell them you don't have a clue what you're doing. This is my expert advice to you!
The plant tag is your best friend! If you end up some place where the staff isn't as helpful, make sure you read the plant tag. This will let you know if it's a good plant for you! Pay special attention to growing environment — sun vs. shade, the size the plant can grow to, and hardiness (will it last through winter).
Mulch your garden. Mulch is another way to deter weed growth. It will also help keep your soil moist underneath. Ideally you want about two inches thick of mulch around the base of your plants and flowers.
Weed and feed your garden. You've finished the bulk of it, now you have to maintain. Make sure your irrigation is reaching all of your plants. If not, you will need to hand water. Make sure to give extra love in the late summer when it's hottest and driest. It's recommended that you fertilize your plants monthly. I don't do it nearly that often, but I still try to give everyone a couple handfuls of Miracle-Gro when I can remember. And stay on top of your weeding. I try to pull my weeds whenever I'm walking by and see one. It's so much easier when they're small.
Hopefully these tips can help you get started. Remember to have fun and let your family get involved. My 5-year-old twins are at a very "helpful" stage in life. They are excellent weed-pullers and are thrilled if I let them pick out the flowers we are going to plant. And I think it's great they are being introduced to gardening at a young age. So get out there, ask for help, and get gardening!
What gardening projects are you hoping to tackle this spring?