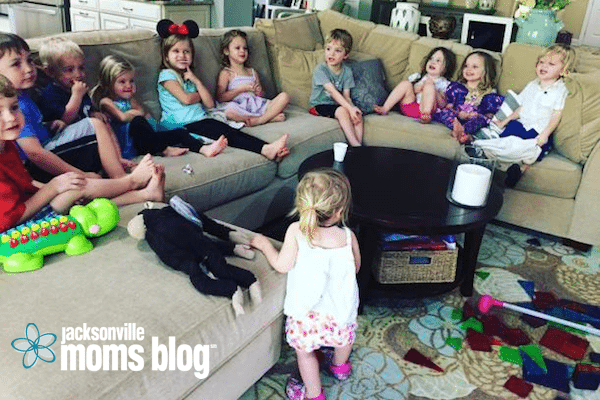 Almost two years ago, a neighbor with two boys almost the same age as mine sent a Facebook message to myself and six other neighbors in Nocatee: "Do you want to join a weekly swap where we rotate babysitting each others' kids for free?" 
I thought about it for less than a minute and sent back the word, "YES!!!"
Joining a neighborhood kid swap has been one of the best things that I have done for myself and for my boys. Every Tuesday afternoon, from 3 p.m. to 5:30 p.m., I pack up my kids' water bottles, apply sunscreen and drop off (or join them!) at the neighborhood kid swap. My boys have started to ask me if it is a "swap day" and they look forward to the next playdate all week.
These swaps have been the perfect way to pass the long afternoon hours with preschoolers, toddlers and babies and have helped me form connections as well as my kiddos meet new friends. Many of the swap moms whom I knew as a neighbor before swap became a friend after joining swap.
Sound like a dream to participate in one of these swaps? Here are five fast facts (good and bad!) on what neighborhood kid swaps are all about:
1. You're not always kid-free. It's all gravy, baby, when you are the one dropping off your kids for an afternoon. However, every other week you are on for swap, meaning that you and two other moms will be the babysitters. I tend to enjoy these on afternoons almost as much as being kid-free due to great company and a great way to pass the afternoon hours by.
2. Hostess with the mostess. The honest to God worst part of participating in a swap is being the one hosting the six families at your house. If six moms participate, and let's say that each mom has two kids, you can plan on 12 kids 5 years and under at your house once in every six-week swap period. You will have two other mom friends helping you, but I personally am not the best hostess. A few of the swap moms are known as the fun moms: The ones with the cool art projects in their house, outside messy water play options and the best snacks — I'm just certainly not one of them!
3. What to do with your free time. It's so nice to save money on babysitters and be able to spend two-and-a-half hours every other week getting errands accomplished. I schedule doctor appointments (the thought of my kids with me at the dentist give me a toothache!) and do other tasks like cleaning the house, making dinner or running to the grocery store during my hours of freedom. But sometimes, I just need some girl time! The other two moms and I that are off occasionally sneak away for an afternoon floating around the lazy river at Splash Park or going to happy hour at our favorite local Nocatee wine bar, Coastal Wine.
4. Crumbs, spills, messes… oh, my! Prepare for crumbs. Think about how your floor or car look after two of your own children eat Goldfish and pretzels sticks. And then, multiply those crumbs by six. It's nothing that a quick vacuum cleanup won't fix, but before you join a swap, mentally prepare yourself that helping to clean up during your on days is foreseeable.
5. Fostering friendships. When I first signed up to join a swap, I didn't think about the positive side effect of spending almost three hours/week with the same ladies fostering friendships. As our kids have aged a bit, we have enjoyed less chaos and more time to chat and just learn more about each other. The discussions have been sweet, and we have even snuck moments of quiet in while the kids played outside or in playrooms to learn more about what makes each of us tick.
This swap schedule may be something that only works for us as stay-at-home or moms with flexible part-time jobs, but you can connect with other neighbor moms who have similar schedules and form your own swap! For a group of full-time working moms, swapping on Saturday afternoons or Wednesday evenings to include a provided dinner may work best.
Yearning to meet moms so that you and your kiddos can form these close connections? Consider joining a Jax Moms Blog neighborhood group at JMB Neighborhood Groups. Also, you may need to be the initiator of the swap. Until my neighbor contacted me asking me to join, I hadn't ever thought of the idea of swapping. All it takes is a group of moms (or dads!) with children the same age, your calendars, a little organizing and some patience.
Happy swapping!