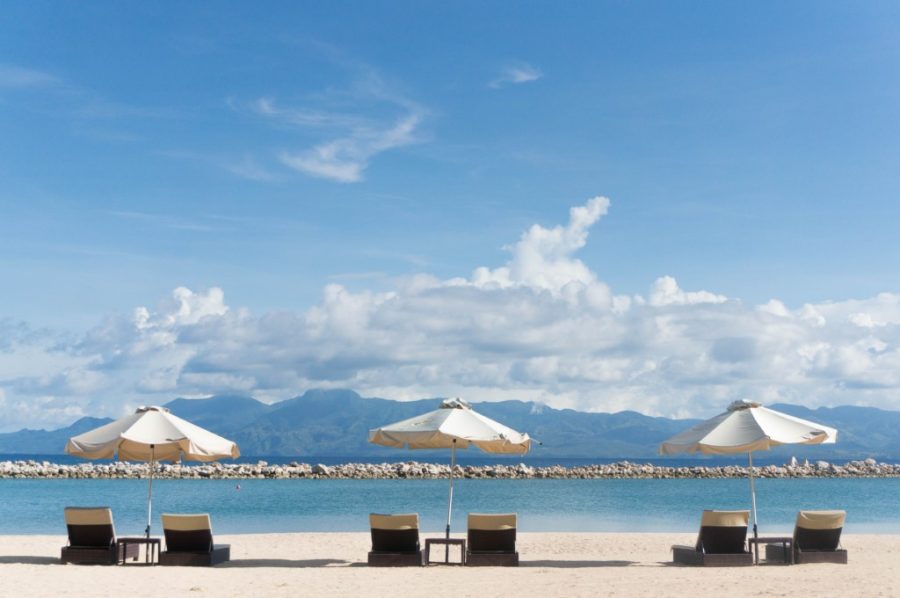 We picked a fine time to go out of town. I say that seriously and sarcastically because a major hurricane is about to wreak havoc on our beloved Sunshine State, and we are 2,000 miles away on vacation. It's good we aren't there and won't have to fight the hundreds of thousands of evacuees, but we also aren't there to prepare our house for the storm's beating.
While we contemplated flying home before the storm is scheduled to hit the area, we'd likely just have to turn around and evacuate, as we are in Zone C. We decided we are probably safest staying put and flying home once it's passed.
Before we left town, I convinced my husband to move in some of the outdoor patio stuff under the porch overhang, and I brought in things like cushions, pool floats, etc. We figured a hurricane during our time away was unlikely, but we did some light prep just in case. September is a very active month, and I just had a feeling it wouldn't go by without a storm in the vicinity.
Unfortunately, we had piles of tree limbs that were cut down last week out in front of our house, and I recently found out that the City of Jacksonville didn't pick them up because it was "too much yard waste." Are you kidding me? You couldn't give us a pass this one time, so these limbs don't turn into flying projectiles? C'mon! But they did pick up the pile next door, which apparently was a more acceptable amount of brush for disposal.
Seeing as this storm's path is so unpredictable, we didn't want to take any chances and found someone to board up our windows just in time. Our neighbors also all rallied together and helped wheel in the grill and any other remaining items outside that should not be lying around when this monster hits. Thank goodness for friends, family and neighbors!
The Weather Channel is the only thing we're watching on TV. I think it makes my anxiety over this storm even worse, but I can't seem to turn it off. We've seen and heard on social media from friends back in Jax that water and canned goods are scarce, fuel is running low, if not out already in the area, and plywood is going fast from home-improvement stores. That makes me sick to my stomach to think how stressful of a situation this is for the entire state of Florida.
Now, we watch and wait. With every new advisory, we pray the track shifts further east. But those darn spaghetti models keep tracking right through Northeast Florida. I'm across the country in one of the most majestic settings, and I am losing sleep over this storm, waking up in the middle of the night to see the latest advisories. I blame my addiction to storm coverage on my old news reporter days. I've been out in the middle of these storms before many times, but I've seen nothing quite like Irma.
Stay safe, Jacksonville.