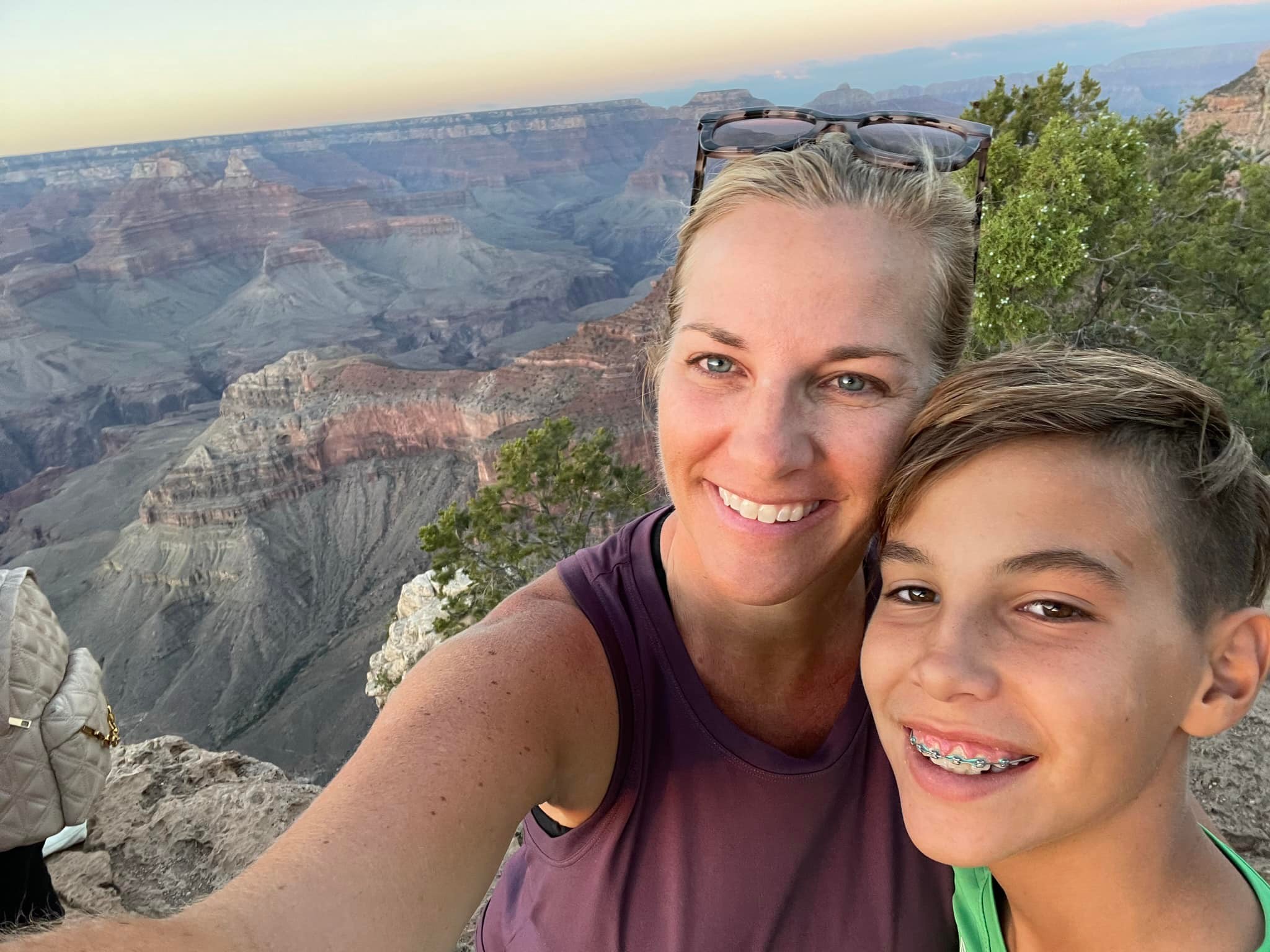 I've lived in Florida my entire life. Most of our family vacations have involved a beach and visiting friends and family. This summer, I decided to surprise my 11-year-old son with a trip out west — just the two of us (and my brother and his girlfriend). We flew into Phoenix and out of Denver and hit many memorable spots and national parks in between. It was a bucket list vacation and something very different than our typical vacation on the east coast.
Things to See & Do in Arizona
We touched down (and nearly melted) in Phoenix, hopped in our rental car, and drove straight to In-N-Out Burger. If you've ever been to California (and eventually Nevada, Arizona, Utah, Texas, and Colorado), then you've likely seen or heard of this place. My son was so excited to order his first Animal-Style Burger and tell his friends he had eaten here.
We stayed with one of my best friends from high school, but there are several family-friendly lodging options in Scottsdale and Phoenix. The Hyatt Regency Scottsdale at Gainey Ranch has a high-speed waterslide and a kids' club. The Westin Kierland Resort & Spa has an adventure water park and lazy river, and a play area called the "OK Corral" with lawn chess, basketball, game tables, and car racetracks.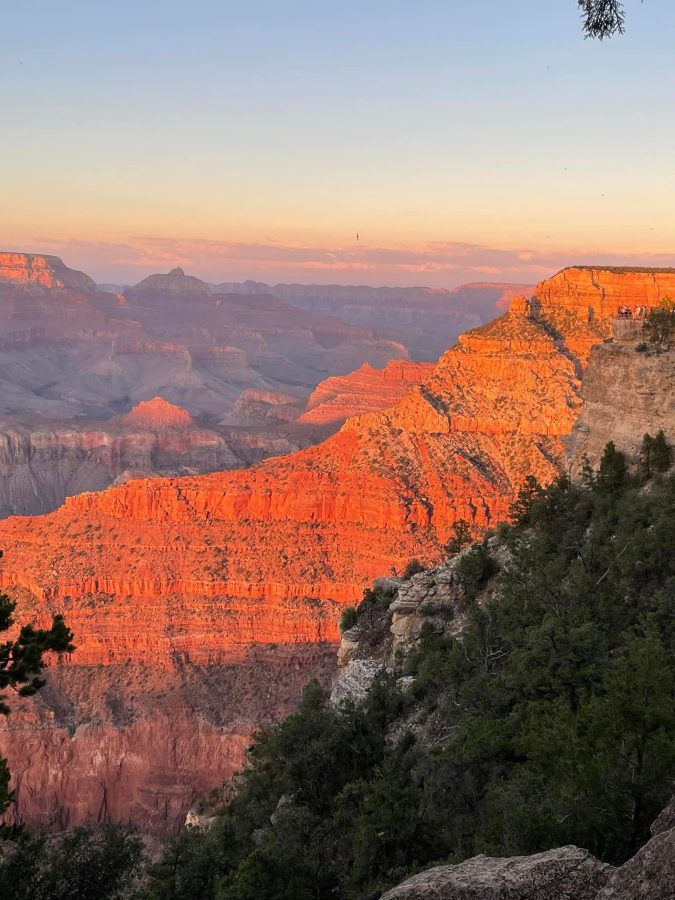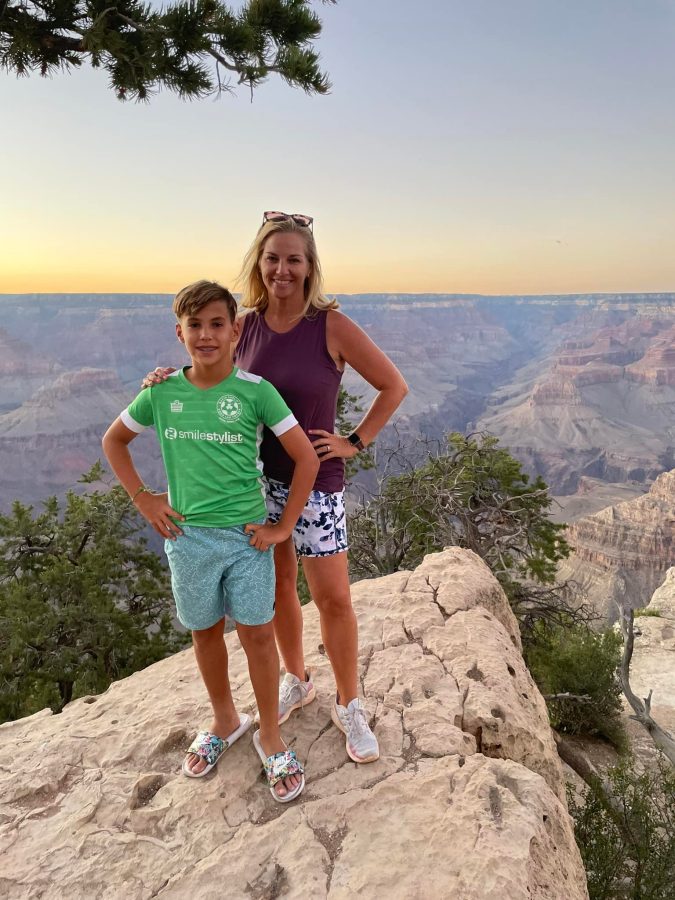 Our next stop was Sedona, about a two-hour drive north. On the way, stop at Montezuma Castle National Monument to see one of the best-preserved cliff dwellings in the U.S. Kids can join the Junior Ranger program and earn badges. Slide Rock State Park is just as it sounds — giant rocks you can slide down in the heat of the day to cool off and have a little fun. Hike to the top of Devil's Bridge (the largest natural sandstone arch in the area) for incredible views of Sedona, but give yourself ample time. The trail has ups and downs and some steep stairs as you get close to the bridge. Wear hiking boots and bring more water than you think you'll drink in the summer. You can also take the easier route to the top and explore more rugged areas in a Pink Jeep Tour — they do tours all over the area. Make sure to stop in the town of Sedona for relaxation, shopping, and dining.
From there, we drove four hours to the south rim of the Grand Canyon and made it just in time for the sunset. It doesn't look like much when you pull into the parking lot, and you walk to the viewing areas. Then, (boom!) canyons for as far as the eye can see. It's hard to put into words how beautiful it was. We took a bunch of photos though it was a little hazy and came back the next morning for a different scene as now the sun was lighting up the canyon. We stayed just outside the gates at a Best Western Premier Grand Canyon Squire Inn which was really nice and had an indoor and outdoor pool, firepits, a game room, bowling, and lawn games. There are lodges within the park that are within walking distance to the rim.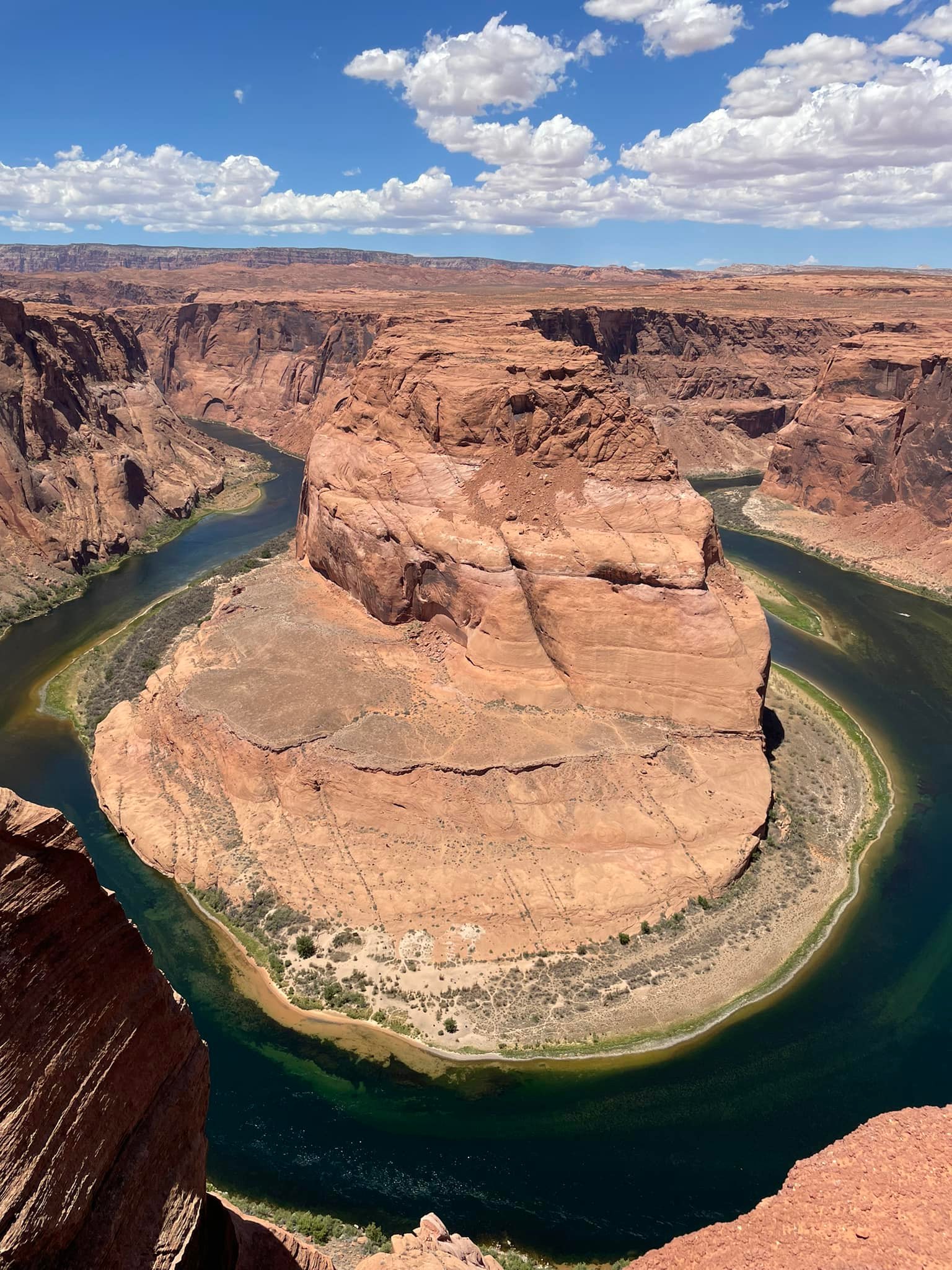 From here, we drove to Horseshoe Bend, just south of the Arizona/Utah border in the city of Page. I was worried it wouldn't look like the photos online, but I was wrong! It literally looks like a horseshoe-shaped rock in the middle of Glen Canyon. It's called an entrenched meander, and the Colorado River goes around it. The hike to the overlook is 1.5 miles roundtrip. This serves as a pretty incredible backdrop, but be careful: There aren't many railings, and it's a long way down. Definitely worth the $10 parking fee and a good pit stop to stretch your legs.
The Beauty of Utah
Just over the border in Kanab, Utah, is Coral Pink Sand Dunes State Park where my son went sandboarding and was one of his favorite stops on our trip. You can rent a sand sled for $35. A little wax on the bottom gives you some serious speed going down the pink-colored sand dunes, hence the name of the park. The tallest dune is about 100 feet. It was pretty cool to watch, but the sand was 128 degrees when we were there — felt similar to the summer sand we experience here on the First Coast. You can also rent off-highway vehicles and zoom around.
We hit the road for glamping about halfway between Zion National Park and Bryce Canyon National Park at the East Zion Resort. I was most excited about this stay, and it did not disappoint. It was in a pretty quiet area with only one little town store, so we decided to get hot dogs and burgers and grill out and play cards on our patio. Our glamping site was perfect. We had two beds, a bathroom, a small shower, and a mini fridge. When the sun went down, the temps dropped, and the stars lit up the night sky. S'mores were the perfect ending to a laid-back, disconnected day. You can also rent treehouses, yurts, and tiny houses. While my brother's girlfriend was a little concerned with a bear unzipping our glamping tent, I got the best night's sleep I'd had in a long time.
We decided to skip Zion National Park because it was a bit in the wrong direction and made a beeline for Bryce Canyon National Park. Though close in proximity, the views are quite different. Zion is a climber's paradise and known for sandstone cliffs and big walls. Bryce Canyon is known for its natural arches and iconic hoodoo rock formations. They were formed from sedimentary and volcanic rock eroding over millennia due to freezing and thawing periods, leaving behind what you see today. One of the most distinguished hoodoos is named after Thor's Hammer.
We found a parking spot at Sunset Point and hiked down into the canyon via Queen's Garden Trail — a 1.8-mile route that starts at the parking lot. The scenery was mind-blowing — we had never seen anything like it. The trek down was narrow and winding. On our way back to the top, we saw Thor's Hammer. There are different hikes, and you can ride the free shuttle to the various outlooks and trails. Stop by the Bryce Canyon Lodge for trinkets and gifts.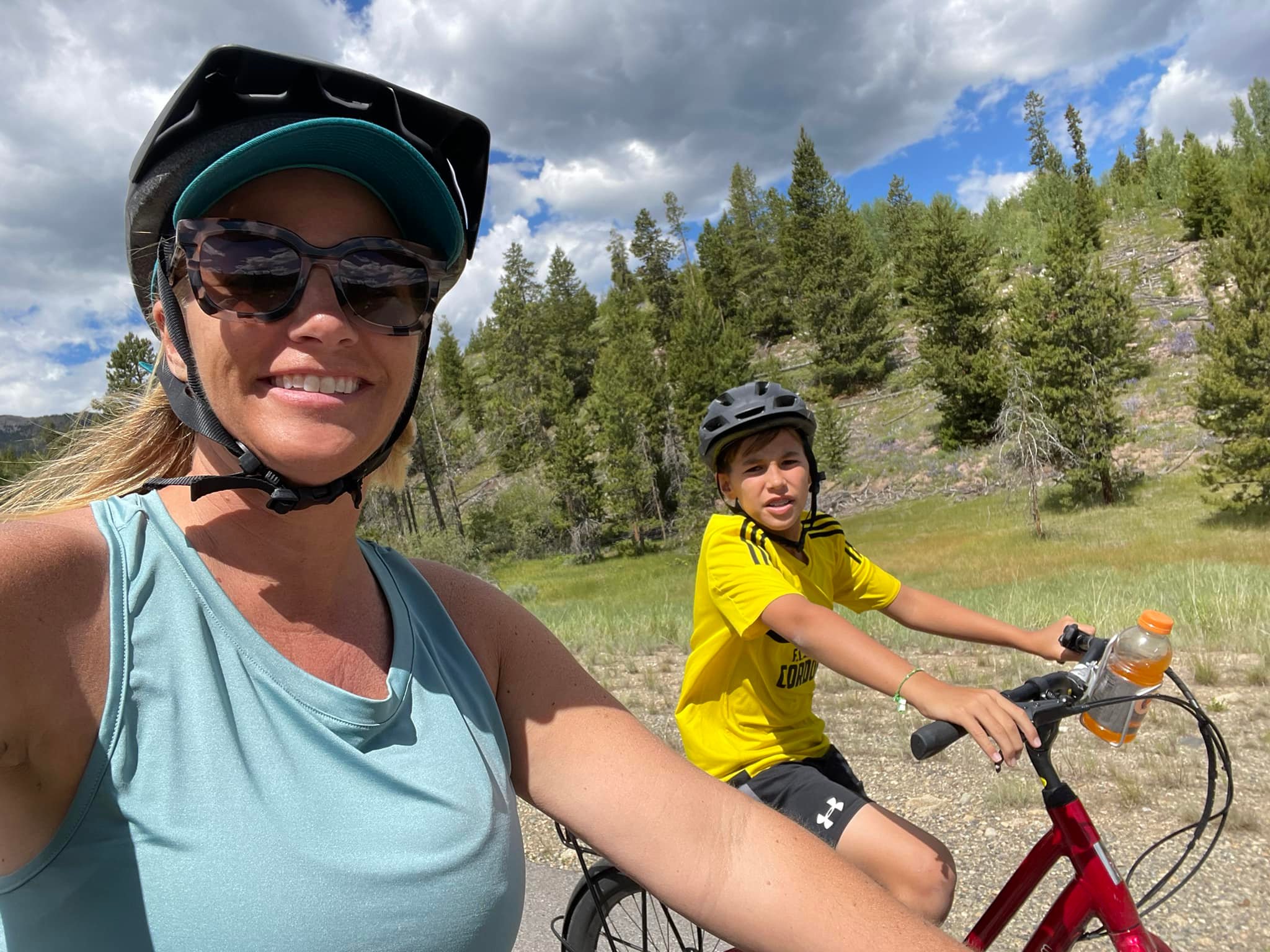 Exploring Colorado Country
From here, it was off to Colorado for a few days. We stayed in Grand Junction for the night — a cute little town with open-air breweries and lots of sidewalk art. We were exhausted so didn't do much but eat dinner and walk around downtown. Check out The Feisty Pint for local beer or choose from hundreds of tacos at Taco Party which was a pretty cool place with fun cocktails and incredible tacos. There is a winery in Palisade and a lot of outdoor activities like biking, rafting, and attractions like the Museum of the West.
We got up early for a quick drive the next morning to Summit County. We stayed at Keystone Hyatt Place (includes free breakfast) which is only a few miles from Breckenridge, Lake Dillon, and Frisco.
The weather was incredible — 50 to 70 degrees every day, and we soaked up every second of it riding mountain coasters at Copper Mountain, playing golf at The River Course where my dad is a volunteer ranger over the summer, and we rented e-bikes from Christy Sports in Dillon and rode 28 miles round-trip to Breckenridge where we rode the gondolas (for free) up a few peaks to Epic Discovery at Breck, which is fun for kids and adults. The bike ride was breathtaking, and we saw a moose! If your kids like to skateboard, they can drop in at Woodward Copper, a 19,000-square-foot indoor training facility with skateparks, trampolines, foam pits, and indoor ski training. There are only 10 of these facilities in the U.S.
After a week away, we boarded a direct flight in Denver and headed home. I can honestly say it was one of the coolest, most active, and most picturesque vacations in my entire life. I highly recommend it for families with children old enough to be able to enjoy what the great outdoors has to offer in this part of the country.
In all, we drove about 18–20 hours. The scenery never got old, and it's dramatically different than what we're used to seeing on our local roadways.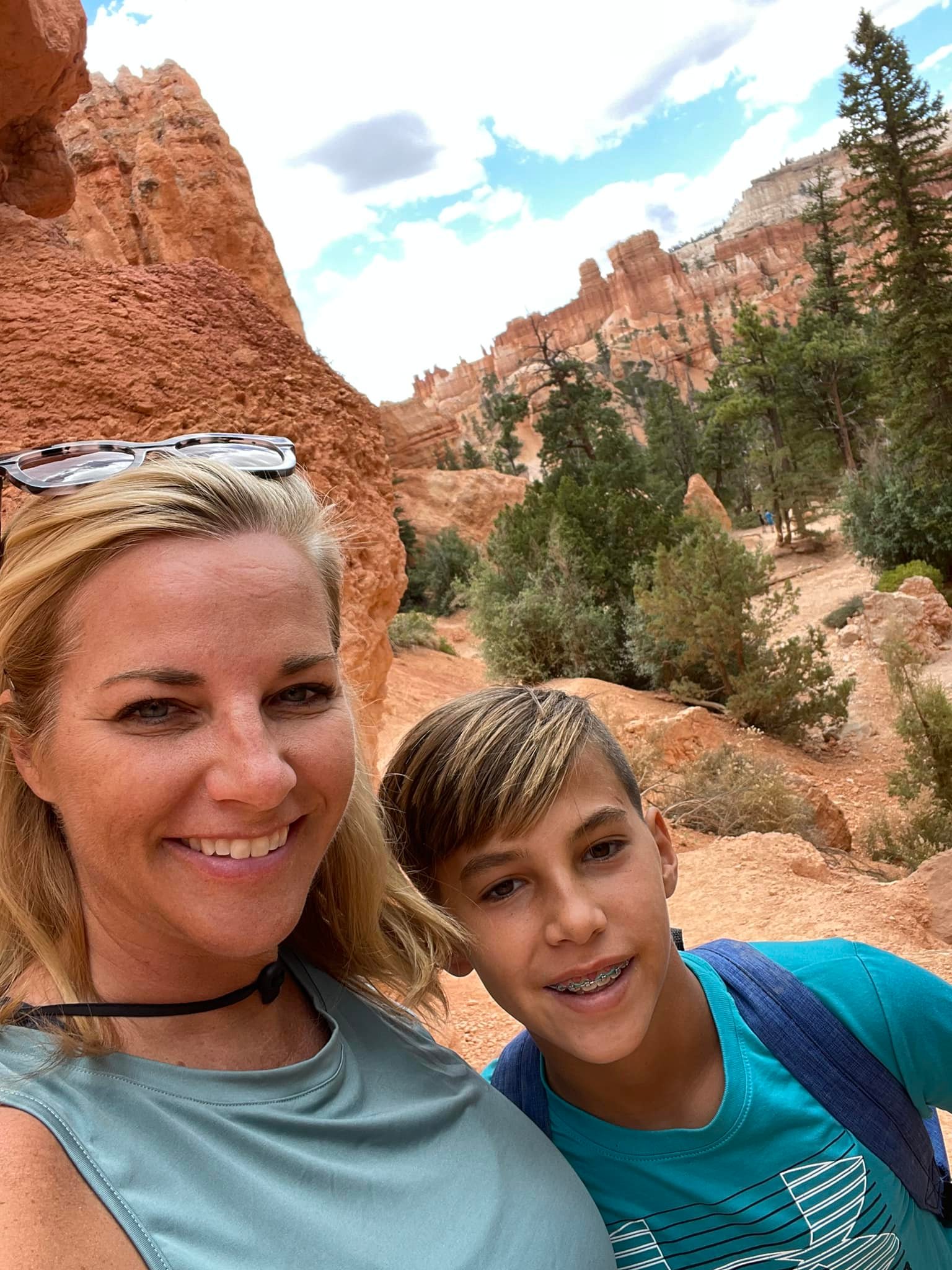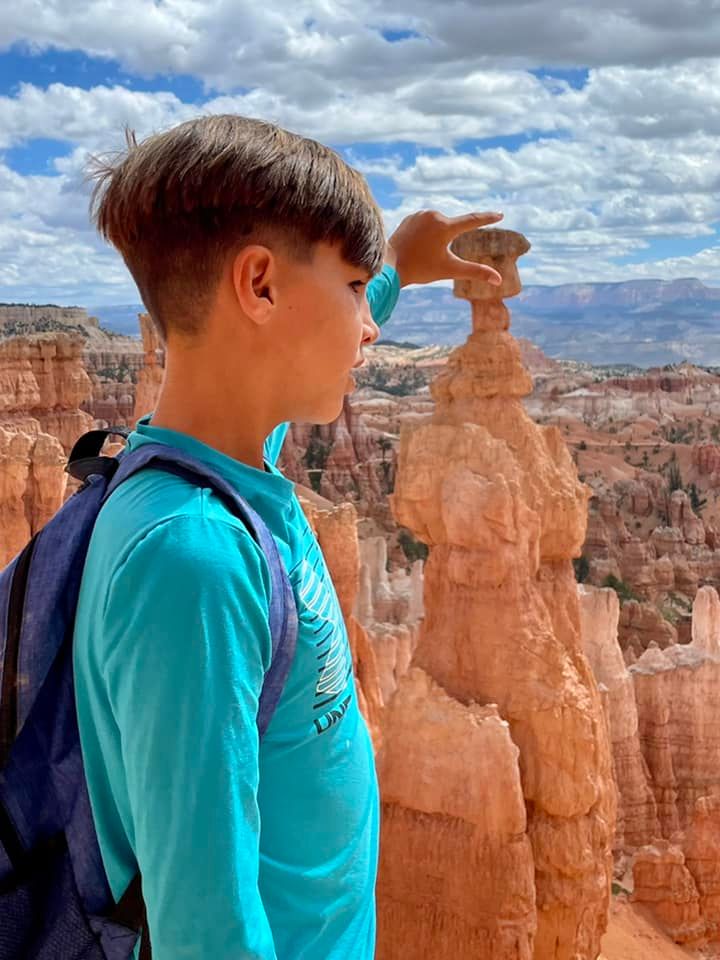 Tips for Traveling Out West
Here are some tips to pass along if you're thinking about making a trip out.
Tip #1: Buy a U.S. Park Pass. For $80, it gets the pass owner plus three adults into more than 2,000 federal recreation sites across the country (kids under 16 are free). If you go to 2–3 parks, you've paid for it, and it's good for a year. We bought ours at REI before we left, otherwise, it will be issued through the mail.
Tip #2: Get gas every chance you get, and pack snacks and water. These local, rural roads are not like I-95 with restaurants and gas stations every few miles. We went for hours without seeing anything, and when we did come across something, options were slim. Get gas every chance you get and pack a cooler full of snacks and food. Pack more water than you think you need. Some parks have bottle refilling stations which was nice.
Tip #3: Book in advance. Book up to a year ahead for popular attractions and lodging, and check park times because some parks stay open around the clock and others close. Times vary throughout the year. We were turned away as we showed up two minutes after closing at times. And one of the activities we wanted to do was sold out.
Tip #4: Be prepared for the elements. We saw temps around 108 degrees in Arizona and were chilly and wearing sweatshirts once we left the state. The weather can turn in a dime.
Tip #5: Understand how altitude can affect you. By the time we made it to Colorado, we were pretty acclimated but still had headaches, and nose bleeds and were worn out after physical exertion. You can order altitude supplements and start taking them before you head to high elevation.
What tips do you have for traveling out west?