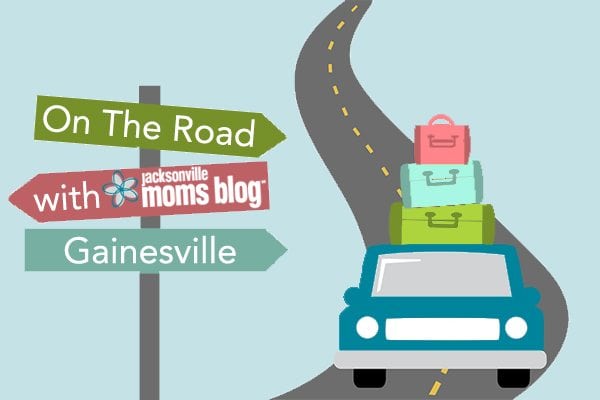 When you think of a weekend getaway location with kids, a college town probably isn't your first choice. But located just 90 minutes southwest of Jacksonville, Gainesville has a lot of family friendly activities that parents and kids are sure to love.
When to Go
Do not, I repeat do not visit Gainesville on a weekend where there's a home football game. Unless you're a huge Gator fan and have planned ahead to attend the game, just don't do it. Other weekends to avoid include graduation weekend in May and the weekend before classes start when all the students are moving back to town in August. You'll know if you've picked one of these weekends if you go to reserve a hotel, and there are none available anywhere in the city. Our favorite time of year to visit is during the summer when most of the students have gone home for a few months. The entire city seems to move at a slower pace and popular attractions aren't nearly as crowded.
Where to Stay
The plus side to visiting a college town like Gainesville is that there are plenty of hotels to choose from. If your family is adventurous, Paynes Prairie State Park offers camp sites for a small fee.
What to Do
There's no shortage of great family friendly activities in Gainesville.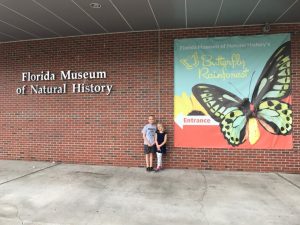 The Florida Museum of Natural History is a free museum on the University of Florida campus that offers a wide range of exhibits and an interactive kids' area. The main part of the museum is completely free, but there is an outstanding Butterfly Rainforest that does charge a small fee. It's well worth the price of admission.
Tip: Students who receive an A or E on their report card in science get into the Butterfly Rainforest for FREE.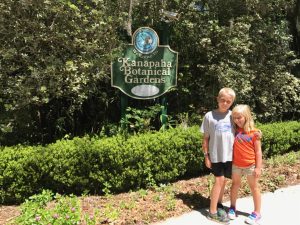 Kanapaha Botanical Gardens is comprised of 24 major garden collections situated around a 1½-mile paved walkway. The gardens boast the state's largest public display of bamboos and the largest herb garden in the Southeast. Don't miss the children's garden, where kids can touch and taste some plants — they are sure to love it! Hours of operation vary due to special events, so be sure to check the website before heading out.
Tip: Pack a small cooler with snacks or lunches. There are several beautiful areas of the garden where families can enjoy a picnic lunch.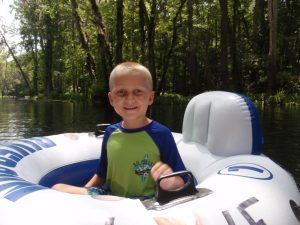 Located just 45 minutes from Gainesville is Ginnie Springs — one of the clearest springs in Florida. The 72-degree water is perfect for river tubing, swimming, snorkeling, scuba and cave diving. The kids will love floating along with the current or snorkeling in the clear spring water. Ginnie Springs charges an admission fee per person, and floats and other water equipment are available to rent or you can bring your own.
Tip: Go early! In the summer, the springs fill up fast and can get very crowded in the afternoon.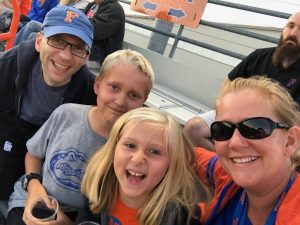 Attend a UF game! No, not a football game. One of the great things about visiting a town that is home to such a large university is that there is always something going on. Do you have a budding gymnast or tennis player? Be sure to check the University calendar to see if there's a game or exhibition happening. The best part about these events is that they typically cost just a few dollars to attend.
Tip: Rarely do these smaller games sell out, so we always look at the schedule the night before and then decide at the last minute if we want to squeeze it in. Tickets are readily available at the door.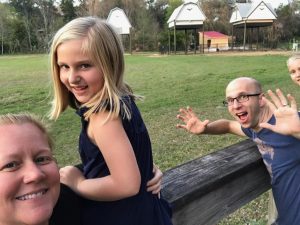 University of Florida Bat House: I bet you didn't know that nestled on the UF campus, are the world's largest occupied bat houses. Every evening at sunset, over 300,000 bats emerge in streams overhead. It is a truly breathtaking sight and one that kids of all ages are sure to love.
Tip: Plan to get there early because parking can be tight. Take a snack and drink for the kids and let them grab a seat on one of the benches while they wait for the sun to set.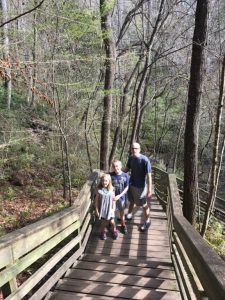 In the midst of north Florida's sandy terrain and pine forests, a bowl-shaped cavity 120-feet deep leads down to a miniature rain forest called Devil's Millhopper. Kids will love climbing the stairs down into the massive sinkhole and seeing all the small streams and mini waterfalls that can be found. Devil's Millhopper has lots of shaded picnic tables making it a great spot for lunch or a snack. Admission to the park is just $4 per vehicle.
Tip: Kids can complete a Junior Ranger badge while visiting Devil's Millhopper.

Our family loves visiting Gainesville for a weekend getaway that's close to Jacksonville!