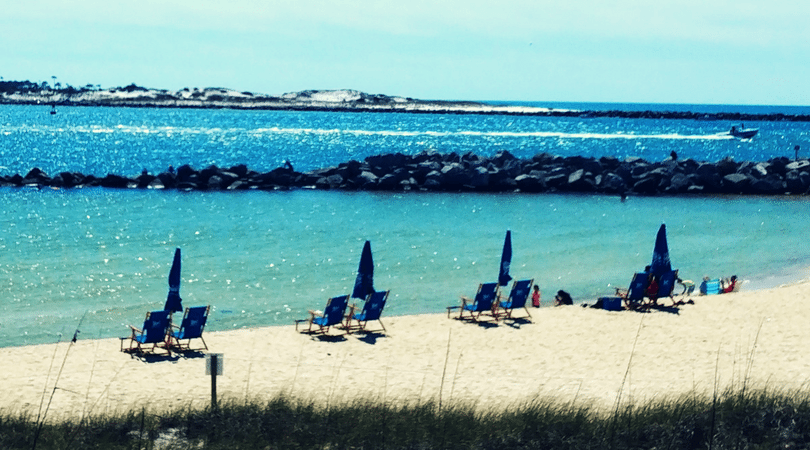 If you're looking for a family-friendly vacation without actually leaving the state, then look no further than Panama City Beach! While searching for a new place to visit that was less than a five-hour drive, Panama City Beach popped up, showing gorgeous white sandy beaches, indoor and outdoor attractions, and shopping galore — all the things we were looking for in a spring break vacation. Located between Pensacola and Tallahassee, it is about a four-hour drive from Jacksonville, and the best part — it's a road trip that was tolerable for my 6- and 9-year-old kids.
Reminder: There is a one-hour time difference, as Panama City Beach is in the CDT time zone.
Where to Stay
Unfortunately, since we had a long winter this year, and since spring break is usually still too cool to swim outdoors, we already knew that enjoying water activities was probably out of the question. Nevertheless, we still wanted to visit a place with a beach and other water activities nearby. Our first amenity we hunted for when searching for a place to stay was somewhere that had an indoor pool and/or a hot tub.
We decided to use Airbnb and came across a condo resort, Shores of Panama, which we booked through Vacation Perfect. It had all three of the amenities on our list!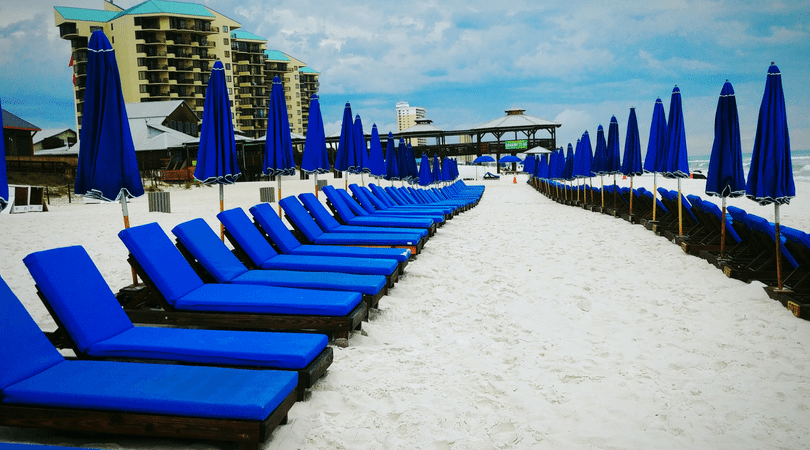 The beach theme inside the condo was fitting since it spilled out into the actual view of the beach as soon as you stepped onto the balcony.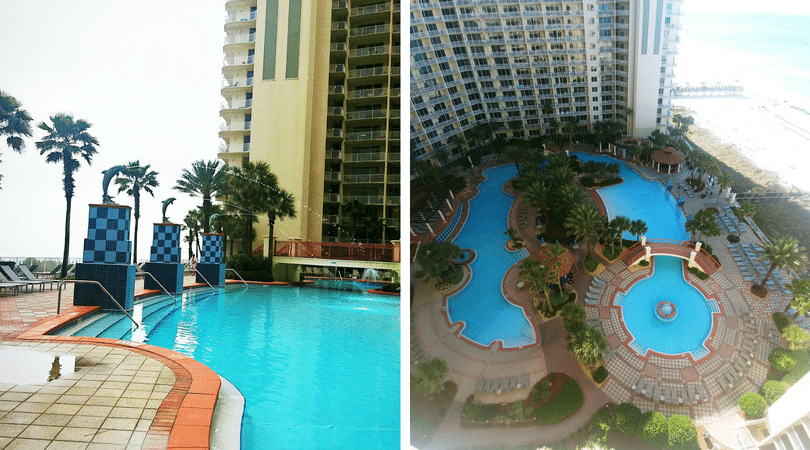 Things to Do
We stayed for three days and two nights, exploring as much as we could. For most of our stay, the weather was cloudy with on and off rain, dampening some of our outdoor plans. Finally, the sun stayed out, allowing us to spend  our third day at St. Andrews State Park, which was 20 minutes away from the resort.
As we drove to the resort, we passed by one attraction after another, including Wonder Works, Pirate's Island Adventure Golf, Ripley's Believe It or Not, and ZooWorld.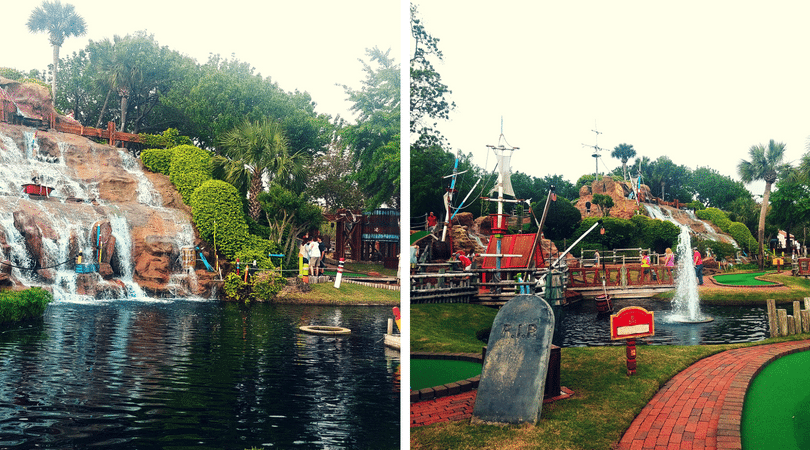 We arrived mid-afternoon and the weather still didn't show any signs of the sun sticking around, but we braved it when we saw the rain let up to enjoy an outdoor activity. After deciding between visiting ZooWorld or paying mini golf, we decided that it would be wiser to play a round of mini golf at Pirate's Island Adventure Golf since playing would go by faster than walking around the zoo if it did start pouring again.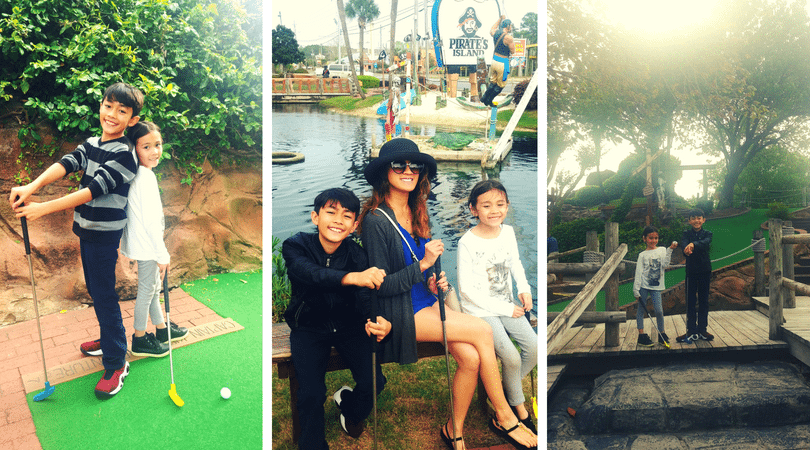 We were not disappointed! They had two courses to choose from: Captain Kidd's Adventure and Blackbeard's Challenge. If you end up playing, they have a coupon on their site that offers kids 12 and under free admission for the first round with each paying adult.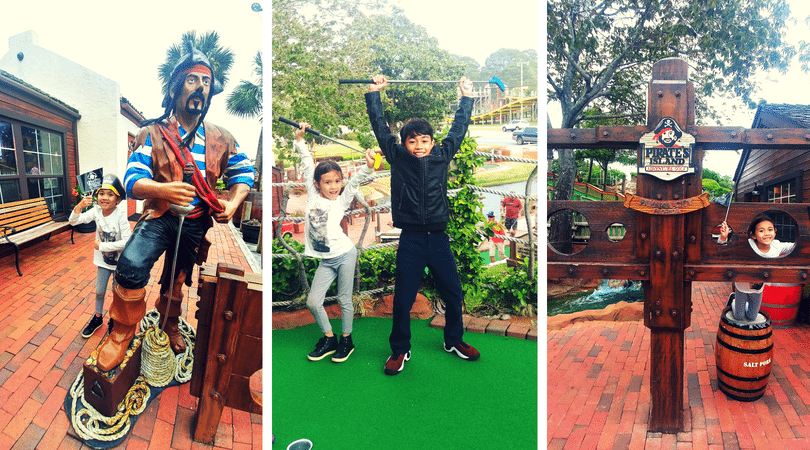 It boasted a large scenic course with streams, waterfalls, and caves, providing plenty of opportunities to take memorable pictures while playing.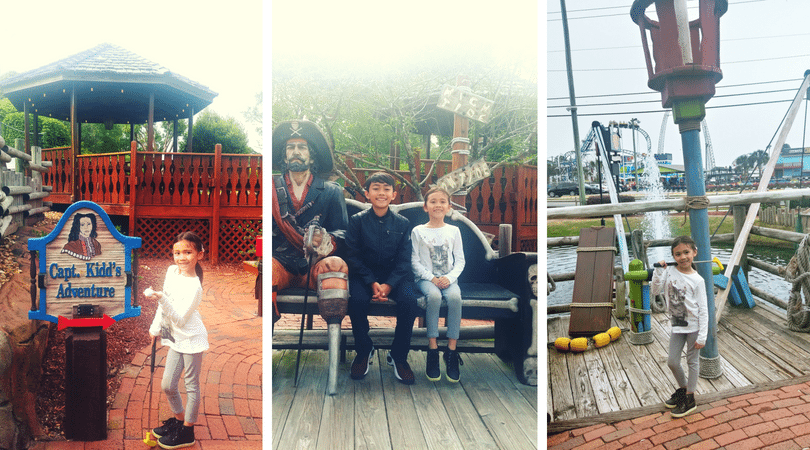 After all the fun, we were ready to eat. We received a recommendation to grab a bite (and a drink) at Pineapple Willy's, a family-friendly seafood restaurant conveniently located on the beach of our resort that had a waterfront view while dining. This was perfect since we wanted to avoid hopping back in the car with kids after being on the road for several hours! The wait wasn't terrible, especially since they provided a large waiting area with tables and arcade games that looked like a restaurant all on its own. While waiting, we were able to order appetizers and drinks.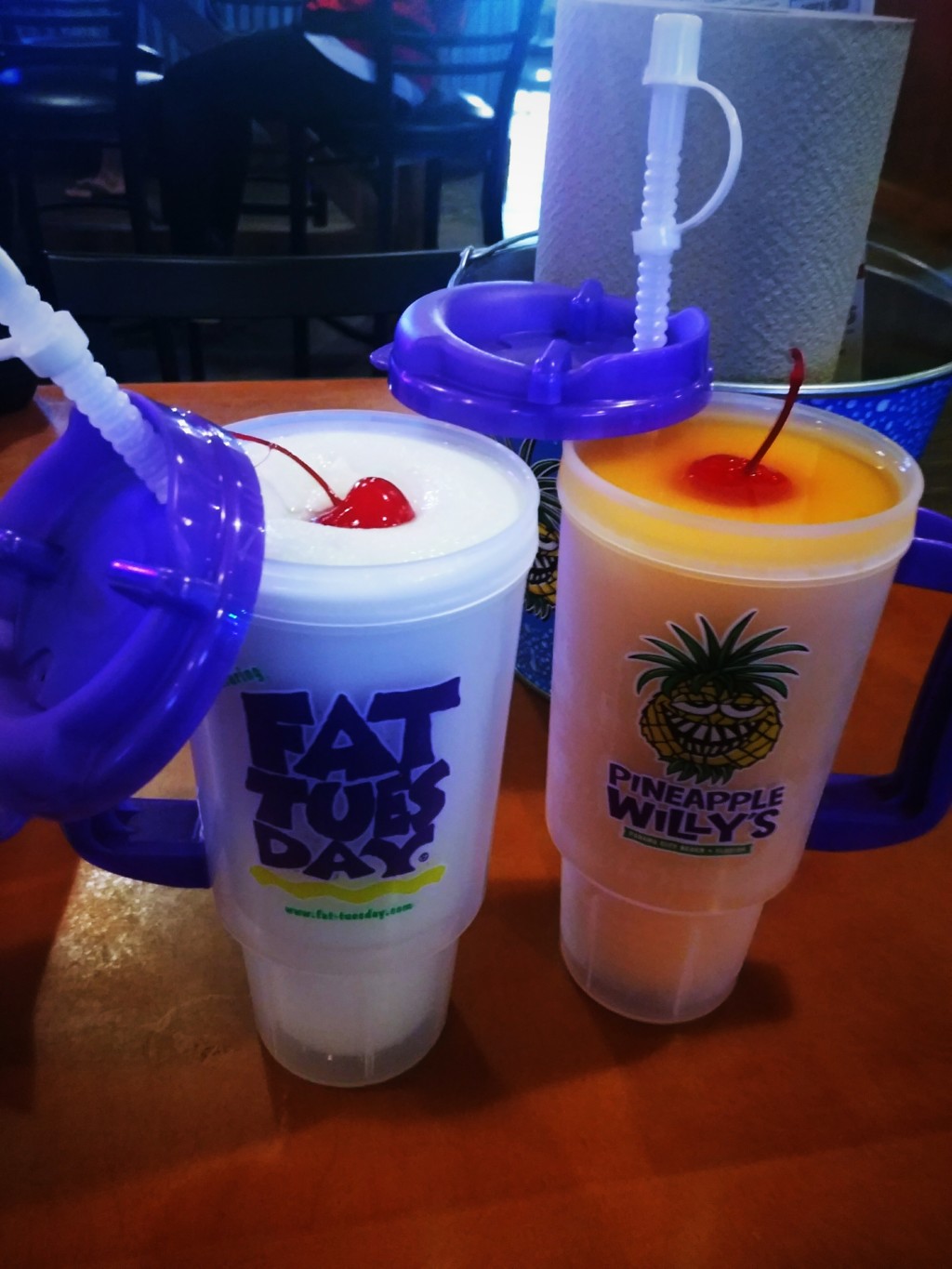 My husband ordered the Seafood Platter and the kids each ordered off of the kid's menu. Since we were there during spring break, alcohol was prohibited on the beach, but starting in April, you can enjoy your cocktails on the beach if you like.
We took a walk on Laguna Beach the following morning. I appreciated how soft the white sand felt on my feet. I'm sure that during summer, this beach will be packed and the water will provide relief for those looking for a refreshing dip!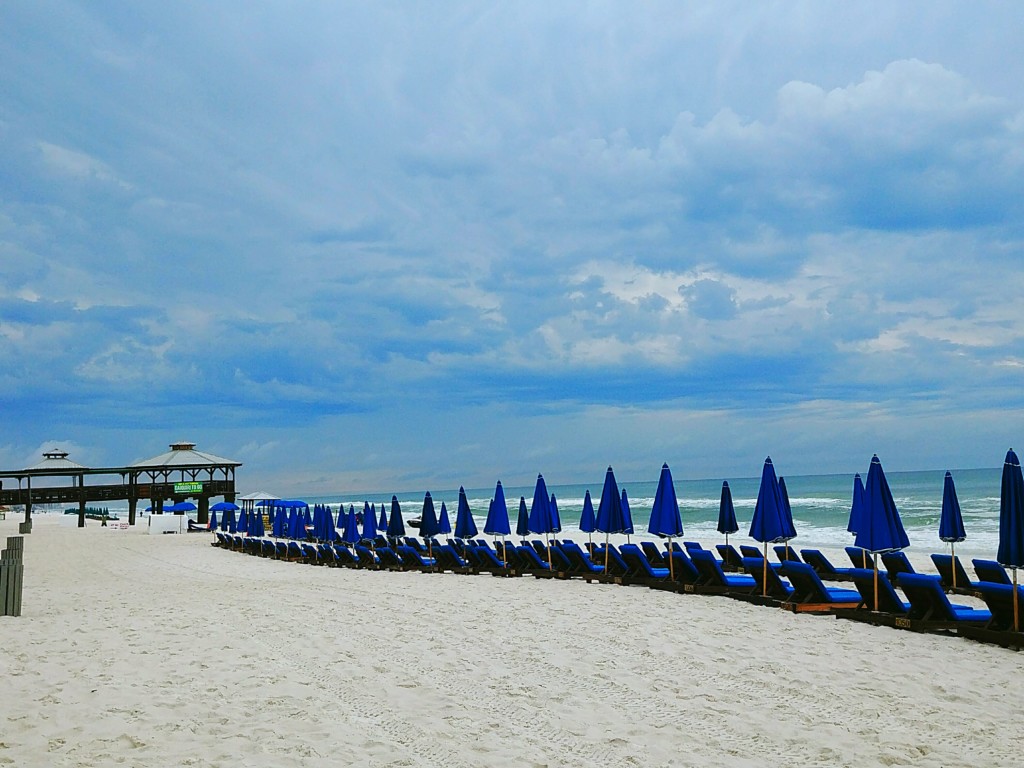 After the beach, we did some shopping at Pier Park, an outdoor shopping center with 124 stores, a Grand IMAX 16 theater, restaurants, games, and entertainment, such as Emerald Coast Mirror Maze & Laser Craze,  XD Darkride Experience, Dave & Busters, and Pirate's Quest Laser Tag. We ran out of time to check out any of the entertainment since we had to get to our next adventure. Pier Park is the perfect place to pass the time even if you're visiting during the cooler season. Festivals are held throughout the year, as well as events during Halloween, Christmas, and New Years.
We booked a Dolphin Sunset Cruise withIsland Time Sailing, a two-hour cruise where you sail through Grand Lagoon, past St. Andrews State Park, homes, and possibly the Gulf of Mexico, and then St. Andrews Bay.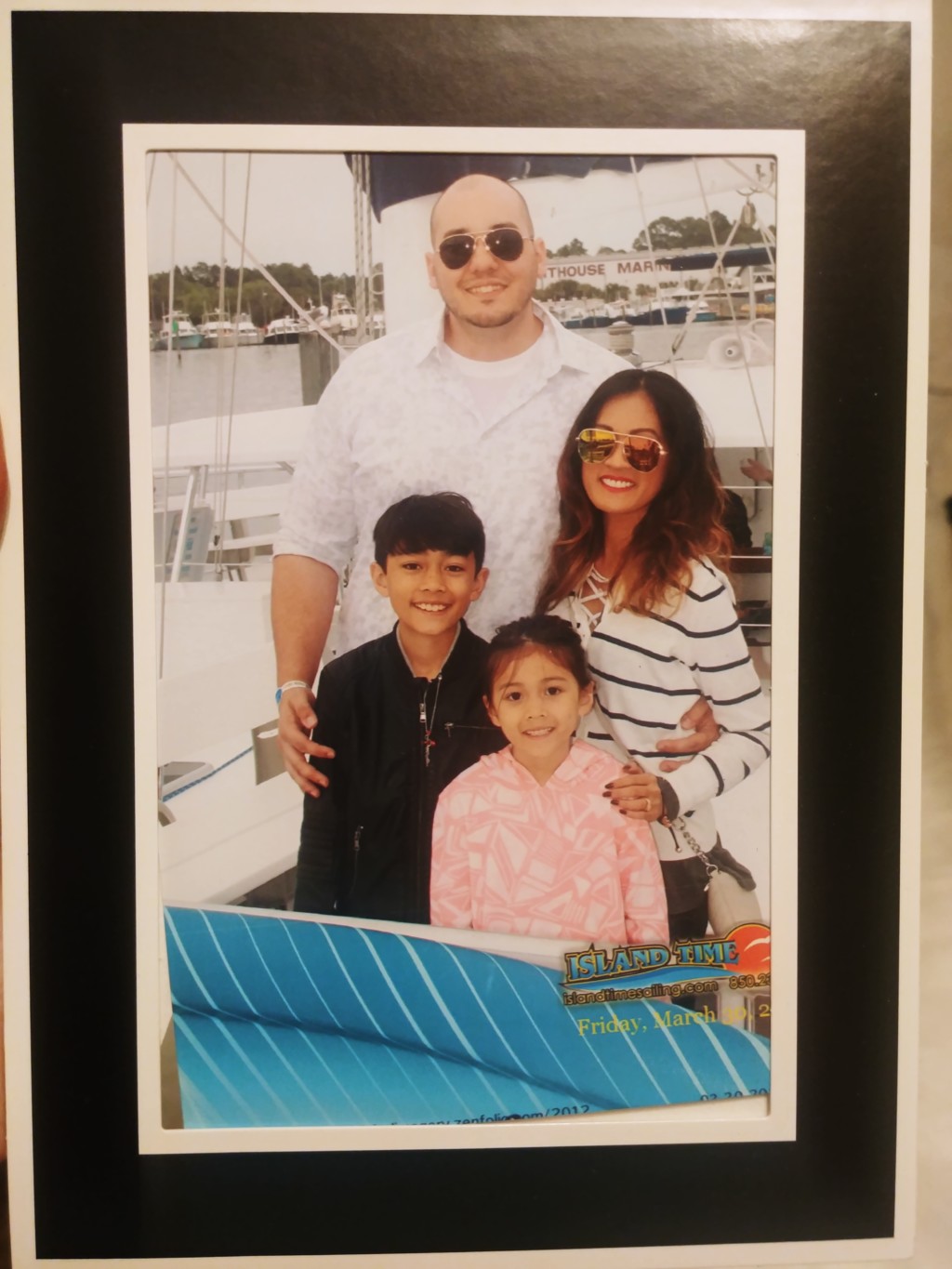 Be sure to arrive half an hour early since they board right on time.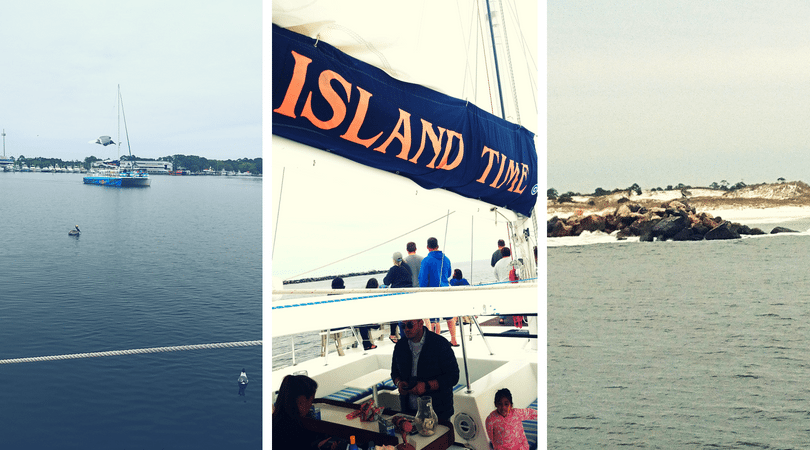 We finally spotted dolphin activity near the rocks at St. Andrews Bay. They were still far out into the distance so I didn't capture any great shots. I did get some video footage where you can slightly see them and can hear them communicating. We ended up just enjoying the moment, watching as they jumped out of the water.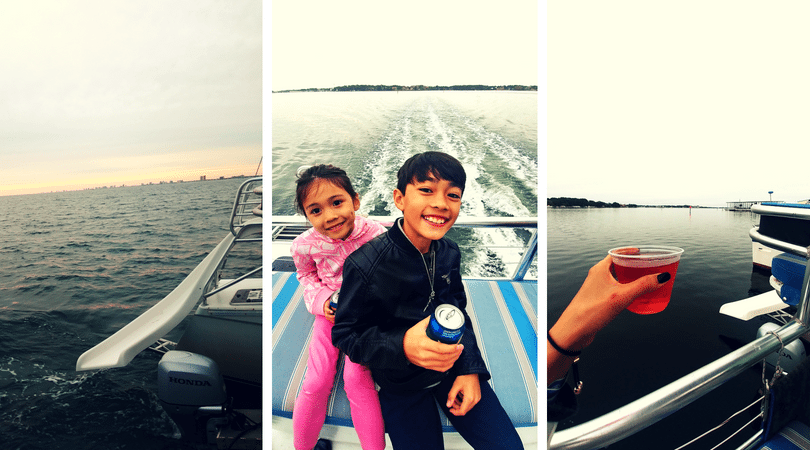 Even though I didn't get a closer view of the dolphins, the cruise itself was a good time because of the crew. When the sun went down, they turned up the music, playing modern line-dancing songs that got people moving.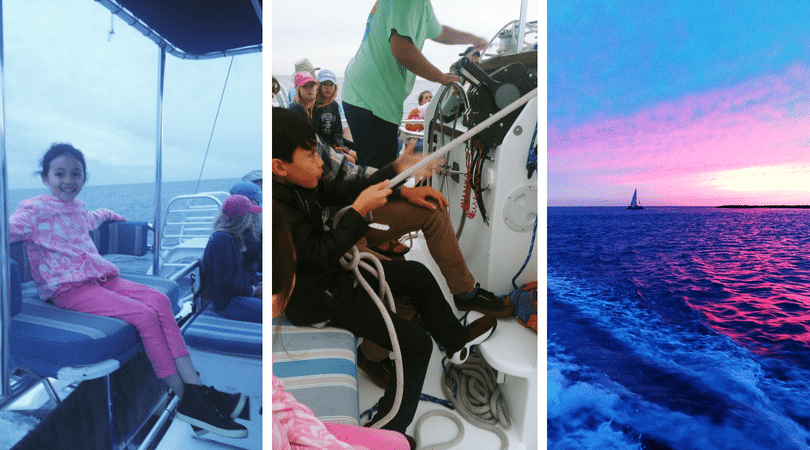 Other activities that added to the fun on board were hula hoops and the chance to assist with steering and adjusting the sails, which my son was excited to do. Surprisingly, my daughter became fearless, refusing to leave the Captain's seat.
We didn't want our vacation to end and dreaded going back home on our last day. Thankfully, the sun was beaming, encouraging us to visit St. Andrews State Park, another recommendation we looked forward to exploring. The entrance fee is $8 per vehicle. If you're looking for a beach or outdoor destination in this area, don't pass up this park! There are plenty of activities to take advantage of snorkeling, kayaking, and swimming, as well as fishing and hiking nature trails. Camping and boat tours are also available.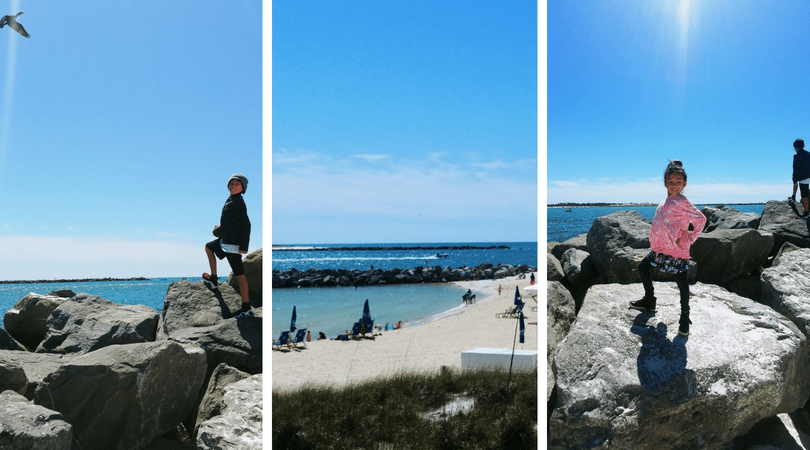 For us, the emerald green beach itself was the best part. We plan to head back soon when we can participate in water sports activities. Snorkeling equipment, kayaks, and canoes are available for rent or you can bring your own. There are shower stations, two playgrounds, and three picnic areas with multiple sheltered pavilions with tables. Additionally, there's a souvenir gift shop on the beach that also sells essentials like sunscreen.
Overall, we thoroughly enjoyed our spring break vacation at Panama City Beach and recommend it as a summer road trip. It's a great location if you have young kids who can tolerate a four-hour drive. I think it's a perfect place for a weekend destination with friends or with the family. It's also a great place for a romantic getaway. Be sure to bring your swimsuits, camera, and a sense of adventure!
Check out more "On the Road with JMB" travel destinations, like Jax to Great Wolf Lodge in Concord, NC, or Jax to Naples.
Have you visited Panama City Beach? If so, what's your favorite activity there?