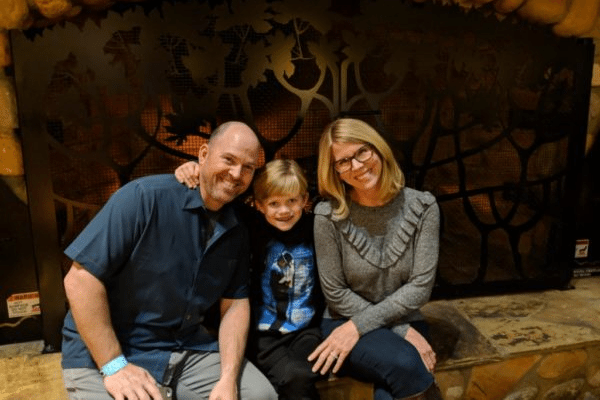 Our son recently celebrated his 9th birthday in February, and he had a choice on how he wanted to celebrate. Take a family trip to Orlando and enjoy his favorite Disney fun for a weekend, or possibly, fingers crossed (gasp!) try something new? Surprisingly, he was open to shaking it up a bit, as we have enjoyed living so close to Disney and have been to every park ad nauseam — er, um, I mean, several times over. We love Disney, but I was excited to begin researching something different, like Great Wolf Lodge in Concord, NC.
When to Go
Family and a few friends had been to Great Wolf Lodge in Concord and had some of the neatest things to say about the resort. After researching a little online, GWL checked all the boxes for a perfect weekend road trip: under a six-hour drive, awesome indoor and outdoor resort fun for kids and adults, plenty of dining options, super cool hotel rooms, and bonus for us — a military discount! Because the resort offers such fantastic indoor and outdoor fun, the best time to go is ANYTIME!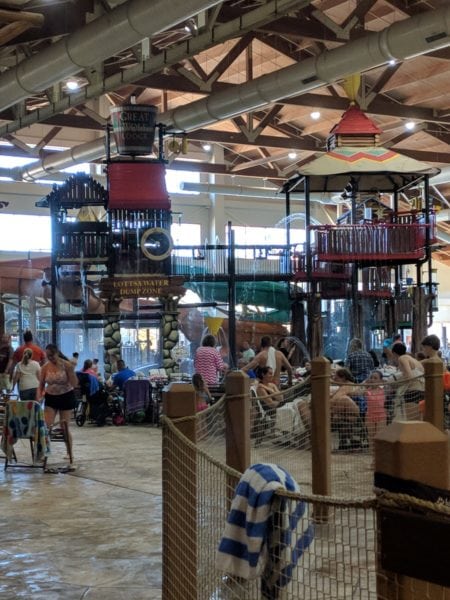 Why You Should Go
If you've heard of Great Wolf Lodge, then you know. But if you haven't, prepare yourself and your littles — there is a HUGE indoor waterpark. And by HUGE, I mean 80,000 square feet of amazing waterpark fun! There are 11 waterslides to brave. My son's favorite slide was the Howlin' Tornado, which he described as a giant toilet-bowl experience — his sense of potty humor is still strong. There is also a four-story tree-house water fort with 12 explorable levels topped off by a gigantic tipping water bucket. The indoor waterpark also includes four refreshing splash-and-play pools with excitement and relaxing spaces for children of all ages. Obviously, the indoor waterpark is the most popular attraction of the resort and what draws most families to stay here initially. But it certainly isn't the only attraction that keeps families coming back.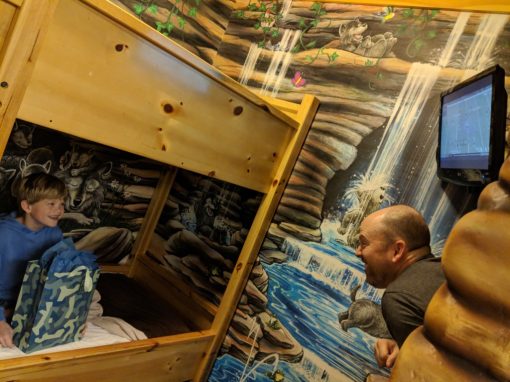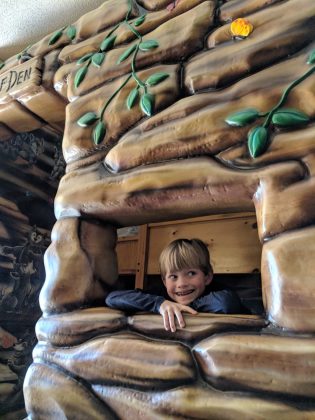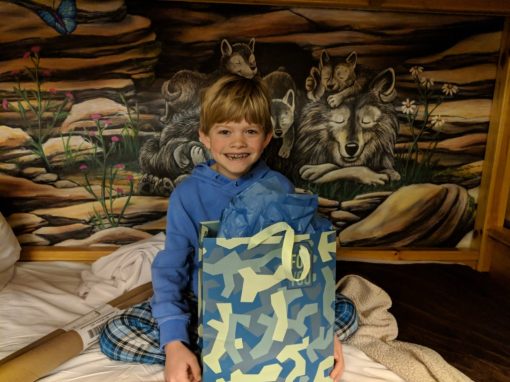 Things to Do
My son says his favorite attraction at the Great Wolf Lodge was the MagiQuest adventures. He selected a magic wand, installed it with special powers and set off on his quest! We accompanied him for his quests, which led us to explore the hotel, turning it into a kid's personal playground. When you're comfortable with giving your kids independence, and they have a buddy, this is the perfect activity for them to enjoy while you sit in the cozy lodge lobby next to the tremendous stone fireplace, sipping warm bevvies and chatting with other guests. The hotel isn't too expansive, and the setup is such that the MagiQuest takes adventurers through the lodge lobby consistently between clues. MagiQuest fun could last from 30 minutes to three hours, and you can pause at any time and resume the game right where you left off. Keep your wand, because you can use it each time you return to the lodge.
Other attractions he enjoyed were the Northern Lights Arcade, the Great Clock Tower show where lodge characters come to life, tell stories and sing, character appearances in the lobby from Great Wolf Lodge mascots Wiley, Violet and Sammy, and we even arranged a bedtime visit from Violet to our room that included milk and warm cookies (gluten-free, too!) on the night of his birthday. Because we were only there for a weekend and the majority of the time was spent in the waterpark and becoming a Magi on his quests, we were not able to partake in the many other attractions the resort offers such as bowling, craft parties, an outdoor ropes course (weather permitting), mini golf, a 4D theater, fitness center, and even a spa for kids and adults. Nothing is overlooked for any member of the family.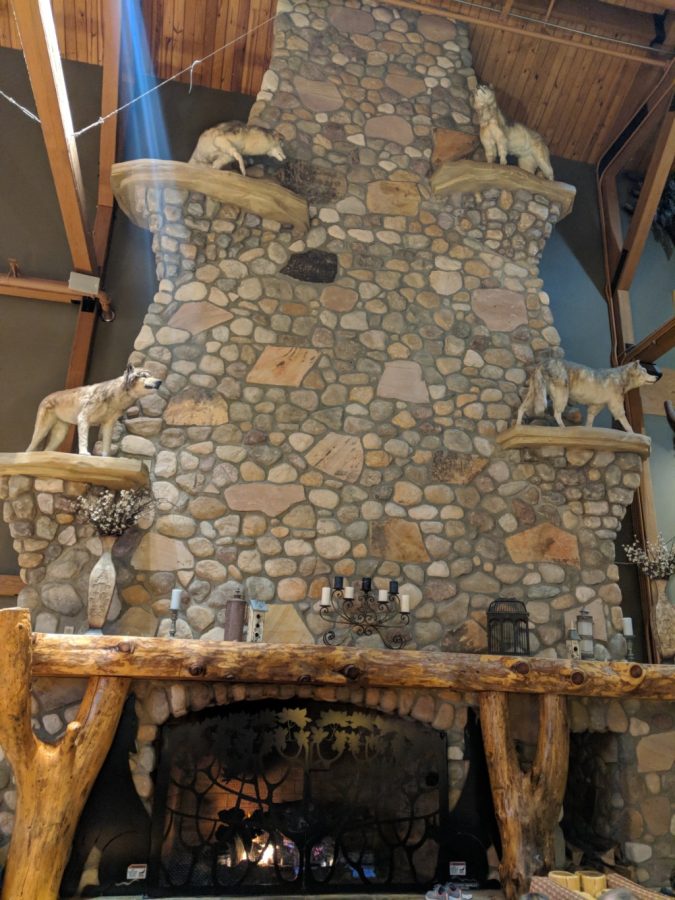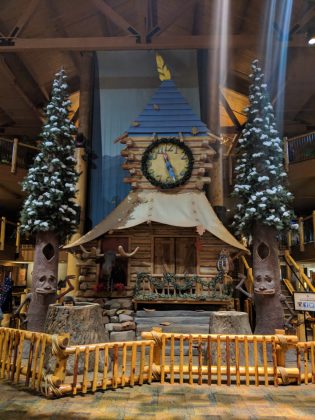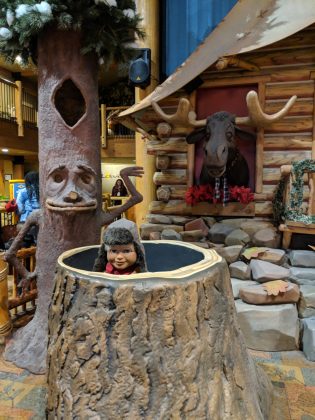 Going Above & Beyond
What I appreciated most about Great Wolf Lodge was how they cater to guests. Even though check-in isn't until 4 p.m., they encourage you to pack a small bag with your bathing suit, so you can enjoy the waterpark as early as 1 p.m. while you wait on your room to become ready. They also are extremely accommodating to ANY food allergy. My son and I both have high sensitivities to gluten and avoid it at all costs. GWL offers a wide variety of gluten-free items like pizza, pancakes and even fried foods with a dedicated gluten-free fryer. They can accommodate dairy and egg allergies as well, and the entire facility is nut-free! Even if a guest has 10 allergies, they work with the family to create safe meals, so every person can feel special and loved through food.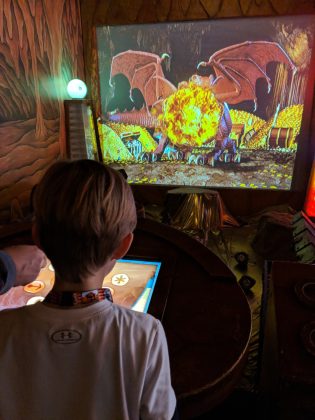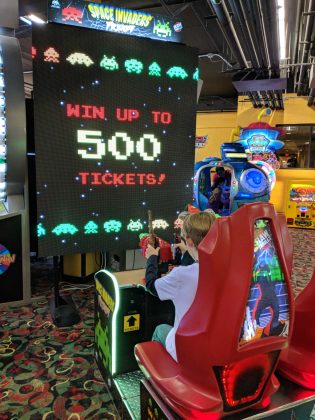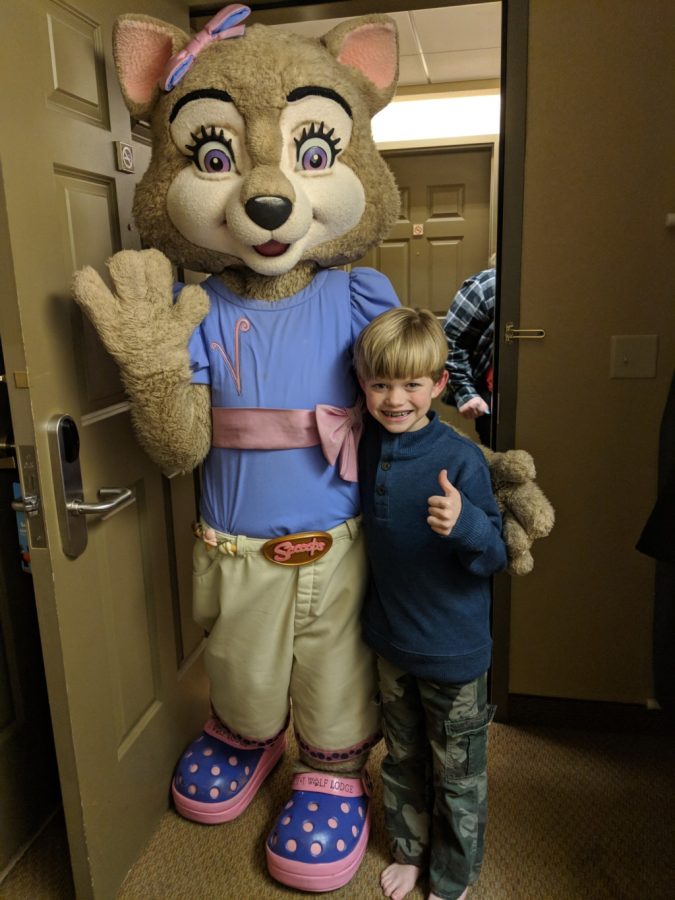 Our birthday weekend celebration for our son was super special and provided a unique family experience we all thoroughly enjoyed. How the staff catered to our needs and special requests was beyond impressive, and we certainly look forward to returning soon. If you're looking to road trip out of Florida and explore a great family adventure that takes you into a true southern hospitality neck of the woods, then the Great Wolf Lodge in Concord, NC should be included on your list.
Who has been to Great Wolf Lodge, and what was your family's favorite experience there?