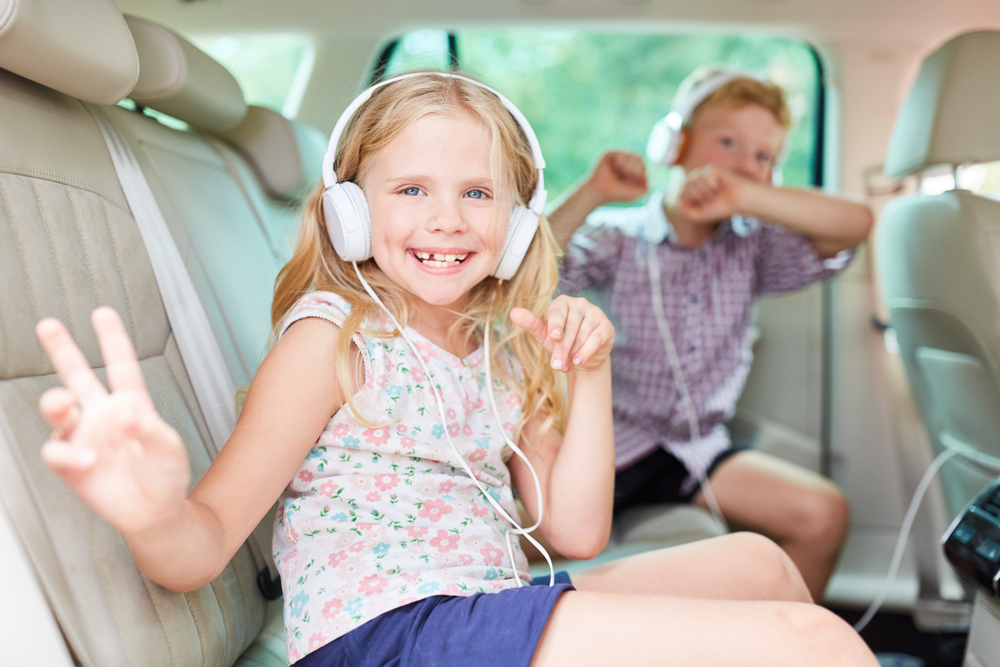 Going on a road trip soon? You've come to the right post! I'm back with part two of my road trip tips — this time I'm sharing my favorite road trip-friendly toys and activities that can help you have a super successful road trip with your family. I may even go so far as to say it could be enjoyable and fun! Take a peek at the ideas below for road trip toys and activities, and may the traffic gods be ever in your favor.
Invest in a Car Cooler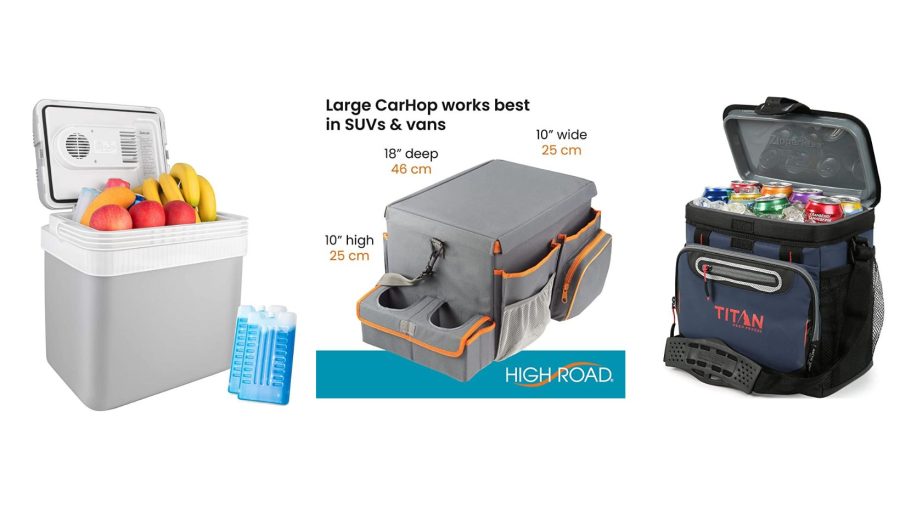 If you will be staying at hotels along the way that won't have a freezer to refreeze your ice packs, a cooler that plugs into the car may be a great addition to your road trip. This can help keep milk for bottles cold and allows you to bring home special treats from the places you are visiting. This allows me to pack for my pickier eaters and to eat healthier while on the road. Alternatively, pack drinks in one cooler and food in another — most likely you will be reaching for the drinks more, and the food will stay colder this way.
Backseat Organizer
If you don't like all the things ending up on the floor of your van, a backseat organizer is a solid solution. It also works great for tablets so littles can't throw it or spill snacks on it! Don't forget about the guided access trick on Apple devices if you do want to let your child hold the tablet or phone (it's life-changing).
Podcasts
I personally use Spotify, but almost any phone has the ability to download/access podcasts and stories for kids. We (a family with kids who are 9, 8, and 5) like the Disney Storyteller Collection, Cocomelon Story Time, Lamplighter Kids Stories, and Story Pirates. Audiobooks are also a great idea!
Magnetic Letters and Tray
Grab a small cookie sheet from the dollar store and some magnetic letters and numbers, and let your kid go to town! Help them sound out words, practice sight words, or even get some name practice in (extra points for helping them learn and spell their first AND last name)!
Road Trip Travel Journal / License Plate Game
There are SO many out there to choose from, but after much research, I found a couple that I thought are easy enough for my kids to do on their own (particularly my 5-year-old), but long enough to keep them busy. Filled with games, challenges, and thoughtful questions, these books will keep your kids busy for hours!
New Notepad / Crayons / Colored Pencils / Magna Doodle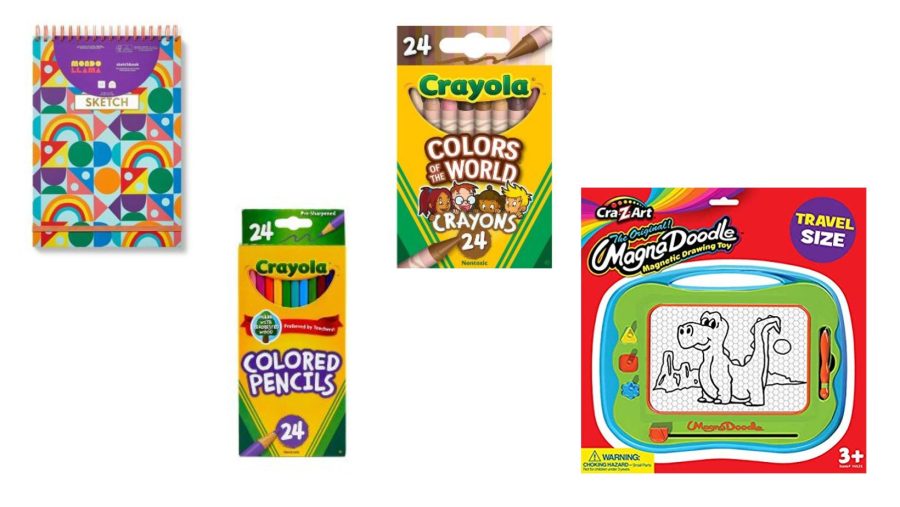 There's nothing like the smell of fresh crayons and pencils, and a whole notebook of blank sheets of paper, just waiting for a child to come draw or write to their heart's content. Enough said. Can you tell I'm a nerd that loves the back-to-school section?! Don't want crayons all over the car? Try an old-school Magna doodle!
Window Crayons
If you are brave enough to try them, they could keep your kids busy for a while, provided they can reach the windows!
Auto BINGO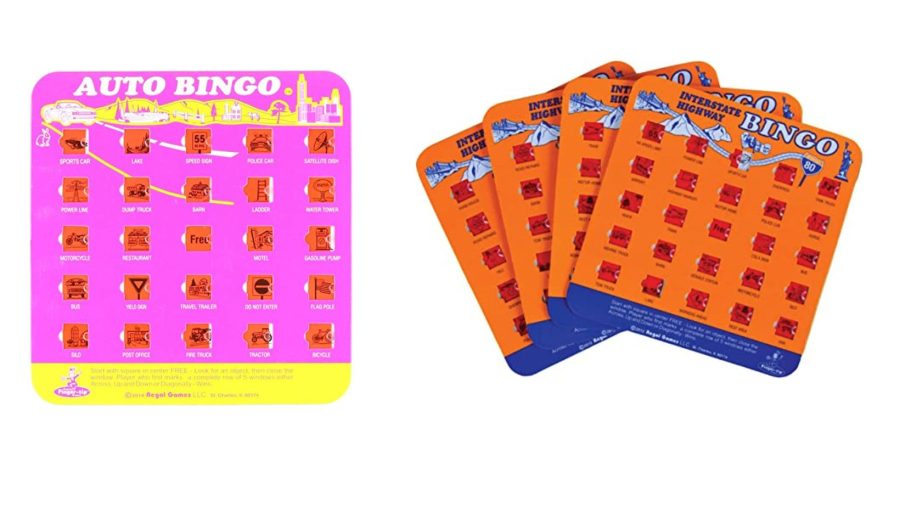 My kids and I wandered into Heyday! Toys kids' boutique here in Jax and found kid heaven. Games, puzzles, and brain teasers abounded, and in the middle of it all, I found Auto BINGO, and Highway BINGO, just like from when I was a kid! They came home with us, but if you can't get to Heyday! before your trip, Amazon has you covered.
Individualized Snack Bags
The day before we depart, I call my kids into the kitchen and give them a gallon-size Ziploc bag. They can fill it with any (nonperishable) snack item they wish, and then they stash it in their backpacks (their "to-do" stuff has to fit inside the backpack). They love what's inside, and they love that I don't have any rules for it — they can eat what they want when they want. We also had a blast making individualized trail mix!
Mess-Free Ideas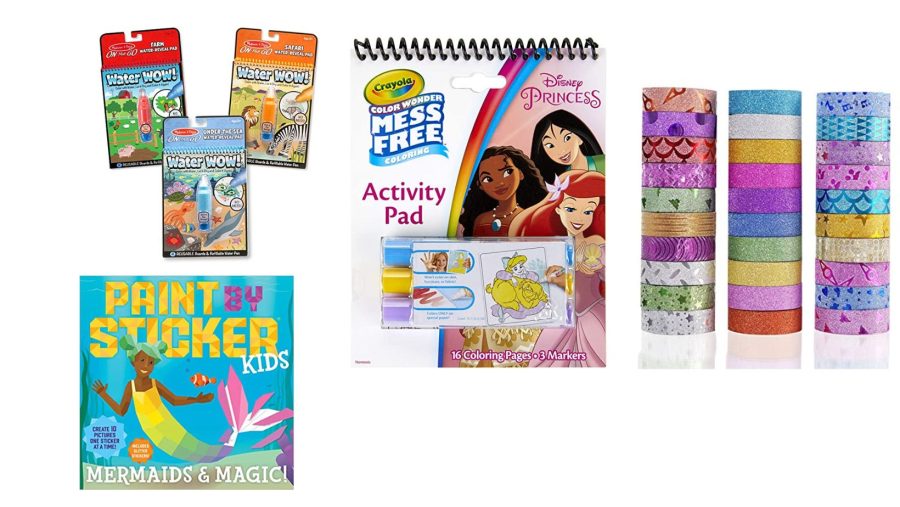 To keep my vehicle as clean as possible, we rely on Melissa & Doug Water Wow! books, as well as good ol' Color Wonder. Washi tape is also a great idea for the older set who can use scissors or tear well. This decorative tape doesn't stick too hard to surfaces and can keep kids busy for hours. Remember how much fun Paint-by-Number was? Try Sticker-by-Number to keep your car surfaces clean while still having an activity that takes up time!
Raid the $5 Movie Bin
Yep, it's the best! I am a Target girl, but I know Walmart has one, too. I found SO many awesome videos and movies for my kids to enjoy, and you betcha the first time they will see them is on our trip. Alternatively, trade movies with a friend!
Wikki Stix
These sticky pieces of yarn are an amazingly simple way to entertain kids in the car, on a plane, or while waiting for food in a restaurant. Buy just the sticks, or pair them with various cards to help with the entertainment.
LEGO Box
I saved one of my favorites for the end. If you are up for a little DIY, these LEGO travel boxes are easy to customize for each of your kids. Short on time? Grab one from our friend Amazon and keep it simple.
Road Trip Songs & Games
If nothing else is working, just start singing loudly. "YMCA," "99 Bottles of Coke on the Wall," play I-Spy, Punchbuggy (no punch backs!), etc.
There you have it, friends — my list for hopefully keeping the kids busy during a road trip. What are your favorite ways to pass the time in the car?