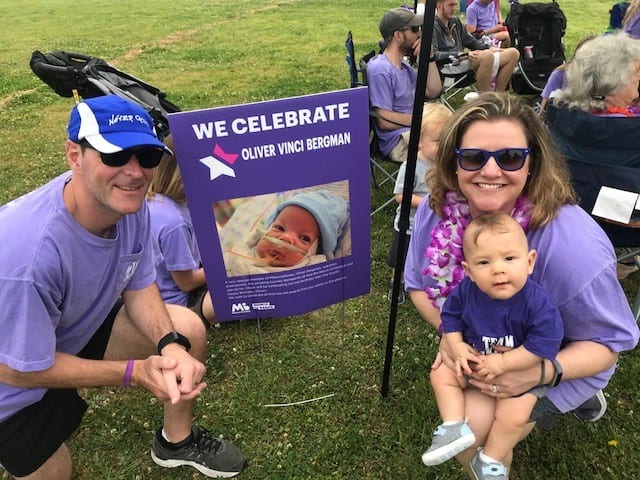 One in 10 babies are born too soon. According to marchofdimes.org, there are 380,000 sweet babies who are born prematurely each year. That means 380,000 babies do not spend their first moments in the arms of their mother — they spend their first moments fighting for life. A fight the will continue for days, weeks and even months. I had one of those 380,000 preemies last year, Oliver, my miracle fighter.
Shortly after dawn broke on Sunday morning, May 21, 2017, the doctor entered my hospital room and suggested that I call my husband because overnight monitoring indicated that the baby's condition was such that he had a better chance of thriving outside of the womb. I remember feeling cold and numb as I spoke with my husband Mark and my parents. My mom prayed with me and reminded me of my strength, which she pointed out that the baby would possess as well. Deep breaths and positive self-talk helped my heart and body feel calm and focused. The fact that our baby was fighting for his life were my only thoughts as I was wheeled into surgery.
Oliver was delivered by C-section at 10:35 a.m. and weighed 1 lb., 13 oz. We were given a moment to view our tiny miracle with skin almost transparent before he was whisked off to the capable hands of the staff at Wolfson Children's Hospital Neonatal Intensive Care Unit — a moment seared into my memory. And so our journey began…
Oliver spent 132 days in the NICU as his little body worked feverishly to stay alive. Severe Bronchopulmonary Dysplasia prevented Oliver from breathing on his own, and he experienced multiple Bradycardia episodes which were rapidly addressed by the expert response teams as I stood in silence, holding my own breath. Our little guy received blood transfusions and experienced three surgical procedures that included the insertion of a gastrostomy tube, a hernia repair and several Bevacizumab injections in his eyes during his patient stay. Listing the procedures has unlocked memories and emotions that I have kept locked away in my mind because focusing upon each day caring for a premature infant allows scant opportunity for reflection. However, as I revisit those weeks and months — particularly during episodes when Oliver's heart rate would drop so low the alarms would go off, and I would have to step back to make room for the nurses to who would "bag" Oliver to squeeze oxygen into his lungs — I found myself experiencing the same visual reaction of agony over my helplessness.
We still have not fully come to terms with the enormity of the experience, but we shall be ever grateful for the love and support from family, friends, strangers from organizations like March of Dimes, fellow NICU families, and the entire staff at Wolfson's Hospital NICU for saving Oliver.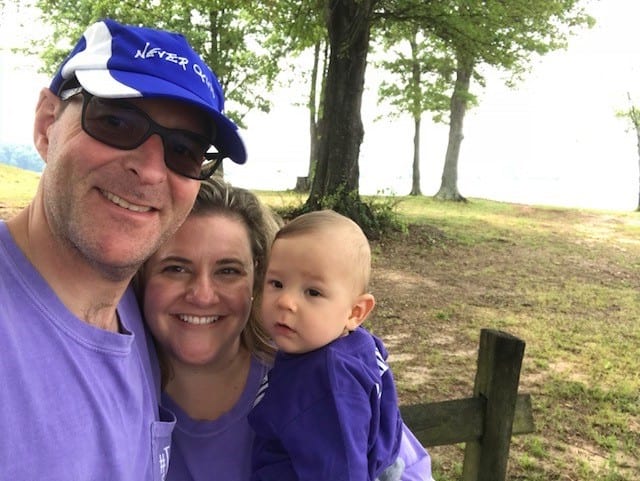 The 2017 Premature Birth Report Card was released by the March of Dimes and Florida got a C, with a preterm birthrate of 10.1 percent. Miami-Dade County, Palm Beach County and Broward County all followed Florida with a C grade. Duval County received the grade of an F due to its preterm birthrate of 11.5%. As a matter of fact, the Duval County grade worsened since the 2016 Report Card. But I know we can do better than an F. We have to do better.
I wear my purple today with pride. Join me today and donate to March of Dimes, wear purple or hug a preemie parent. Post your support on social media with #GiveThemTomorrow and #WorldPrematurityDay. Join us on April 27, 2019 for the Jacksonville March for Babies Walk at the University of North Florida. It will be a day to honor Jacksonville's NICU graduates and their families, remember little ones we've lost, and bring awareness to this fight.
Photos by Kristin Glover.
About the Author
Madeleine V. Bergman, a Jacksonville native, was born into a Navy family at NAS Jacksonville. After a childhood of adventures and moving, she resettled in Jacksonville 26 years later. In 2010 she married Mark Bergman, a friend from college and fellow Jacksonville native. In 2017, Madeleine and Mark welcomed Oliver Vinci Bergman to their family. Oliver was premature, born at 27 weeks, and would spend the next 132 days in the Newborn Intensive Care Unit. Madeleine is on a journey to turn her NICU experience into one of hope and help by becoming involved with the local chapter of March of Dimes and telling her story. Madeleine is currently employed with Fidelity National Financial in addition to being a full-time wife and mother to sweet baby Oliver.