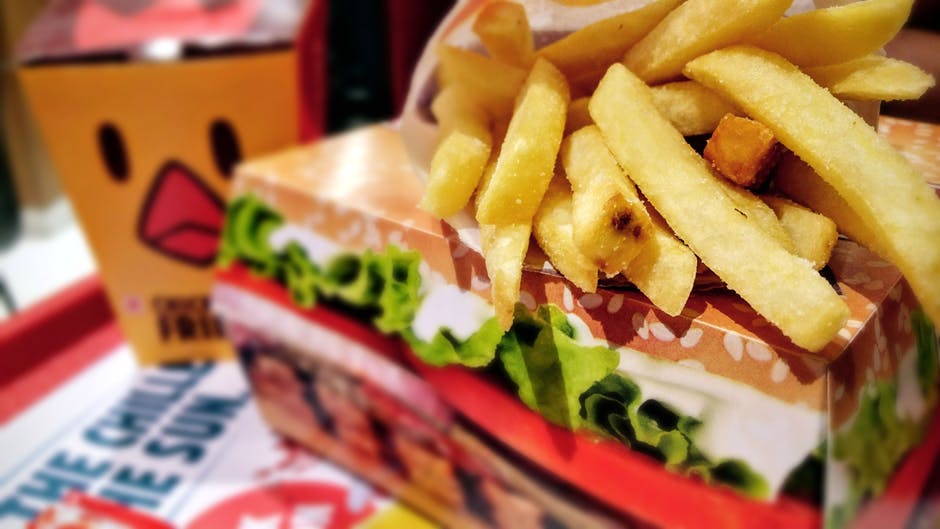 If you're a busy mom like me, you practically live in your car. I am currently a SAHM, but when I was working, my car was my office, second home, dining room, makeup vanity, and occasional dressing room. Even still, "staying at home," I have learned, means I never actually stay at home. I am constantly buzzing around and my car still serves the same purpose it did when I was paid by the man. More so now, it serves as a dining room because to keep my day efficient, I am constantly driving through restaurants to pick up lunch, an after-school snack for my growing boy, and plenty of dinners after my son's evening activities.
Over the years, I have practiced many types of healthy meal plans and have found it's best to follow a macronutrient-based plan, which is a balance of protein, carbohydrates, and fat while considering calories, too. Just eating low-calorie doesn't mean balanced and can cause binging of your son's gingerbread man cookies at 11 p.m… er, um, or so I'm told.
After getting takeout from all the restaurants in my neighborhood bubble and beyond, I have studied their menus and found the healthiest options that are easy to eat on the go. And, I am not only talking about salads, because who can eat a salad while driving? (Don't worry, I am NOT going to suggest you stop indulging in flavorful lattes or wine.) So here are my go-to items and tips for ordering well-balanced meals and snacks that not only keep me fitting into my new leather leggings (SCORE!), but help minimize the pressure to lose the extra pounds that are sometimes lovingly added during the busiest times of the year.
Tips & Tricks for Quick, Healthy Eating
Drink 20 oz. of water right when you first wake up. Too often, thirst is mistaken for hunger. Being properly hydrated first thing in the morning allows for smart food choices because you aren't ravenous. If you think you're hungry, try drinking water first to see if that satiates you. I find that first glass of water jumpstarts my internal systems and fills my belly to encourage smart breakfast choices. I also drink 20 oz. water after dinner each night before bed. Just the intake of this additional water every day makes a tremendous difference in not only maintaining my weight but in keeping my confidence high in how I feel in my clothes by decreasing bloat.
When going out to eat, preview the menu online and decide on a healthy meal beforehand. This eliminates pressure from the server and table guests in the moment of ordering. Having a plan always helps set your meal expectations and manage them better.
If you are ordering to go, or even a drive-through, consider the kids' meal for yourself. I have been impressed with the healthy food choices on kids' menus these days. It's not all chicken nuggets and fries, and even if this is what you are craving, a kids' portion may be a better macro-balanced meal than the adult-portion salad with candied nuts, cheese, bacon, and high-sugar dressing. Once I discovered kids' meals as an option, I felt I had discovered one of the best healthy-eating life hacks.
Drive-Through Restaurants
Chik-fil-A: The Chargrilled Chicken Cool Wrap (350 calories, 37g protein, 29g carbs, 14g fat) is my top choice, and the light Italian vinaigrette is only 25 calories and 2g sugar. I like the zest and crunch of the veggies in the wrap and the kick of the vinaigrette if I need it.
Smoothie King: I love the Lean 1 vanilla meal-replacement smoothie (290 calories, 19g protein, 34 carbs, 11g fat, 16g sugar) for a healthy snack. I'm not a fan of artificial sweeteners, so this is the best macro profile with low sugar that is real sugar.
PDQ: Here is a perfect place to order a kids' meal for yourself. Two grilled chicken tenders and a side of apple slices is only 290 calories, 40g protein, 31g carbs, 2g fat. And I prefer the grilled chicken at PDQ over Chik-fil-A (what?!!!).
Starbucks: I don't love my coffee drinks super sweet, so for a tall flavored latte, I only allow one pump of flavored syrup when their usual is three pumps. So, consider reducing your flavor at least by one pump to save a few grams of sugar and calories. I was thrilled to see the egg sous vide added to the menu last year. I have been popping these fluffy bites of heaven ever since when I need a pick-me-up. The egg-white sous vide has spinach and roasted red peppers and come two to an order, which is only 170 calories, 13g protein, 13g carbs, 7g fat.
Dunkin Donuts: There is a designated DD Smart menu that offers healthier options for quick meals. Their veggie egg-white flatbread is only 330 calories, 18g protein, 33g carbs, 14g fat. Their ham, egg, and cheese on an English muffin is only 320 calories, 17g protein, 32g carbs, 14g fat and kicks McDonald's Egg McMuffin's butt. Bonus: All DD menu items are served ALL DAY!
Wendy's: OK, I take it back. This one is tricky because you need a spoon for my recommendation here – CHILI! I have been known, especially here, to drive through, order and then pull into a parking space to eat their chili, which is 250 calories, 23g protein, 23 g carbs, only 7g FAT! For their LARGE, y'all. It is high in sodium, so make sure you are drinking your morning and evening 20 oz. of water to help flush bloat. Because, in the cooler temperatures, nothing satisfies like chili.
McDonald's: I rarely eat here, but when we are driving to my hometown of Lugoff, South Carolina, Mickey D's is sometimes the only option on the backroads through swamp and cotton fields. Now, they serve breakfast all day! The Egg McMuffin is only 300 calories, 18g protein, 30g carbs, 12g fat. I recently lost a bet with the huz about this sandwich because I refused to believe anything was fresh at McDonald's. But they actually crack and cook a fresh egg for every Egg McMuffin, which is also an ALL DAY menu item.
Dine-In or Takeaway Quick Eats
Panera: I also choose kids' portions here. I order the kids' turkey sandwich (280 calories. 15g protein, 29g carbs, 9g fat) with an apple. And if I am in the mood for a salad, I love their half-portion salads. I order a half salad that comes with grilled chicken and double the chicken to boost my macro nutrition.
Chipotle: Kids' meals here, too! I choose the Build Your Own with two hard shells, steak, beans and fajita vegetables (no rice), with fruit as a side. The steak tacos are only 305 calories, 28g protein, 36.5g carbs, 10g fat. Any of their salsas add negligible calories, and I love their green tomatillo salsa, as it has a nice kick.
Zaxby's: Whether I am dining in or taking away from Zaxby's, they have the BEST "fast food" salads out there. I love that their grilled chicken is fresh grilled and hot on their cool, crunch, dark-leaf lettuce. I order their Grilled House Zalad without the fried onions or Texas toast, which saves a lot of calories and fat, making the salad only 330 calories, 40g protein, 9 carbs, 15 g fat. Light ranch dressing on the side with this salad which adds another 90 calories.
The Loop: My friend, Melissa, pointed out to me that a hamburger at The Loop is lower in calories than our favorite salad there! I was saddened because we flippin' LOVE their Gorgonzola Walnut salad. But it's 529 calories and 32g fat. A kids' hamburger here is 442 calories, 25g protein, 40g carbs, 20g fat.  The healthiest option here is the Cajun-Grilled Tuna which is a spicy and delicious option at 221 calories, 40g protein, 2g carbs, 6g fat. Add steamed veggies for only another 55 calories. Then, just steal a few of your kid's fries and you're still under 400 calories.
Kairos: Kairos doesn't post their nutritional information, which may be frustrating if you are really counting macros or calories. However, all of their food is super fresh and made to order. Nothing frozen here, not even their coconut cream for their smoothies. The portions are generous, so I opt for the Kids Bowl. The base of any Kids Bowl is rice, black beans, and fresh spinach and you choose your protein. The greens and vegetable list for you to customize your bowl (kid or adult size) is endless and insanely flavored.
Firehouse Subs: Firehouse now has an "Under 500 Calories" menu, but I shoot for under 400 calories for my meals. I love getting the 4-inch kids' sub, and I double the meat to get my macro count ideal. A kids' hot sub with double turkey, cheese, grilled onions, and peppers is 280 calories, 26g protein, 28g carbs, 7g fat.
The restaurants listed above are the ones I frequent because they are in my village of options. If you don't have any of these in your area, remember my tips to keep you feeling svelte: start and end your day with 20 oz. of water to stay hydrated and keep hunger at bay, look at the menu online and plan your meal before you enjoy dinner out, and consider kids' and half portions (doubling the protein) for any drive-through or takeaway meals. I hope these suggestions keep you feeling fantastic on even your most hectic days!
What are your favorite healthy meal drive-through choices?