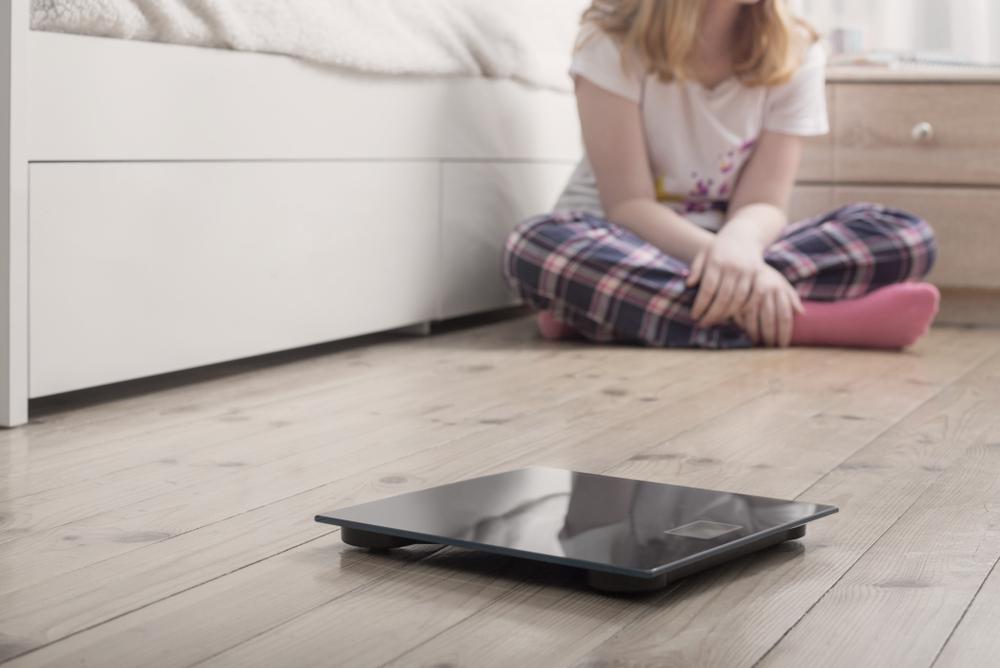 I had an eating disorder. This is not easy to admit publicly, or something I have ever admitted publicly, in fact. But I think it's such an important topic and that it's worth unpacking why I struggled, what I think caused it, how I recovered, and what you can do if you're going through it or know someone going through it. And also, how we can attempt to change the course for future generations so they don't take the same dangerous path.
The Root Cause
Oftentimes an eating disorder is developed as a way to have some control when you're in a traumatic situation; it's an effort to find order amidst the chaos. I grew up in a safe and loving home, and thanks be to God, did not suffer any trauma or abuse. As I began to sit down and write this, I started unpacking the reasons why I chose to inflict such bodily harm on myself, and I actually came to realize it may not have been why I always thought. I was not a rebellious teen. I got straight As, made the honor roll, and played varsity sports year-round. All that being said, I wouldn't say I was in the popular group at school whatsoever. Or perhaps it was in my head. I was class president in my junior year and had plenty of friends in all different groups. But I believe my illness began in my head with me thinking I was less than and that no one wanted to be my friend. Enter body dysmorphia.
Body Dysmorphia
Body dysmorphia is so common and prevalent, even more so now thanks to social media, that I think some people don't even realize what it is. It is when you have an unrealistic expectation for your own body or body shapes and sizing in general, due to edited, airbrushed images we see in magazines. Or in our case now, most of what we see on social media. Like a lot of teen girls, I had pages from magazines ripped out and displayed throughout my room and bathroom. Most were sports icons of mine, like Mia Hamm. But I specifically remember one picture of a girl's abs I hung on my bathroom mirror. I wanted those abs. And come hell or high water I was going to get them. I also remember thinking my legs were thick, that they look different from other girls. And that maybe I could change their shape by getting skinnier. I often compared myself to others in my school and even my skinny high school boyfriend gave me a bit of a complex. So I started to eat less and less and continued working out more and more.
READ: Smashing the Shame Stigma: Eating Disorders
Testing the Waters
I honestly didn't see the unhealthy relationships I had with food. I would eat healthy dinners with my family, but not eat at all or very much throughout the rest of the day. Which honestly, being small and extremely active in sports and still in my adolescence, was pretty dangerous. Although I was self-diagnosed, I first realized I had an eating disorder when I didn't eat during a long church event and came home later only to have a granola bar and feel horrible about it. I remember then punishing myself and seeing how long I could go without eating. I don't think I ever made it a full 24 hours all but a few times, but I am just over 5 feet tall (plus a half inch), and my weight continued to decline. I also went on a trip abroad where clean and safe food was harder to come by (and a lot of people got sick abroad). I'm sad to say that I used this opportunity to severely limit what I ate, was very active on the trip, and when I returned, I weighed a mere 85 lbs.
Getting Healthy
Although I didn't continue at that weight for much longer (thankfully), I stayed below a healthy weight and didn't fully recover until college; several factors played into this. I had friends and roommates who ate normally, so that helped. They ate when they were hungry, had meals at normal times, and even snacked. I'm still grateful for those examples in my life because I also had friends who severely limited food groups (like carbohydrates) and would work out in excess. College is such a crap shoot because it's the first time that many of us are living on our own without constant supervision, and this can be dangerous for some girls. I also began to drink alcohol, eat greasy foods, and enjoy life a bit more, which helped put my guard down. I started to make up for lost time and binge on my roommates' snacks at times (oops!), but as I started getting my weight back up, my period returned after three years, and I finally began feeling more confident in my own skin. Having been an athlete nearly my whole life, I now started working out in a gym setting. This is where I began my much healthier relationship with food and fitness. I soon realized my sports "career" was over, and I began to find joy in working out for stress release and just overall enjoyment.
Support System
Around the same time I was getting better, I started dating my now husband, and it only helped improve my view of myself. From day one, he has always seen me as beautiful, loved me for who I am, and made sure I knew that. Throughout the years, he has always dealt with my strange need to work out nearly every day. But he also helped me tame it down, say yes to rest days when I needed to, and reframe my relationship with food, never skipping meals or punishing myself. In his own way, he lovingly doesn't stand for bullshit like that. And none of us should. Society is slowly evolving. We are starting to see models on clothing websites of all different shapes and sizes, and it's refreshing and real.
Teaching our littles healthy habits with food — like not ever having to "earn" our food — how to eat whole and nutritious foods for fuel and body positivity, for both girls and boys, I hope will go a long way and give them body confidence they deserve. Like most things for our kids, it starts in our homes.
A Cry for Help
If you're reading this and realizing, this is me — you may need help. You may just need to talk to someone: a trustworthy friend, therapist, psychologist, pastor, or priest. Or you may need to check yourself into a hospital. If you realize that your friend is heading this way, unfortunately, all you can do is be supportive and help them reframe those lies in their head the way my husband supported me. When they are ready, they will make a change. I don't know that anything anyone could've said would've made me change along the way. But what we can do is be there for them, waiting on the sidelines, ready to embrace them with open arms.