"I think my child has an eating disorder."
Just this week, I've talked to multiple Jacksonville moms with children experiencing eating disorders. Each mother and father explain in detail the distress their child and family are going through. I quietly sit, listening to every painstaking word. My heart aches because I was once that child; my parents were once those parents. I was once in that battle.
For 15 years, I silently struggled with an eating disorder. My education on what eating disorders were was limited to the curriculum taught by my high school PE teacher. My "EDucation" came from Coach B popping in a VHS tape of a Lifetime movie featuring Tracy Gold. We all know the story. Young white girl starts restricting, shrinks her body, a beautiful intervention happens, and at the 90-minute mark, she is cured.
That is not an accurate depiction of eating disorders, and that is certainly not recovery. Eating disorders affect ALL humans — every race, age, gender, socioeconomic level, body shape, and size. For me, I thought I had to be rail-thin before I was sick enough to ask for help. In our diet-obsessed world, I kept thinking, "I can't be that bad. Everyone diets."
But it was that bad. At 29 years old, I quit what I thought was my dream job, disrupted my new marriage, put starting a family on pause, and entered residential treatment for my eating disorder. I thought I had failed at life — but little did I know, I was giving myself the gift of the life I truly deserved. A life free from debilitating thoughts around food and body. I finally discovered a life where I got to be unapologetically and imperfectly ME.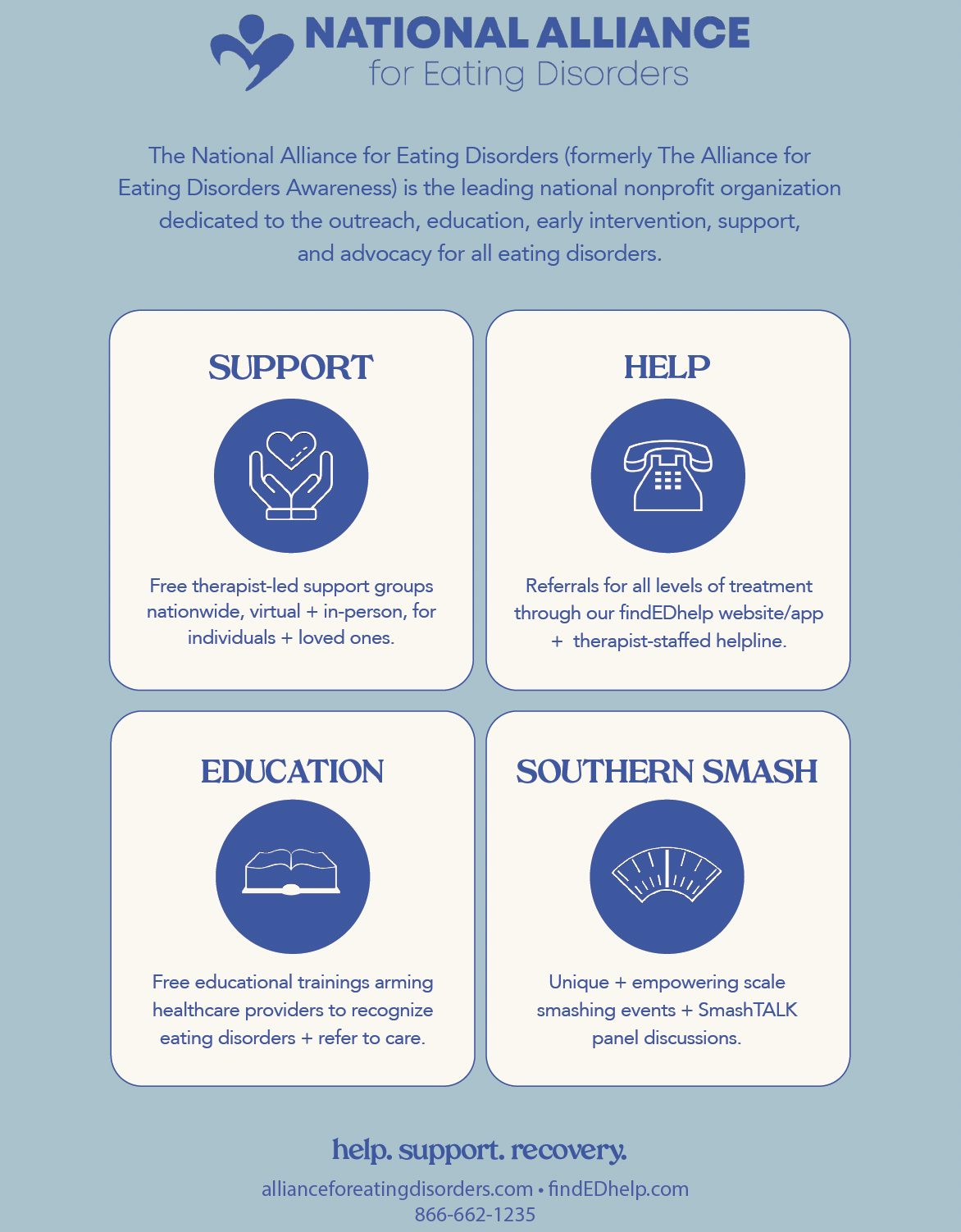 I was discharged from treatment in 2011, making a silent vow to one day pay it forward. In 2012, I founded Southern Smash, a unique and empowering scale smashing event that is now a proud program of the National Alliance for Eating Disorders. We are the leading national nonprofit organization focused on support, education, and outreach. Every day, we connect families and their loved ones to care, education, and our free, virtual, therapist-led support groups. We work tirelessly every day to ensure that NOT ONE MORE individual or family travels this journey alone and without the access to care that they need and deserve.
When a child is diagnosed with an eating disorder, it rocks the family. Parents are confused, not knowing where to turn for help; siblings are scared and often feel helpless. Eating disorders are still so misunderstood and covered in shame. But The Alliance and I are here to smash the shame stigma and help walk families to the path of recovery.
I spend hours on the phone with families here in Jacksonville and across the country, reminding them daily that they are not alone and recovery is possible.
NOT ONE MORE is our rally cry. Our driving force to ensure that NOT ONE MORE childhood is lost to this insidious illness.
NOT ONE MORE family is torn apart.
NOT ONE MORE person is gone undiagnosed.
NOT ONE MORE life is taken too soon.
Every 52 minutes, someone dies as a direct result of their eating disorder. During the pandemic, hospitalizations among children have doubled. Our children and our community are unfortunately not immune from this insidious illness. Eating disorders are not choices — they are deadly mental illnesses. But with support and resources, recovery is possible.
If you or someone you love is struggling with an eating disorder, please know help is available and recovery is possible. Contact the National Alliance for Eating Disorders online or at 866.662.1235 for resources.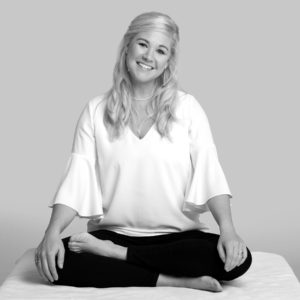 About the Author
McCall Dempsey, founder of Southern Smash, is an eating disorder survivor and passionate recovery advocate. After a 15-year battle, McCall sought treatment in December 2010. Since then she has made eating disorder awareness and prevention her life's work and passion. McCall travels the country, sharing her story of hope and healing with audiences everywhere. She also writes the popular blog, Loving Imperfection. McCall been featured on various national television, print and online publications, including the TODAY show, Women's Health Online, and Huffington Post. A Louisiana native, McCall now resides in Ponte Vedra Beach, Florida, with her husband, Jordan, and her two children, Manning and Marjorie.