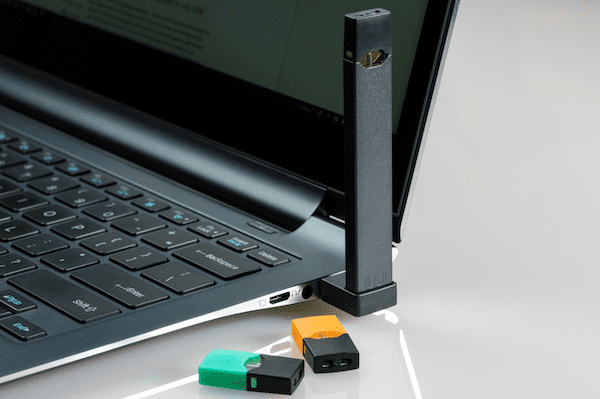 As moms, we worry about what our kids are eating, slather them with sunscreen and make sure they aren't exposed to predators through apps and social media. But are you worrying about whether your kids are JUULing? I am a local mom of three, a Tobacco Prevention Specialist here in Jacksonville, and I am concerned for our youth.
JUULing is the term for vaping with a JUUL, a type of e-cigarette that delivers nicotine and cancer-causing substances. Just this September, the FDA declared vaping a youth epidemic. If the government declared an epidemic for the flu or the measles, for example, parents would be all over it and demanding answers, but unfortunately, we see tobacco use as normal, and so do our kids. Many parents fail to really understand the harm and risk.
A "JUUL" is discrete and looks like a USB drive. Youth are hiding them in the straps of their backpacks, pockets, and sharing them during bathroom visits at school. School administrators and teachers are telling our local coalition, Tobacco-Free Jacksonville, that they have confiscated drawers full of them from students. This isn't isolated to high schools and teenagers. Middle school students are using these addictive products, too. Parents don't even know to look for them, and youth are gaining access to them at an alarming rate.
So, why am I so concerned? One JUUL pod contains as much nicotine as an entire pack of cigarettes. The adolescent brain is still developing and nicotine use during adolescence can disrupt the formation of brain circuits that control attention and learning and increase susceptibility to addiction.
What can you do to ensure that your kids don't become addicted? Educate your kids. No JUUL, e-cigarette or vaping product is safe. It is just not water, as the word vapor implies. These are products that contain cancer-causing chemicals, which are proven harmful. Explain to them that they contain nicotine and that nicotine can change their brain forever.
So, is your next thought, "My kiddos wouldn't have access to that, right?" Think again. Nearly all tobacco use and addiction begins in early teens and before age 18. According to the 2016 Florida Youth Tobacco Survey, more than 1 in 3 (35%) youth aged 11-17 in our county report ever trying a tobacco product. E-cigarettes are now the most commonly used tobacco product among local youth. Even more alarming is that the 2018 Duval County Youth Risk Behavior
Survey found that 1 in 3 (38%) Duval County middle school youth tobacco users get their tobacco at convenience stores. The legal sales age for any type of tobacco is 18.
Talking to your kids is the first step in responding to this epidemic, but it cannot not be the only step. We need to understand how our kids are getting these vaping products in the first place. One of the main reasons kids have access to these products is due to a loophole in the current state law that regulates electronic vaping devices. Stores are not required to obtain a license if they only sell electronic nicotine delivery systems (JUULs, etc.) and don't sell other traditional tobacco products such as cigarettes. So, anyone can sell these products, making it nearly impossible for compliance officers to ensure that retailers are not selling electronic vaping devices to those under the age of 18. This loophole could actually be closed by a local tobacco retail license (TRL). A TRL would allow local control over who can sell tobacco products, what types of tobacco products can be sold, and the penalty structure for illegally selling to minors or for being noncompliant with other tobacco-related policies. The TRL would include JUULs and other vaping devices, since they are forms of tobacco use.
I urge you to get involved. Have a conversation with your kids, even with 10 and 11 year olds — they probably have already heard about "JUUL in school" challenges. Click here for additional facts and tips for talking to your kids about this subject. If you feel strongly about protecting youth from tobacco use, you can check out the Tobacco-Free Jacksonville Coalition. Monthly meetings are open to the public and membership is free. Visit tobaccofreejacksonville.org for more information.
About the Author
April Seliga
has had a long history in public health and tobacco control and prevention in Northeast Florida. She began her journey at the University of South Florida, where she received her BS in Environmental Science and Policy in 2004. 
April
 then went on to graduate school to receive her M.P.H in the concentration of Epidemiology at the University of Florida in 2006. After graduation, 
April
 worked in the field as an Infectious Disease Epidemiologist, Chronic Disease Epidemiologist and Health Education. Through 
April
's various roles in public health, she has always worked in tobacco prevention in some way, but truly began her passion within it in 2009 while educating on the negative impact of tobacco and nicotine with youth. From there, 
April
 then went on to work with Tobacco-Free Parks, Smoke-Free Multiunit Housing, Tobacco-Free Worksite Wellness and Tobacco-Free Campuses. 
April
's newest endeavors on tobacco control and prevention are that of the retail environment that we are all exposed to. 
April
 is working to denormalize tobacco and work towards a tobacco-free generation. From working to raise the legal sale of tobacco age to 21 to closing the loophole on e-cigarettes, she wants to create a healthier environment for our youth.