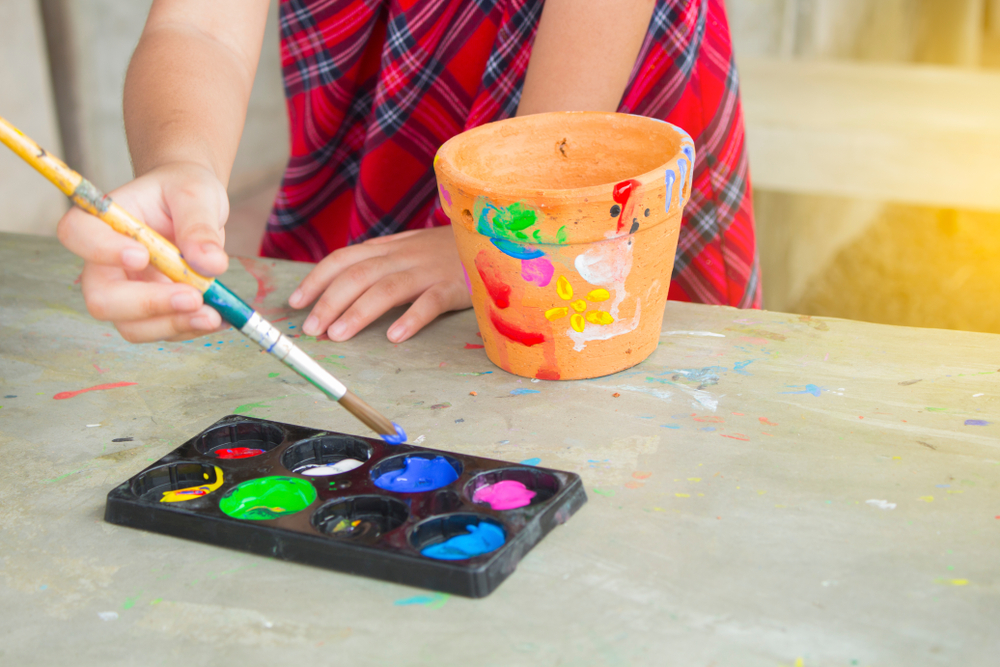 There's just something special about getting a handcrafted Mother's Day present from your child or grandchild, isn't there? If you are absolutely stumped on what to give the grandmas that really will make them smile (or if you're a dad reading this, your wife will be delighted by something handmade!), read on for some easy Mother's Day crafts.
Trust, these are not crafts for the truly crafty. The crafters among us have already finished and mailed their crafts. These are crafts for those of us who can supervise some careful painting at best.
Handprint Flowerpot
Difficulty Level: 1/5
Messiness: 2-4/5, depending on the age of the child
Time: Needs to dry overnight for paint and sealant
Supply List:
Flowerpot
Acrylic paints (any color)
Mod Podge
Foam paintbrush
Directions: Use Michael's curbside pickup to get last-minute craft supplies (not sponsored, just a tip). Apply paint to children's hand. Press onto the flowerpot. Let it sit overnight. Paint a thin layer of Mod Podge with foam brush to seal. Add a plant. Done.
Sharpie Mug
Difficulty Level: 1.5/5
Messiness: 1/5, if you can keep your child from coloring themselves
Time: Two days in advance. Needs to dry overnight, then bake the next day.
Supplies:
White Ceramic Mug
Letter stickers (any kind)
Oil-based paint pens
Directions: Wash the mug and let it dry. Use the stickers on the mug to spell out your message. "Best Grandma" "We love Mom!" etc. Hand it to your toddler and let them scribble all over the mug. Let it dry for 24 hours. Place the mug upside down on a cookie sheet, then stick it in the oven, set the oven to 250 degrees, for two hours. Allow it to cool. Note, these are handwash only! We confirmed that the hard way after an accidental run through the dishwasher.
Personal note: I did this with my 2-year-old, and it actually came out great (until the tragic dishwasher incident). The sharpie did also come off of his legs eventually.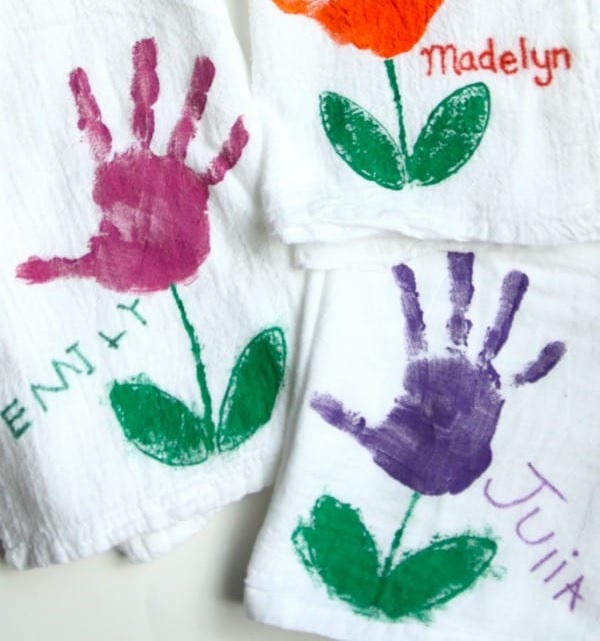 Tea Towel
Difficulty Level: 2/5
Messiness: 2/5
Time: Quick!
Supplies:
Flour sack towels
Fabric paint
Foam paintbrush
Directions: To get a good print on the towel, flatten it out and tape it to the table. Paint your child's hand with the paint, using the foam paintbrush. Press firmly into the middle of the towel. If you feel artsy, you can use green fabric paint to make leaves and a stem, with the handprint as the flower. Done! Since they use fabric paint, they should hold up well to washing.
What Mother's Day crafts have you had success with?