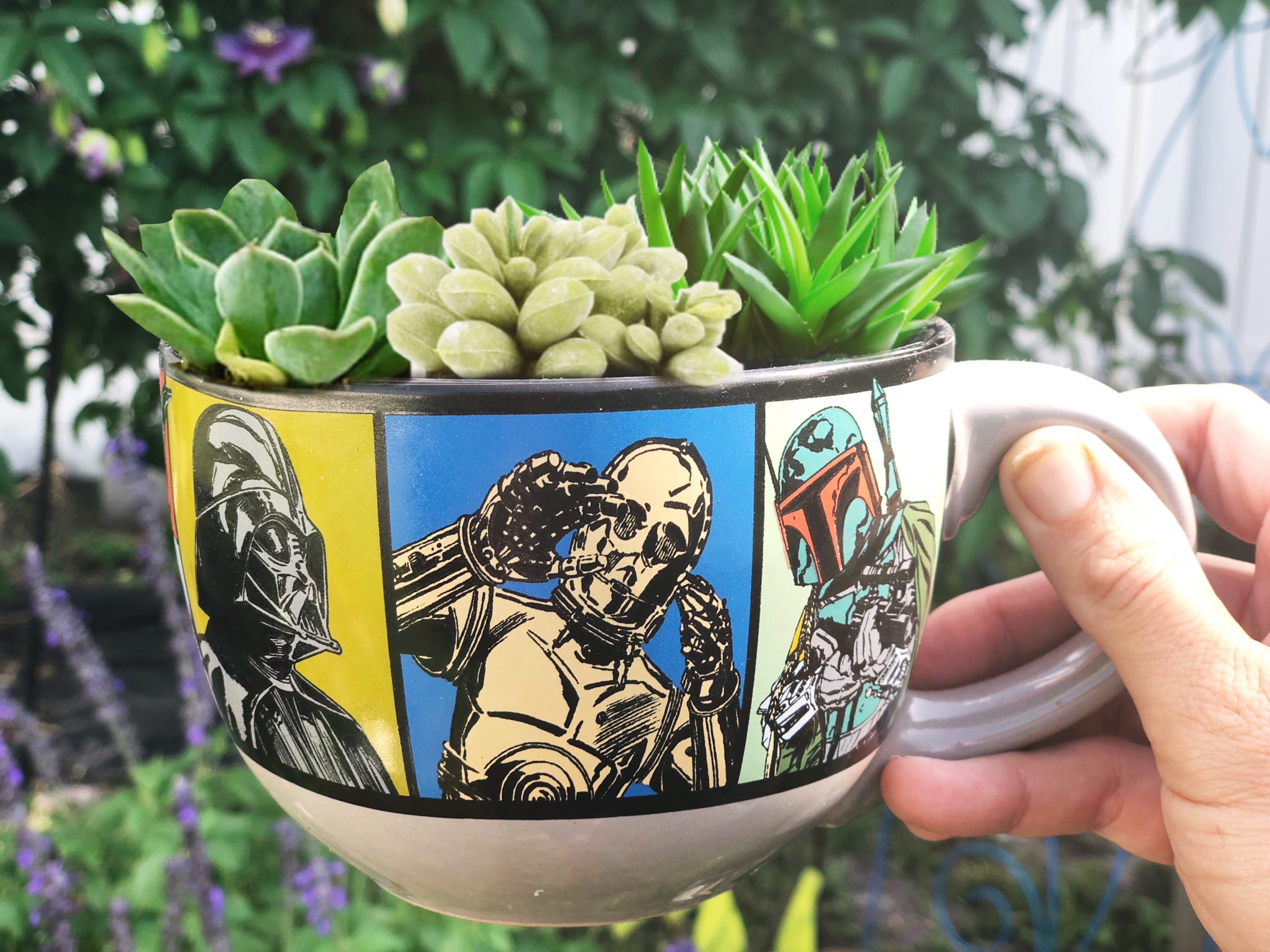 This has been a hard year, and it's not even officially autumn. Our communities, businesses, healthcare systems, and social structures are being challenged and strained. And yet, 2020 has also somehow become the year of the new hobby. Some jumped into bread making. Some are painting. Some are sewing. As for me and my house, we started turning random things into planters. It is so much fun.
Almost anything can be a planter, but it takes some work. Chipped mugs, old shoes, old cases, and even toilets. It is a great way to recycle and repurpose items in your home. I started with a chipped Star Wars mug. I eventually ended up repurposing a toilet. I know that seems like quite a leap. But it is 2020, after all. Here are a few tips on how you can get started on your own journey to finding yourself sitting in a yard planting in a potty.
Almost anything can be a planter!
The first step is finding something you want to turn into a planter. My first project was super small. My Star Wars soup mug fell out of my hand while washing it in the sink. Because 2020, the mug hit at the perfect angle and chipped. It was largely stable, but the chip rendered the mug no longer food safe. I was sad, and then I thought, "This is big enough to be a small and adorable planter." This is how it all begins.
I personally find repurposing things that don't work for their intended purpose to be the most satisfying. Plants have a magical way of making random broken things enchanting. You really can use just about anything! Make sure that the item can hold soil and that it will maintain its structure for a period of time. Also, don't grow food in anything that you are not confident is safe to use for that purpose, ever.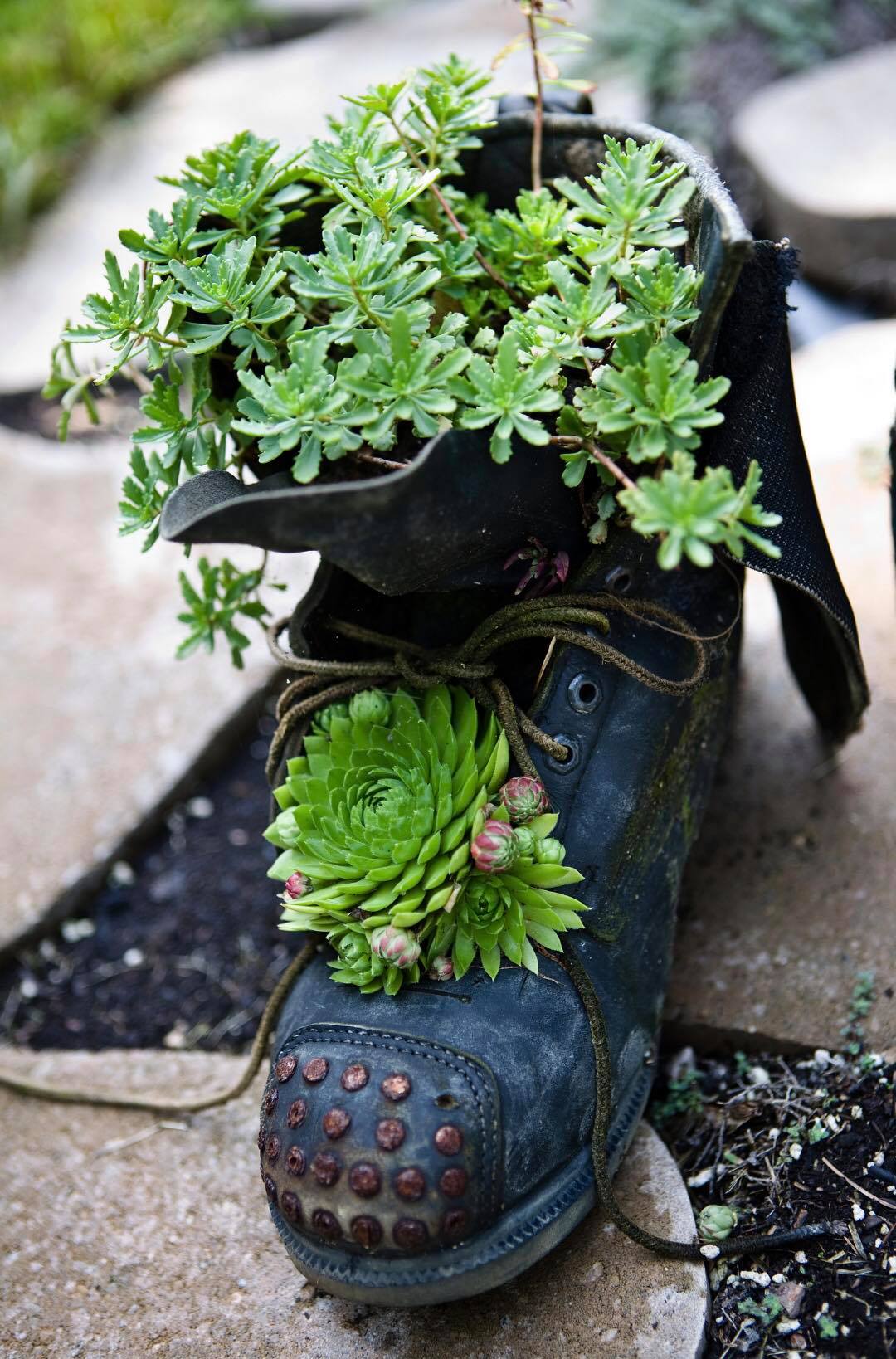 Step two is to think about drainage. All planters need drainage. This is particularly true for us here in Florida during our rainy season. If your planter is going to be outside, this is extremely important. It needs to be able to deal with excess water. You cannot leave roots to deal with the water on their own. Examine your item and see if there are enough cracks, gaps, or holes in the base to adequately serve as drainage.
If the answer is no, all is not lost. There are a few ways to create drainage in planters. If your item is deep enough, you can add drainage rocks at the bottom below your soil to help save the roots from being waterlogged. The most common way is to drill a few holes in the bottom of your planter. Grab your drill and carefully make the drainage you need. Drilling through some materials can be a challenge — be sure to do your research on how to safely undertake this job.
Step three is to decide if you want to paint, artfully change, or seal the planter. This is your time to bust out the decoupage and paints and get crafty. Some items you will want to leave essentially as is, like my Star Wars mug. I love the look of it, but even so, I did need to seal that chip. I grabbed a little bit of watertight sealer and made sure the chip and crack were set.
Step four is to think about what you want to plant. This is arguably the hardest step of all. You need to pick flowers and plants that thrive in planters. Some examples of these are chamomile, celosia flowers, snake plants, calla lilies, azaleas, common daisies, dianthus, foxgloves, impatiens, lavender, and mint. Again, remember if you are planting things that you intend to eat, you must make sure that whatever you are using as a container will be food-safe and non-toxic. Now you get to sit back and enjoy the show. Nature has a beautiful habit of making things new again.
It takes some work.
One of my favorite memes about 2020 is the one that says, "In the future, 2020 will be used as a way to describe having an extremely challenging day. Someone will ask, 'How was your day?' The response will be. 'It was a total 2020,' and everyone will just understand what that means." There is no denying that this year is hard. Things that have long been broken are coming into full view. Some of us are experiencing new loss, new breaks. Maybe this is not just the year of chaos. Maybe it is the year we lean into the cracks, come together, and bloom. I think it can be, but it takes some work.