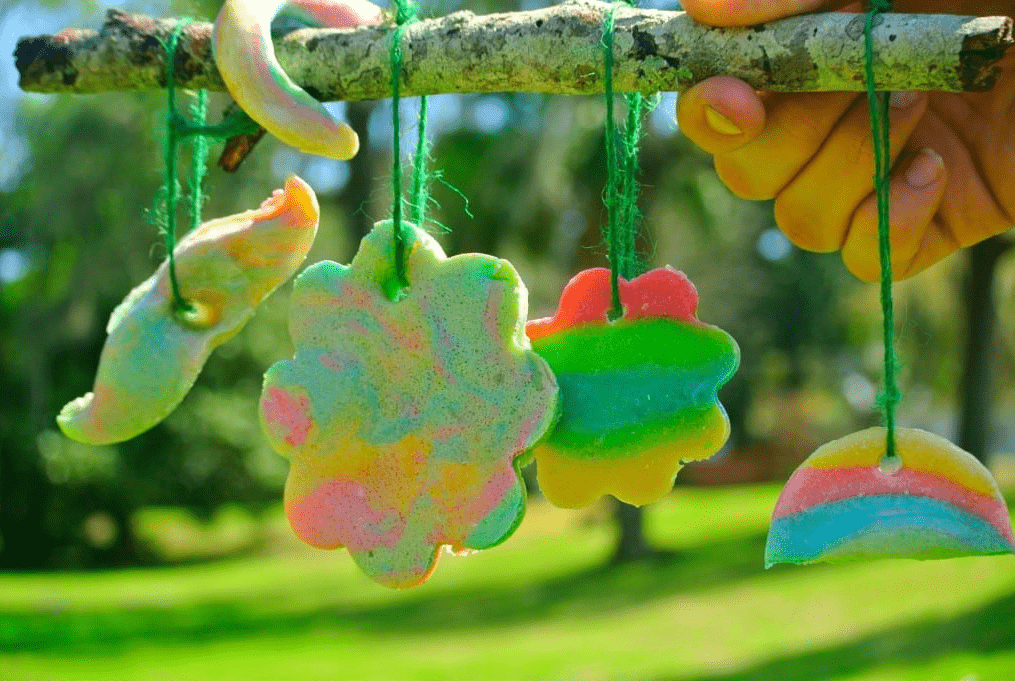 Since St. Patrick's Day is coming up, my kids and I have been creating our own colorful projects with rainbow crafts and activities. Rainbows are popular during St. Patrick's Day because folklore has it that a leprechaun's pot of gold can be found at the end of a rainbow.
I don't remember if I believed in leprechauns or gold hiding at the end of the rainbow as a child but I do believe rainbows are one of the prettiest things that occur in nature. My kids think they are pretty cool, too, so we had lots of fun with these rainbow-colored crafts and hopefully, you can enjoy them over the break or in honor of St. Patty's Day!
Pot of Gold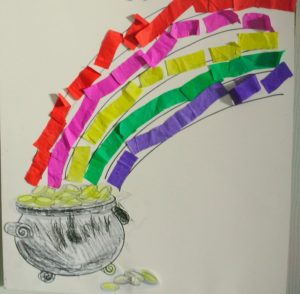 Speaking of leprechauns and their pot o'gold, we had to do a rainbow activity with this fun folklore. I found this pot of gold printable you can print from Sheknows.com. After printing it out, I outlined a rainbow with a black marker and let my daughter fill in the separate colors with some tissue paper. We had some that were already pre-cut from a confetti tube we saved from New Years. You can just cut small strips of tissue paper in various colors and stick them on with glue.
Rainbow Flour Paint
Another craft that your little ones will have fun with is rainbow flour paint. My daughter loves to paint on everything and with anything she can dip her paintbrush in! I saw this great idea at Skip to My Lou to use a paint paste using 1 tablespoon self-rising flour, 1 tablespoon salt and a little bit of water to create paint that can be microwaved for about 30 seconds afterward in order to fluff up the picture.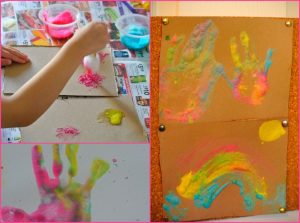 The amount of puffy paint you will end up with after it is microwaved depends on how thick you make your paste and how your child paints it onto the cardboard. Do not add too much water and also use heavy paper or cardboard to prevent the paper from bending when it is heated.
Cotton balls are great to use with this paint and you can make puffier dots with them that will rise nicely in the microwave. We also attached cotton balls to clothespins for an easier way to paint out a rainbow in one motion.
Rainbow Bubble Snakes
Blowing bubbles is a favorite activity among most children. Popping them is even more fun according to my kids! We saw these rainbow bubble snakes at Housing a Forest and had to try this. We used a soda bottle or you can use a water bottle, an old sock, bubble solution and food color. We also used recycled paper towel tubes and they worked fine until the water began to wear them down. Cut off the bottom of the bottle, attach the sock with a rubber band or duct tape onto the bottle and dip the end with the sock into the bubble solution.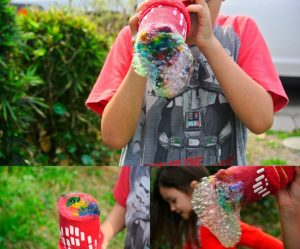 To add color, drop a few drops of food color onto the sock and watch as the bubbles come out with more vibrant rainbow colors!
Rainbow Salt Dough Ornaments
Christmas isn't the only time you can make salt dough ornaments. Create some colorful rainbow/St. Patrick's Day-themed ornaments and keepsakes that you can use to decorate around the house or give as gifts to friends and relatives.
You need 2 cups all-purpose flour, 1 cup salt and 1 cup warm water. Add a few drops of liquid watercolor or food coloring to make the rainbow colors. Use cookie cutters to cut out shapes. Remember to poke a hole into the shapes before baking if you want to be able to hang your ornaments. Place the salt dough on top of parchment paper before cutting it out so you won't have to move it after it is shaped.
Bake the dough at the lowest setting on your oven (to prevent it from browning) for two hours or until dough looks completely dry. Turn the pan every 15 minutes to bake evenly. You can put Mod Podge on the ornaments after it is cool to add more shine and make the colors pop.
Rainbow Soap Clouds and Rainbow Bath Paint
Do you remember the classic Ivory soap bar in the microwave experiment? I can never get tired of watching this and just love how it fluffs up from the heat. My kids were amazed at how the soap grew. They had the best time playing with it and using it in different ways including making rainbow soap clouds and bath paint.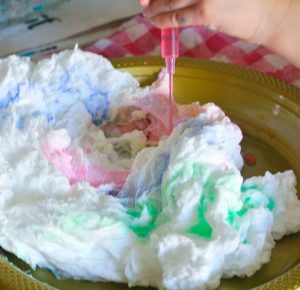 Using a bar or even half a bar of Ivory soap makes enough to create fluffy-looking clouds. The soap is not actually soft and fluffy as it looks when it grows in the microwave. It is delicate and will crumble easily when you start to crush it in your hands so be careful with it until you are ready to crumble them.
Place the bar of soap on a napkin or microwave-safe plate and heat it on high in the microwave for about two minutes. It will start to grow after about 20 seconds. You can use liquid water color or food color to drop some color onto the clouds to create different colors. We used a medicine dropper to do this. If you are using food color, mix it in a little bit of water first before putting it into the medicine dropper.
When the kids were done playing with the soap clouds, they crumbled up the soap and we mixed it with some hot water in the blender to make our bath paint. Add just enough water to get a yogurt-like consistency. Add the color in afterward in individual cups or bowls to use as paint.
Rainbow Shamrock Crayons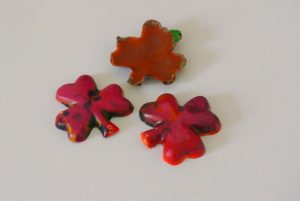 If you have broken crayons lying around your house, this is a useful way to reuse them.  Gather all your broken crayons, take off the paper and break up the crayons into small bits. You can chop them up with a knife to make them bake even faster.
You just need a shamrock-shaped silicone mold so you can bake them in the oven at 230 degrees for 15-30 minutes. Wait until the crayons are completely cool before removing from the mold and then you can easily push them out. Fill each mold with enough crayon to make the shamrocks thick enough to hold without breaking when the kids use them to color.
My kids had a fun time learning about rainbows and fun Irish folklore with these activities that can be enjoyed inside on a rainy day or outdoors as the weather warms up.
What are some rainbow-themed activities you like to do with your kids?