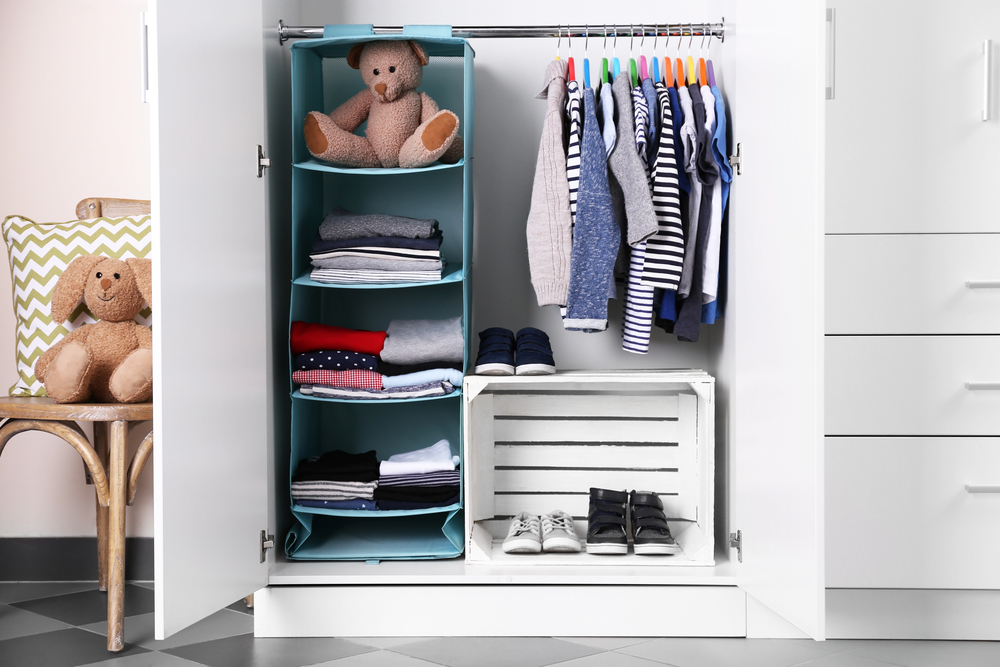 There's always a point in my week where I repeat that quintessential coulda-shoulda-woulda mantra. Like mopping the same spot by the fridge even though it's going to magically reappear when the kids walk by, or making green smoothies with my Blendtec instead of scheduling a one-on-one date with my stomach and that Key lime pie. Turning my kiddos' wardrobe into a capsule, however, isn't on that list.
That's because I don't have time for the morning drama. You know what I'm talking about. You tell your little angel, "Baby, go in the bathroom and brush those pearly whites. Mama's gonna go put her shoes on." You both walk away in agreement with a nod and smile, but in that short amount of time they've managed to start World War III with their sibling, open every box of cereal known to General Mills, and get that one piece of hair out of place that took you 20 minutes to slick back and put on Instagram. Yes. That drama.
Now, I'm not going to promise you that your morning drama will be eliminated, but I will promise you it can be simplified by doing something as simple as creating your own bundle of joy, a capsule wardrobe.
What is a Capsule Wardrobe?
I love the way this JMB guest blogger described a capsule wardrobe: "The goal is to have an outfit suitable for any occasion without the need for excessive clothing."
I don't know about you, but when I would tell my kids, "Go find something to wear, we're leaving in T-minus 20 minutes" — yes, I say, "T-minus" — they would come downstairs looking like they played a get-dressed game with their eyes closed and the game won. Now don't get me wrong, I love when my kids are artistic and creative — but there is a huge difference between that and just plain not matching.
But it's not their fault.
Countless times I've gone to the store to buy shirts for my kids because the bottoms they have only match those funky-printed shirts that go with nothing else on planet earth. And because the prints and colors are the cutest, they have to have it, right?
I'm onto you, OshKosh.
Their capsule wardrobes have helped me and the kids to know what's in their wardrobe. Now when they get dressed, it's as simple as grabbing any shirt or dress they like, grabbing any pair of preferred bottoms and choice of shoes — and they always, always look amazing!
A capsule wardrobe for the kids has also helped me to be more conscientious when shopping. Gone are the days of grabbing momentary outfits that are on sale but intentionally choosing items that are aligned with their wardrobe scheme and will fit into their wardrobes year round.
No tears. No yelling. No rocking back and forth in my closet wondering who gave birth to these tiny people. And for them — yes, the tears and yelling is for me — just smiles and more time for necessary drama. Like who's going to feed the dog.
3 Reasons to Try a Kids' Capsule Wardrobe
Let me break down the basics:
1. You have to buy clothes at least once a year because they change sizes like they're Transformers.
2. They are routine beings — they pick the same outfit over and over and over again.
3. There's science to this madness. Like you, tons of unused clothes and disorganization can be stressful. Their growing minds (and you) ain't got time for that!
Warning: Yes, friend. This will be time consuming. But so is editing that picture for Instagram to show everybody how good you look since the 10-year high school reunion. It's worth it. I promise.
How to Start Your Kids' Capsule Wardrobe
STEP A. Create Your Piles
Many style experts or fashion bloggers will tell you to start throwing things away. But listen to me — simply pile things away. Don't throw anything away, yet. I'll share with you why this is important later, but trust me for now. Create four piles of clothing items:
1. Clothes with stains that are as stubborn as that rebellious second child who invented the word "no." Bag these.
2. Clothes that are too small and can't be passed down to anyone in the house except the life-size dolls that no one can buy anymore since the closing of Toys 'R' Us (RIP). Bag these.
3. Clothes you grab when you only have two minutes to get to that birthday party that started 30 minutes ago.
4. Bonus Pile: Clothes that if they were to disappear tonight you'd have to hire the best family counselor in the United States and fly them out for a weekend family intervention.
STEP B. Establish a Wardrobe Theme (7 days)
Now that you've created your piles, take Piles 3 and 4 above and create a 7-day wardrobe for your child. It would be beneficial to include your little partner in this step. What outfits light up their eyes? Notice the pieces they go for first. Is it always a polo with pastel shorts? Is it the frilly dress with colorful emblems? Or is it the same screen tee with any color jeans? Their opinion will help them to discover their own unique style!
Make these outfits visible and accessible to your little one — the challenge is to have them wear only these outfits for the next 7 days.
Now step back and look at this 7-day wardrobe. Do you see a color theme? Is it darker or lighter colors? Is it patterns or solids? Is it colorful or more basic? What about a style theme — loose or tight, princesses, superheroes, kid hipster or future president? Write these down.
During the 7 days of wear, note a few things. Were these clothes conducive to their daily activities? For example, if your daughter likes dresses but is very active, would shorts be a good addition? If your son likes jeans but complains about being hot at the end of the day, would shorts be a better choice until winter? What worked and what didn't?
STEP C. Fill In the Gaps
Now that the 7 days have ended with your notes in hand, look at Piles 3 and 4 and see if any of those clothing items match with the color and style theme of the 7-day wardrobe. If pastels are common, fill them in to the wardrobe and put the scattered neon aside. Likewise, if the style is more laidback or athletic, set aside the button-downs and polos.
Once you've filled in items from Piles 3 and 4 that match the color and style theme, create a 14-day wardrobe. (If you're up for a challenge, opt for a 21- or 28-day wardrobe). You may have only 7 shirts — match them with all the bottoms you have to create the full 14 days.
Now I promised you in Step A that I would explain why it was important to not throw anything away. Based on the wardrobe you've created, go back through Pile 1. You may find a shirt, dress, or bottoms from Pile 1 that may be worth sending to a professional cleaner. Once you've gone through it one last time, throw Pile 1 away. Now with all of the clothing left over from Piles 3 and 4 that don't match the new wardrobe, add them to Pile 2 and donate.
STEP D. An Excuse to Go Shopping (Optional)
Now, if needed, it's time to shop.
Many stylists or Nanas will tell you why you need to go shopping. Don't listen to them. I will never give you advice on why you need to shop. I can tell you what to shop for, how to shop for your capsule, and where to shop. I can even tell you how to be "bougie on a budget." But you, and only you, know why you're doing it.
The purpose of this post is to tell you how to lessen the morning drama by using a capsule wardrobe, and if you are finding it helpful so far, then investing a few more items to complete the wardrobe may be important to you. Or some of you just want your kids to have a seasonal wardrobe even though we'll still be in shorts in the middle of October. And that's important to you, too. Whatever the reason, shop intentionally and wisely. Know your why.
Would a cute fall cardigan add a little sass to your girl's 14-day wardrobe? Would those cute little tight-around-the-ankle jogging pants set off your boy's athletic style? You are now equipped to determine the best pieces to buy to complete your kiddo's capsule wardrobe!
Final Thoughts: Laundry and Other Benefits
Now, if you do this right, your kids will be wearing these clothes over and over again. Some of you may even be thinking this couldn't possibly work with laundry. So here are just a few tips on how and why this is not even a factor:
1. Whether you have a once-a-week or once-day laundry schedule, by creating a 7-day wardrobe, you know the kids are good for at least one week.
2. Yes, they may end up covering their whole body in chocolate in less than 3 minutes with a fun-size Snickers. That is the purpose of filling in the wardrobe with pieces from Piles 3 and 4 that will match everything. Even if in a hurry, it should still match and flow with the wardrobe.
3. By getting the kids' opinions during Step B, they will start to become more intentional and excited about their personal style and identity. (This is scientifically linked to an increase in self-confidence, but more of that in another post.) Exercising their opinion also helps to simplify the what-to-wear dilemma and actually boosts their creativity and independence.
4. Using a capsule wardrobe makes seasonal switches simple. Instead of boxing up everything for the winter not to ever be worn again because of that dreaded growth spurt, you just evaluate what will work for the coming season and fill in pieces as needed. Get as much wear out of the clothes as possible!
5. Minimize the morning drama. If still, at this point, you don't see how your morning drama can be lessened, girl, please call me, and I'll come help you. It takes a village, right?
But seriously, this is one legit "kid hack" that has indeed simplified (though not entirely eliminated) our morning drama!
If you try this out, comment with what worked and what didn't work!