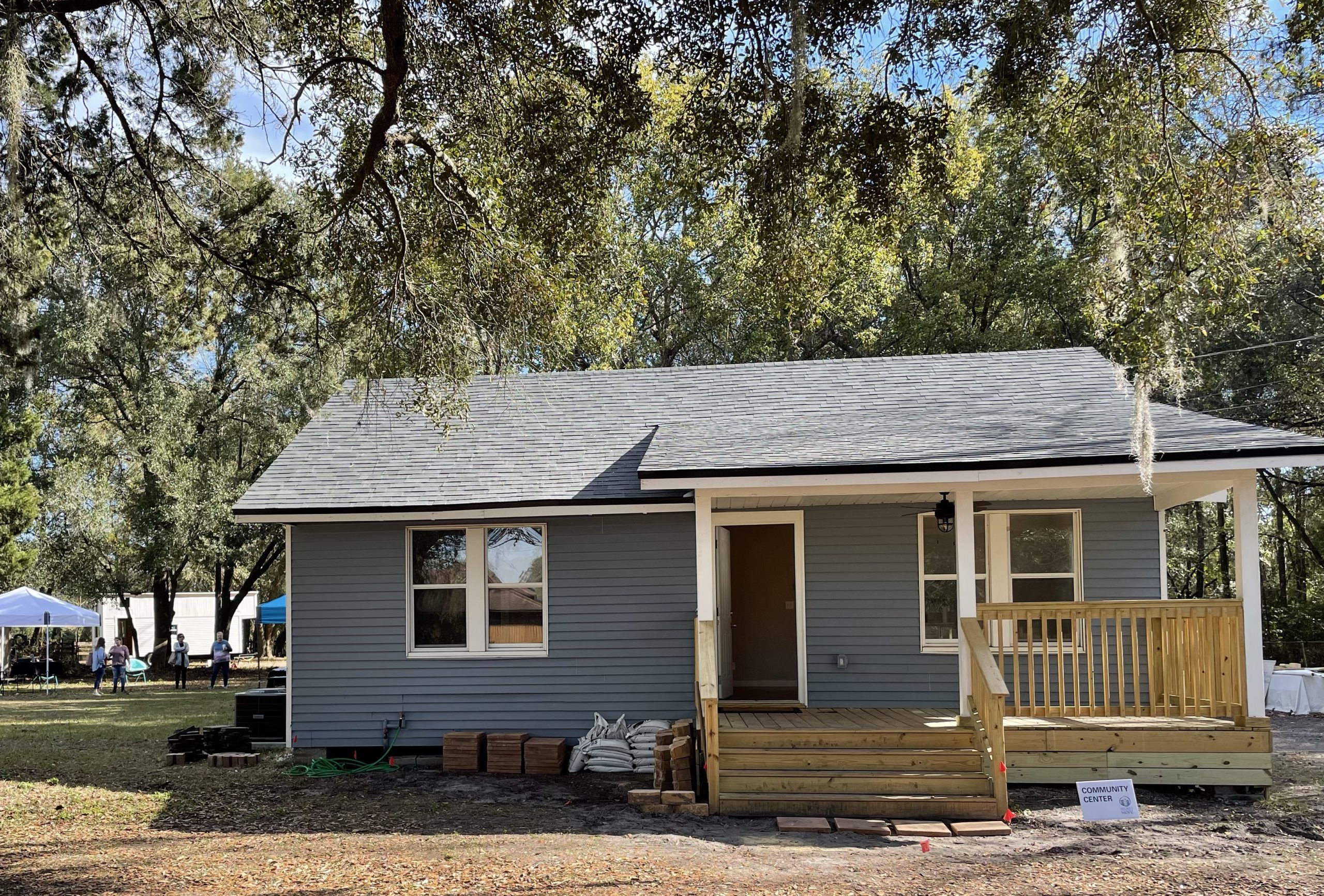 The Villages of Hope (VOH) started as a vision and dream to help female victims of sex trafficking. I started by visiting programs all over the country for inspiration and decided on using the Thistle Farms model — they were extremely helpful in sharing their program with me. I met with various foundations and non-profits in Jacksonville, and with their help, I decided on a plan and created the footprint for The Villages of Hope.
This dream has finally become a reality. With the help of Carla Sweeney, Founder of Awakenings House, and many other organizations such as Grace Ministry of Helping Hands, we now have 1.3 acres of land and a community center that will serve as our hub for group therapy, group meetings, and meals.
We know from experience that it can take up to two years for a woman to heal and recover from the trauma inflicted with sexual exploitation and trafficking. At The Villages of Hope, we will provide programs and a pathway for that healing with a program broken into three important phases.
A Home for Rest: A safe place for women to reclaim their dignity, renew their faith in humanity, and rekindle a life without dependency.
A Home for Restoration: A woman's experience of trauma impacts every area of functioning, including physical, mental, behavioral, and social. Survivor-led practices ensure women can heal and recover at their own pace with the best possible care.
A Home for Reconnection: Reconnection takes on a different meaning for each woman in the program. For some, it involves reconnecting with broken families, for others, it involves education or training of employable skills. For everyone, it ensures that a woman is prepared to leave the dependency of an isolated environment to live a healthy life of self-sufficiency.
Our Vision
Every woman should have a safe place to live, be connected with a community of care, and be loved unconditionally.
Our Mission
Our mission is to provide a sanctuary, a place of refuge, healing, and restoration to women seeking a life free from trafficking, prostitution, and addiction. We seek to empower women by offering trauma-informed care, survivor-led solutions, and time and space to heal. Most importantly we offer a safe place to sleep.
Our plans for the land include:
Future site of up to 16 tiny homes.
Onsite manager to take care of women and provide transportation.
Community center for meals, art classes, and a therapy room.
Clothes closet for women to pick out what they need.
Laundry facility.
Meditation garden.
Onsight vegetable garden and chicken coop.
Patio space built between each pair of tiny homes.
Shops of Hope Tiny Home, which features arts and crafts made by the ladies in the program and is moveable so we can take it to various events.
One of the many future tiny homes is currently under construction and will welcome the first two women survivors of trafficking in 2022! We have a long way to go to build the tiny homes and complete our goals for The Villages of Hope.
How You Can Help
We are looking for volunteers and partners to come alongside us to help build 16 tiny homes for the women of Northeast Florida. Each tiny home will provide two women with a safe bed that they can call home for up to two years. Here are ways to help:
Create a corporate team, non-profit team, or a team with friends and family… anyone can create a team!
Each team consists of seven volunteers: One team leader, one team supervisor, and five team members. Team members can be part of one or more phases.
Each project will consist of five phases over six weeks: Framing and roofing, electrical and plumbing, interior construction, interior design, and landscaping and placement.
The estimated material cost is $20,000–$30,000 per tiny home.
Host a Villages of Hope Tea Party
We have a special program to raise awareness and funds in our community: Tea Parties. We will come to your home and educate women, mothers, wives, and daughters about sex trafficking in Jacksonville and around the world to help raise awareness in our community. All you have to do is invite eight to 10 of your friends, provide a few snacks, and we will do the rest!
If you would like to host a Tea Party to raise awareness and funds for The Villages of Hope, please email [email protected] or visit thevillagesofhope.org for more information on the program.
You can help us fulfill this dream. We need volunteers, donations, and prayers. For more information about The Villages of Hope, please visit thevillagesofhope.org.
About the Author
Before becoming involved in the fight against sex trafficking, Donna Fenchel spent over 20 years at ADT Security, holding multiple executive roles, including roles in IT, Six Sigma, and Call Center operations. Donna currently is a partner in multiple Orangetheory Fitness franchises in Northeast Florida. Donna founded The Villages of Hope after researching the impact of trafficking on America's youth and came to understand how big the problem was across America, but also in her own hometown of Jacksonville, FL.