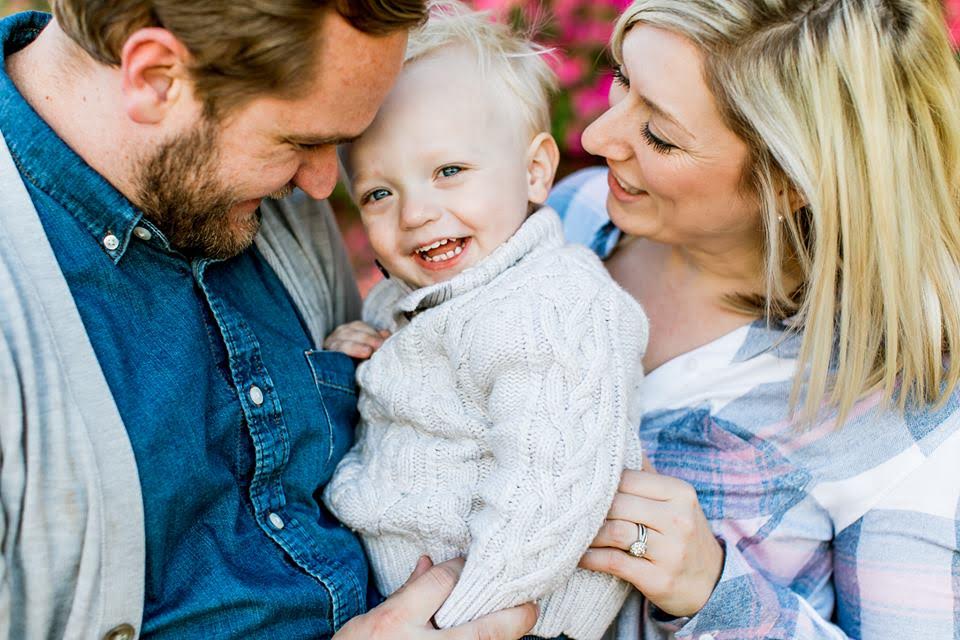 After what we considered to be an uncomplicated pregnancy, everything changed at 33 weeks when I woke up with sharp pains. After an entire day at work, and after talking to multiple doctors and nurses at my OB's office, and with the symptoms not going away and continuing to get more painful, they asked me to go to the hospital.
After arriving, I was checked out by my doctor and shocked to find out, that at 33 weeks along, I was in labor and about to have our baby that evening. Our son, Henry Alexander Rainka, was born on July 6 weighing in at 4 lbs. 10 oz. and was 19.5 inches long.
Seeing my son for the second time was a joyful and fearful time. He was a very swollen, tiny and perfect little boy, but connected to so many tubes. Since Henry was our first child, we did not wholly grasp how small he was. When I saw him for the first time in the NICU, he was 4 lbs. 5 oz., but the few friends and family who saw him later told me that they had never seen a baby that small. The amazing nurses introduced me to the NICU and showed me where we could bring things for him to wear and anything that we needed while we were there. As I listened to the nurses, I tried to familiarize myself with the very loud sounds of the NICU. All of the constant beeps and chirps were nothing compared to the sound of the alarm saying that your child's heart stopped, the temperature dropped, or he's stopped breathing.
When your child is in the NICU, energy is the most precious commodity. Your child not only has to learn how to eat, but also how to regulate temperature and breathe earlier than he would have in utero, but learn with the burden of gravity. Henry was working extremely hard to do all of these things seven weeks before he would have naturally done them.
On the first day of his life, we got to touch his hand for a few moments and admire him. On the second day of his life, I got to hold him for a few moments. On the third day of his life, his father got to hold him, and he got to change one of his microscopic diapers, and I learned how to feed him. His eyes were covered, and he was put under a blue light due to high levels of bilirubin. On the fifth day, his eyes were uncovered, and he looked at me with relief that he could see again. Then we got to put clothes onto him for the first time. Finally, that day we learned how to feed him outside of his bed.
Finally, 28 days later, on August 4, there was no more vacancy in our nursery, and Henry was home! Not long after he came home we dearly missed the wonderful nurses that we had spent nearly a month getting to know.
Join Jacksonville's March for Babies
The March of Dimes is committed to improving the health of women and babies and preventing pre-term birth. It does not simply fund NICUs across the country, but it also provides education and support. We are so grateful for the March of Dimes, and we hope that you will help to provide a fighting chance for every baby.
On May 12, you can join us at 8 a.m. for the Jacksonville March for Babies at Jacksonville University, starting and finishing on Dolphin Green along the St. Johns River. Lace up your sneakers, bring your friends and family, and come out to walk with us! Festivities kick off at 8 a.m., and the walk begins promptly at 9 a.m. with food, fun and music for the whole family! Dogs will also be allowed, but make sure they are on a leash at all times. For more information or general inquiries about day-of activities and how to start a team, please contact Ericha Gore at [email protected] We hope to see you there!
About the Author
Shannon Schott Rainka is a partner and attorney at Plata Schott in downtown Jacksonville.  She was raised right here in Jacksonville, and attended undergrad at the University of Florida and earned her law degree at Stetson University.  When she's at home, she loves being mom to Henry and wife to Michael.
Shannon is actively involved in the legal, civil and philanthropic organizations. She volunteers her time with Jacksonville Area Legal Aid and the Women's Board, benefitting Wolfson's Children's Hospital.  She also serves on the Board of the Florida Association of Criminal Lawyers Northeast Chapter, and she is the Chairperson of the Criminal Litigation Section of the Jacksonville Bar Association.