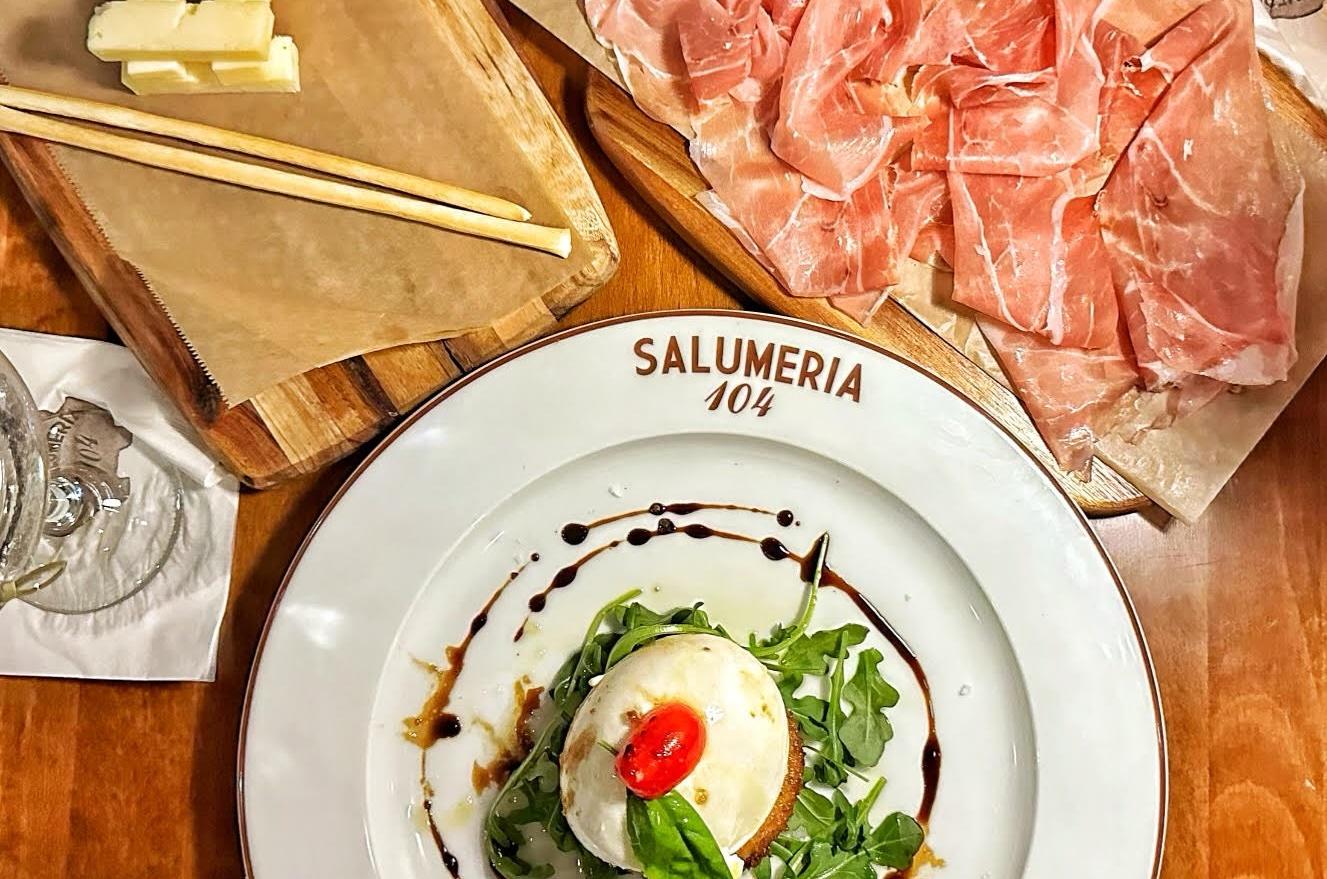 It's a rainy Friday night, and I'm debating even going to this new spot because, let me be honest and say, I look for any reason to cancel most late-night plans — and by late night, I mean the reservation was at 7:30 p.m. Alas, I didn't and because of that crucial decision, I got to have some of the best Prosciutto di Parma my mouth has ever had. I may be getting ahead of myself on this one but, it's an IMPERATIVE part of this review. When they asked someone from Jacksonville Mom to come and try it, the token Italian got asked. I have a high level of judgment around going out to eat for Italian food — after cooking my own and living in the Northeast majority of my life, I've got high standards. So, I was ready and open to seeing what this "new Italian spot" was up to.
Salumeria 104 has graciously given us its presence in Atlantic Beach after years of being open in Miami and Coral Gables. Their main mission is to serve residents classic Northern Italian meals, learned for generations and perfected over time. Chef and co-owner Angelo Masarin took some of his Nonna's teachings and made it into a menu that is easy to navigate to find multiple courses to enjoy. As a lady who loves multiple pleasures, I think we can all agree this is where we want to have a date night or meet up with friends.
Immediately welcomed as I entered the space, it felt like walking into a house party in full swing, and they were so happy I obliged in coming. It was like they already knew me and knew what I needed. That was an Aperol Spritz. I went classic, but don't sleep on the multiple variations of this Italian classic, which I will be sure to try upon returning. There's a full bar and cocktail menu, and I can imagine they all are just as tasty. My spritz was perfect and well-balanced and had I not needed to drive home, I could've asked for a pitcher.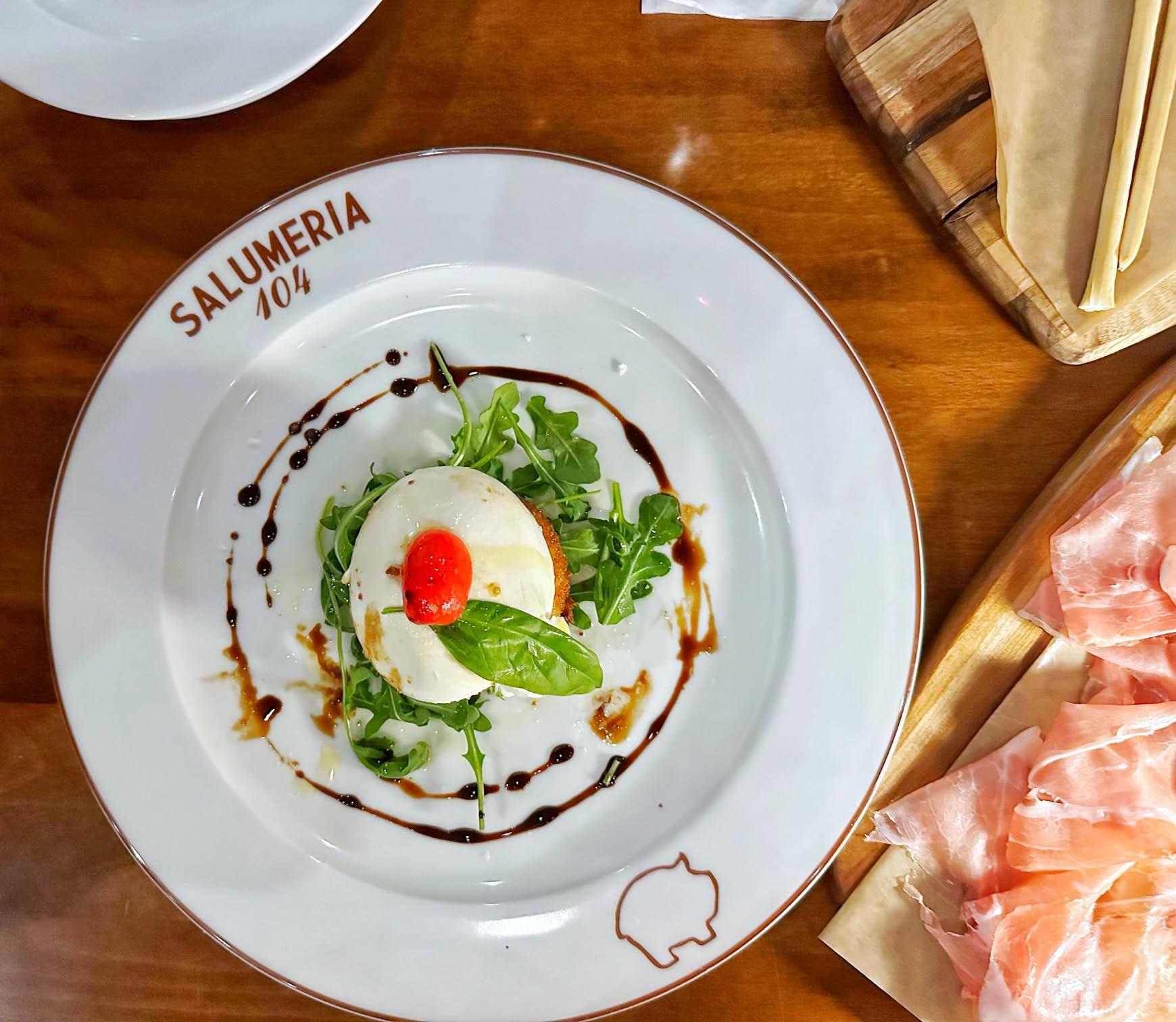 Our server, Jimmy, was incredible at guiding us through the menu, offering suggestions, and being incredibly attentive the entire evening. I saw this on all aspects of the staff, from the front of the house to watching the previously mentioned prosciutto be sliced right out in view. Everyone was working together to make the experience for each patron a memorable one.
The first course was Italian meats and cheeses — we went with a Pecorino al Tartufo (Jimmy's suggestion) and the aforementioned Prosciutto di Parma. (You can start a drinking game with how many times I've mentioned it.) This was the perfect start, and honestly, I could have just kept ordering Italian meats and cheeses and been happy with the dinner. I may do this next time because I saw some marinated olives I didn't get the chance to try. Next up was the suggested Burratina; a completely unexpected dish with classic Italian flavorings. A large, fried green tomato, served with Burrata on top and a drizzle of balsamic. This appetizer is easily shareable with a friend or two if you are doing multiple courses.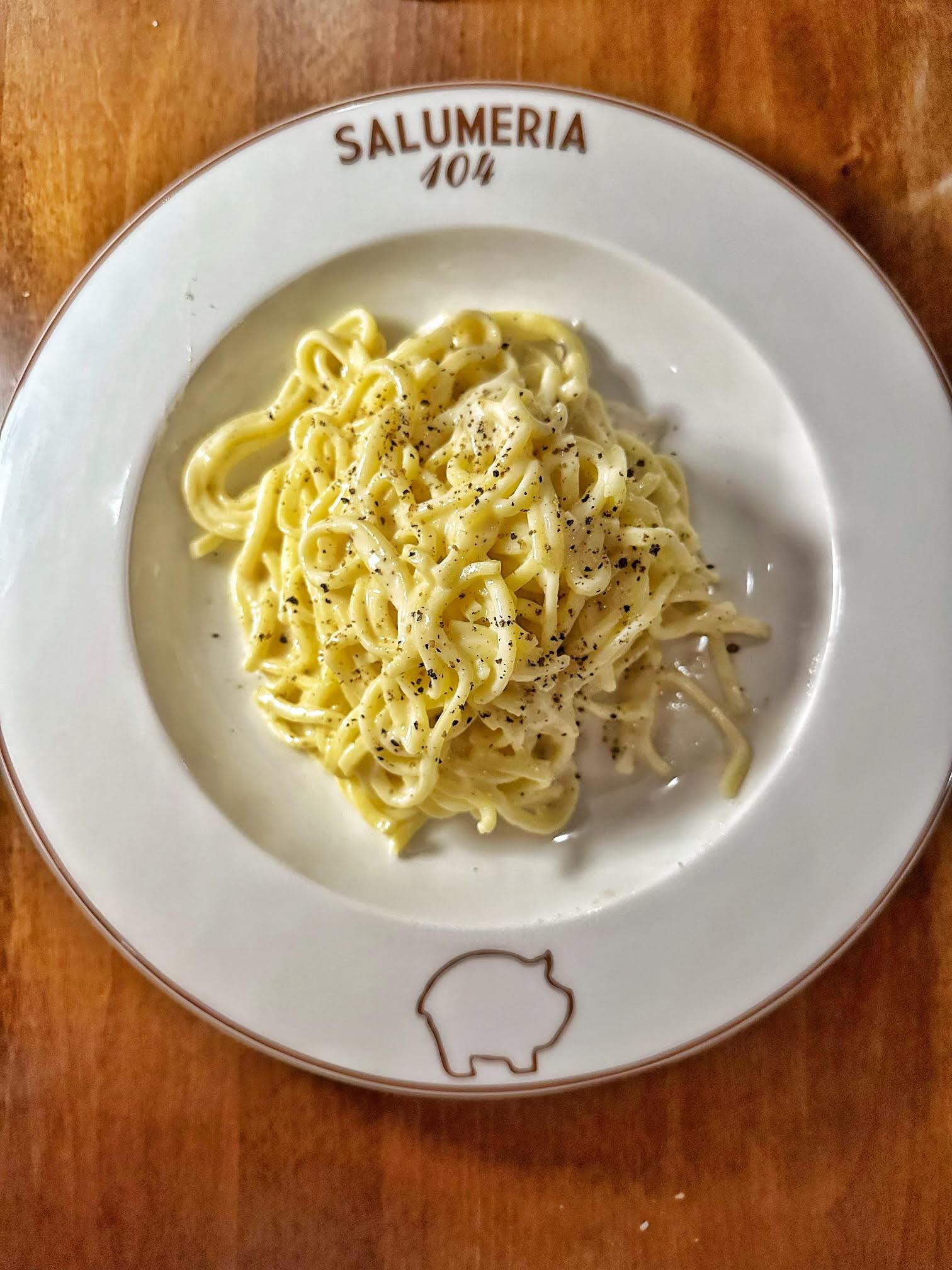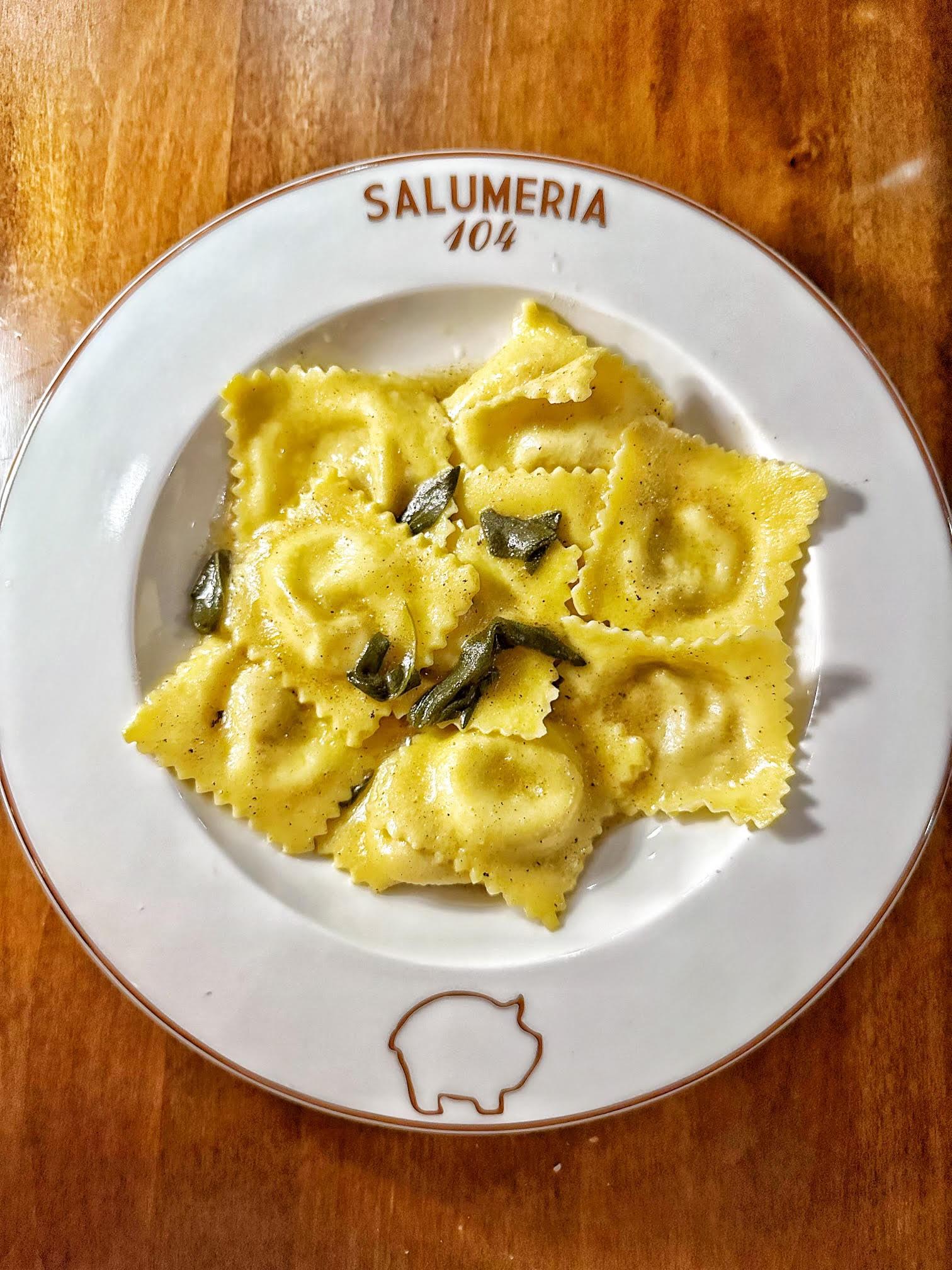 Now, besides my beloved aged Italian meat, we decided our main course would be pastas. Yes, I meant that to be plural. Stick with me, we're having a moment. We went big, and we went rich, and I'm not talking about the men we've dated in the past. Chitarra Cacio e Pepe on a menu? I will ALWAYS TRY IT. ALWAYS. If you have this dish on your menu, invite me to try it and judge it. Chitarra is the shape of the pasta and type, like a thick spaghetti with a hole in the middle and made of egg. That hole helps all the sauce coat the pasta so every bite is just as good and consistent as the others. The Cacio e Pepe is made tableside for added flare and entertainment, and I'm a sucker for a cute guy doing as such. This pasta is known to be rich, and I'm so happy to be sharing it. The flavor was perfection. I mean this with all honesty, the best I've had since leaving NYC. It's a must-order. You can't change my mind.
Our second pasta had a lot to live up to, but I was up for the challenge. The Ravioli del Salumeria is a ravioli (duh) with a brown butter and sage sauce. This sauce was perfectly delicate without losing itself to the filled raviolis, but also gave the dish a great tasting profile to balance the pasta which was perfectly cooked. This dish could easily be a main entree for someone, and you'd be happy with your life. That life includes you having the prosciutto (maybe they'll sponsor me with cured Italian meats if I keep mentioning it).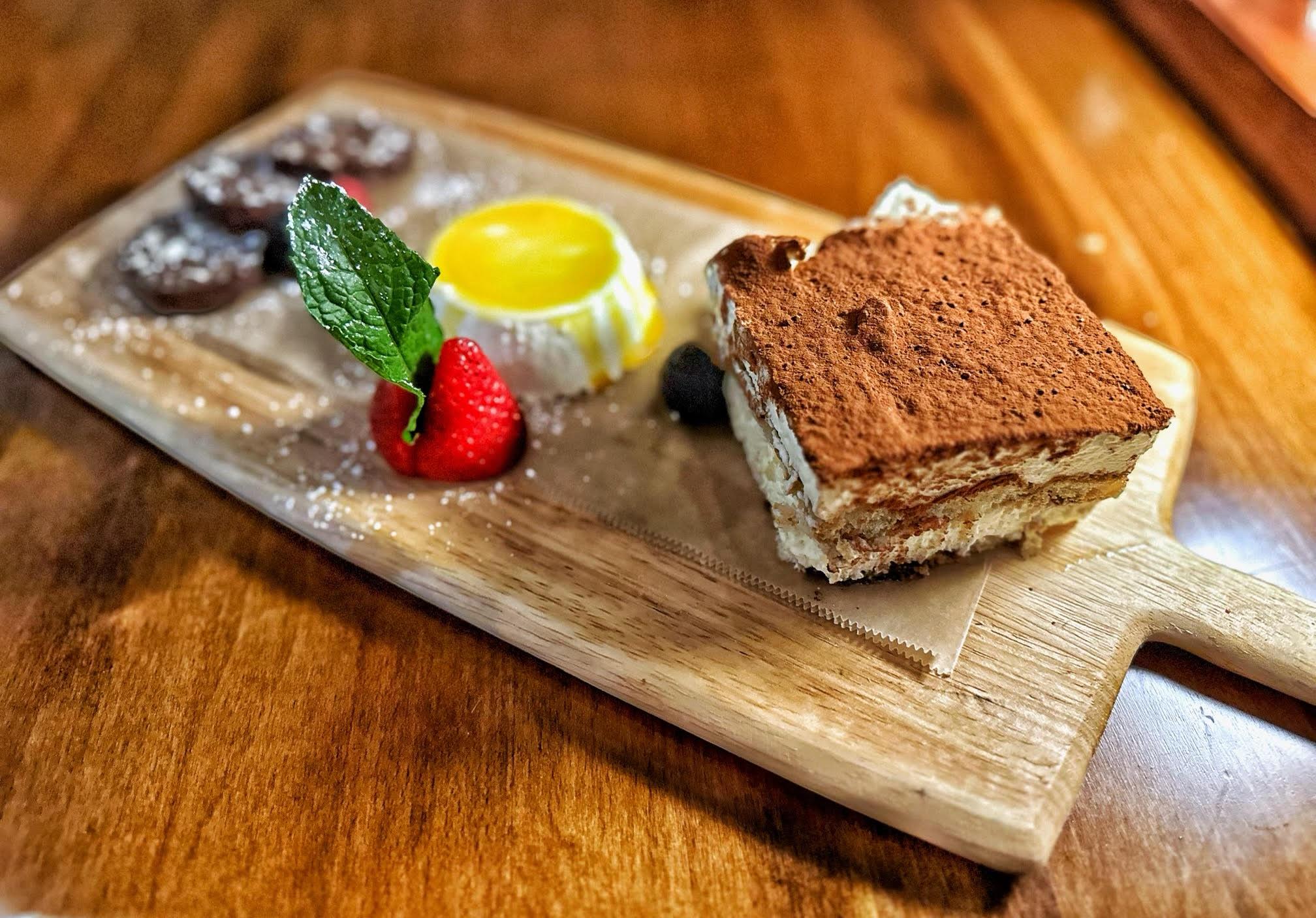 Alas, it was dolci time! Dolci is Italian for unbutton your pants. Now, at this point, I was asked to not unbutton my pants at the table but Lord knows I needed to. I did spill balsamic vinegar all over my white shirt, so it could've been a good look. Dolci is actually Italian for sweets, and sweets were had. We went to the Trio Di Dolci, because when a place offers all the desserts, that is your immediate choice. The trio came with Tiramisu, Panna Cotta, and Salame Al Cioccolato. Each bite made for solid endings to a rich and flavorful dinner. Definitely recommend sharing this trio and enjoying it together. Pick your favorite and order that next time.
I left full, happy, and with my pants busting at the seams. Having Salumeria 104 in Atlantic Beach is a welcome addition to the area for an upscale but attainable and welcoming Italian restaurant. Be sure to make a reservation because this place is busy, and I would hate for you to miss out on the… wait for it… Prosciutto di Parma.