There is something about fall that gets me ready for all things food, and there is something about Winn-Dixie celebrating Italian month that helps put me in the mood even more. As an Italian-American myself, I often cook recipes that my family has taught me, as well as ones I have learned along the way. I'm a self-proclaimed "foodie," and there are very few things that make me happier than cooking for friends and family. My Nonie (that's grandma for you non-Italians) taught me well – the ability to cook a good meal with quality ingredients and great people to share it with. The best part is that Winn-Dixie has made this goal easy and cost-effective to families. Need I say more?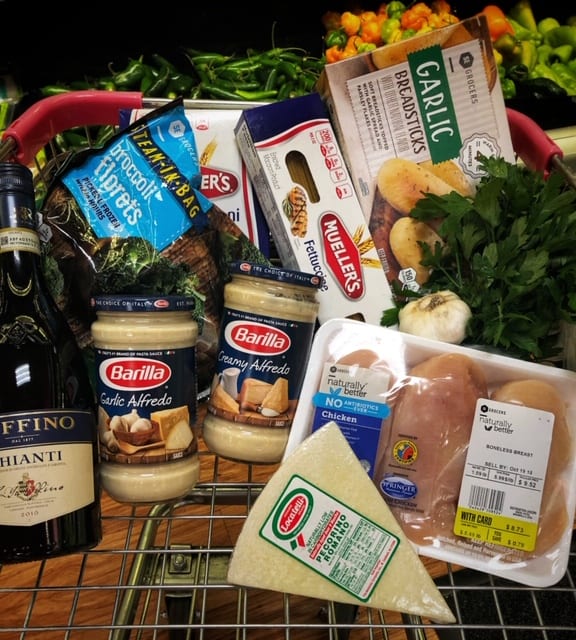 As a busy mom, meal planning takes time, and having the kind people who already did this step and wrote my list for me? YES, PLEASE! I am all about a meal on the table in 30 minutes, especially on a weekday when I find myself running around like a chicken with my head cut off. I like knowing my tiny humans are getting a meal that is home cooked and one I don't have to use the psycho mom voice to get them to eat. (Don't act like you don't know THE VOICE.) Getting in and out of Winn-Dixie is easy and painless to my wallet. The amount of sales and BOGOs are endless and makes not only putting this meal together on a budget attainable, but the possibilities are endless. Also, shoutout to the person who put the wine near the front of my store right by the bakery and cheese — that truly felt like my happy place. Let's get into what I made, chicken fettuccine alfredo with broccoli. Oh, don't worry — the wine and garlic breadsticks make an appearance at the end… stay tuned. This recipe can easily be found on Winn-Dixie's website, and I included my version for you below. All the ingredients are found at their store and may be in your own pantry, already. Now, for what you all came for, the recipe and some tips and tricks along the way.
Chicken Fettuccine Alfredo with Broccoli
Ingredients:
1 Package of Springer Naturally Better Boneless Skinless Chicken Breasts
1 package of Fettucine Pasta (I purchased Mueller because BOGO's are my favorite)
1 16oz Jar of Alfredo Sauce (I'm using Barilla because it was BOGO)
1 Package of SE Grocers Frozen Broccoli Florets
1/2 cup of Pecorino Romano cheese (grated)
1 clove of garlic (minced)
1 Tbsp of fresh Parsley (chopped)
1 Tbsp of fresh Basil (chopped)
2 Tbsp. of Cream Cheese
½ Tbsp. of Italian seasoning
2 Tbsp. of Milk or Water
4 Tbsp. of Extra Virgin Olive Oil
1 Tbsp. of Red Wine Vinegar
Salt & Pepper to taste
Directions:
Start by boiling your water for the pasta, and make sure to salt the water. This is your only chance to season the pasta, and salty water is the way to do it! Since a watched pot never boils, get your chicken started. A shortcut is to use leftover chicken OR grab a rotisserie chicken from Winn-Dixie and just cut it up. I am cooking mine as I go for the sake of the recipe — rinse and pat dry the chicken. In a bowl, mix 2 tbsp. of extra virgin olive oil, 1 tbsp. of red wine vinegar, 1/2 tbsp. of Italian seasoning, and salt and pepper to taste. Give this a good whisk so it looks like a salad dressing. Add in chicken to coat. The heat up a large skillet, add in 1 tbsp. of olive oil over medium-high heat. (You can also grill it!) When the pan is hot enough, add chicken. Let it cook until done and juices run clear, about 6-8 mins per side depending on how thick the chicken breast is. When chicken is done, let it rest. Using the pan the chicken just came from, lower the heat to medium-low and add in the last tbsp. of oil. Next, in goes your minced garlic, and allow it to cook for about a minute. Now you will add the entire jar of alfredo sauce. Pro Tip: Put in your alfredo sauce, then add a little milk or water to the jar and swirl it around to get ALL the delicious sauce. I now like to stir that up and add in the cream cheese and cheese. This will help give your sauce a taste that will make people think you spent ALL day making it. When your pot is boiling, add in your pasta and cook until it's halfway done (about 4 min.), then and add in the broccoli to finish cooking the last 4-5 minutes. Let sauce simmer on low until your pasta is done. Before draining your pasta, save a half cup of the cooking water and put to the side. When pasta is drained, add it to back to the pot you cooked it in and add the sauce — toss gently. If sauce is too thick, this is when you can add the reserved pasta water to thin out the sauce. You can cut up the chicken and put in the sauce or serve over top. Add your fresh herbs and more cheese if you'd like, as well!
I served mine with the SE Grocers brand garlic breadsticks (hello, knockoff from that famous chain restaurant) and some Ruffino Chianti I picked up on an AMAZING deal in the wine section. Because, if you're gonna have Italian food, you got to have some wine to reward yourself with! For more foodie posts, you can also follow me on Instagram at AllieLuvsFood.