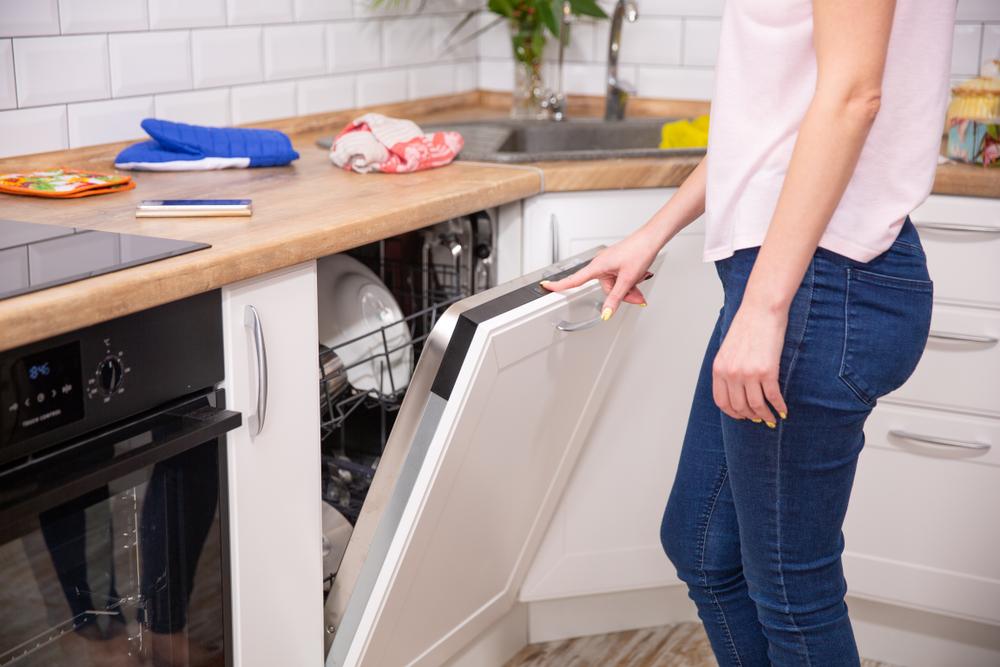 What is the one chore you absolutely hate doing? Laundry? Washing your car? Well for me… it's dishes. Even though I have a dishwasher, I hate doing the dishes. Sure, you could ask your significant other to do them, but then you have to ask the age-old question: Is it really clean if you don't clean it, or if you let someone else clean them?
Let me start with this, I clean when I get stressed out. So you have to wonder why my house is not clean, even when I am at my limit when it comes to stress. Call me crazy. Call me OCD. Call me an obnoxious micromanager, but dishes in the sink and how the dishwasher is loaded is a hill I will die on. Why? BECAUSE IT'S NOT CLEAN CLEAN IF I DON'T CLEAN IT.
It wasn't always like this. I wasn't always this way. I remember having a VERY long day at work. I drove home in silence and in tears. It was a tough day. I walked into my house and the first thing I saw were dishes overfilling my sink, and two pots on the stove, full of food from the night before. I remember my husband offering to do the dishes. It was so thoughtful because here is a man who HATES the dishes more than I do. I gave him a huge hug and said thank you. I got in the shower and he got to work on the mountain piled in the sink. After the much-needed shower and a really good cry, I came out to find a clean sink, wiped down countertops, and the stove pot-less and spotless. I felt relieved… until it was time to unload the dishwasher.
Maybe I had a stroke. I felt like Alice in Wonderland. Down the Rabbit hole, I went. Everything was backward. It was all wrong. Bowls on the bottom rack? Plates not ordered by size? Not in descending order? Spoons in the top rack? Coffee mugs not in the cup rack? Was I going crazy? Was this a joke? What really sent me over the edge, was seeing a plate with food still on it. It wasn't the dishwasher's fault. It ran properly. It is hard to clean something when other flatware and serving ware block the water's ability to clean a surface.
Despite wanting to lose my cool, I just casually and passive-aggressively asked where he learned to load a dishwasher because this wasn't the first time he had done this, but it was the first time everything was all wrong. He acted clueless. He said it was fine, that there was nothing wrong with how he loaded the dishwasher. He said it was normal and that is how he's always done it. I questioned our marriage. I questioned everything. There were some things I would be willing to overlook, but this? ABSOLUTELY NOT.
Eventually, he came around and told me it was his way of playing and joking. He tried to cheer me up after a long day. I had recently found out I was pregnant, and my hormones were all over the place. I don't like doing these dishes, but he disliked them even more than I did. I was grateful he did them, especially after the day I had, but I questioned the future of our marriage if this amount of chaos would be allowed to take place in our dishwasher.
To this day, we still laugh about it because we learned a valuable lesson from this situation.
We both sacrificed for one another. I sacrificed my sanity. He sacrificed his hatred for dishes.
Marriage is more than who does the dishes — it is being able to laugh about how ridiculous you can load the dishwasher.
Pick and choose your battles. As I learned, the dishes are a hill I will die on.
So, it got me thinking… how do you load your dishwasher? Is there actually a proper way to load a dishwasher? I've come to find out there is. So, in order to save your sanity and marriage, here is what the "research" shows:
From Whirlpool:
 Face dishes toward the center.
Angle dishes downward.
Avoid overcrowding.
Place items between tines, not over them.
Don't pre-rinse.
Don't block the sprayer arms.
Only wash dishwasher-safe items.
Place mugs, cups, wine glasses, and water bottles upside down along the sides of the top rack from front to back.
Position small bowls and plates between tines. Angle them so they're facing down and toward the center of the dishwasher.
Plastic containers and lids can be washed in the top rack, provided that they are dishwasher safe. Similar to small bowls, place plastic containers facing downward.
Long utensils like spatulas or ladles should be laid flat on the upper dishwasher rack.
There you have it. Happy loading!
Note: No husbands were harmed during Dishwasher-gate 2018.