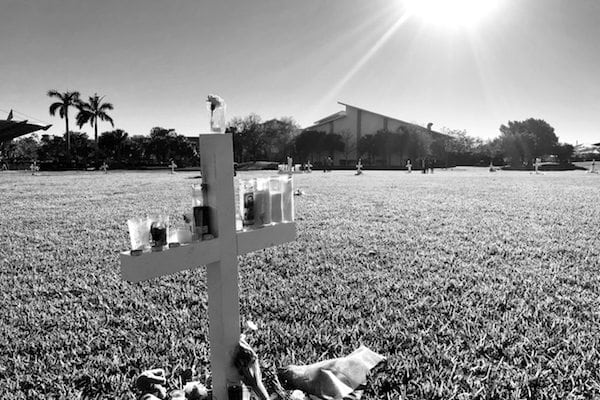 Just over a week ago, we watched as frightened teens ran for their lives out of a South Florida high school. A school. A place where we send our kids for the day in hopes that they return when the bell rings.
I was sent to Parkland, Florida, to cover the shooting at Marjory Stoneman Douglas High School. I met with the students who were in that school. Teens who were looking for their family members. Students who watched their classmates and friends die in front of them. I saw the first-hand videos of the gunman coming into one of the classrooms. I saw the kids lying on the floor. It's a sight I'll never forget.
That is why it has taken me a little longer than I had hoped to write this. I originally wanted to write this because these shootings are not becoming less common. These tragedies, unfortunately, are not going to magically stop — as much as we all wish they would.
Talking to our kids about these tragedies is not going to get any easier, either. At least, I hope not. I hope it's still difficult to talk about school shootings. That means they're not too commonplace. That means we are not too desensitized. Licensed clinical social worker Colleen Rodriguez offers some tips on how to talk to your kids about violent tragedies. (The first step is quite often the hardest.)
Process your feelings first. Before you sit down with your child, process your feelings with another adult. Children take their cues from you. If you're hysterical or scared, they may feel more afraid. It might even get to the point where they're afraid to attend school. Model a sense of calm and give them some reassurance.
Encourage them to ask questions. Let them know what happened, but keep it age appropriate. You know your own child and how they'll react. And then listen. Let your child bring up what's important to them. Their questions will help you understand what they know and what they may have misheard. It might take a while for children to open up, so make it clear that you're willing and available to talk in the next few weeks.
Monitor smartphone and media use. This goes back to the videos I was talking about in the beginning of this blog post. They are all over. You can find them if you want to. I DO NOT recommend it. There is also a lot of false information out there. Make sure you're getting your information from reputable sources.
I cannot stress enough how important it is to talk to your children, even when they don't want to talk. How was their day? Did anything stand out? A few years ago, I started "playing" High-Low-High with my stepson. Tell me about a good part of your day, a maybe not-so-good part, and another good part. You can learn a lot. It took a few weeks for him to get on board with it. Now, he reminds me if I forget. Plus, you get more than, "How was your day?" "Good."
We can't go to school and be with our kids the entire day. But learning what goes on when we're not there is a start.
Additional Resources
The following articles and resources may be useful to you if needed:
About the Author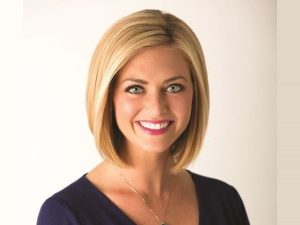 Lindsey Boetsch of First Coast News is excited to be living and working in the Sunshine State. She joined the First Coast News team as a multimedia journalist April Fool's Day 2013… No joke. Since then she has taken on many roles including weather anchor, reporter, and fill-in anchor. She comes from KHQA in Quincy, Illinois. She started there a week after graduating college as a producer, reporter, and weather anchor. She also produced and anchored the morning show for two years. She covered one of the worst winter storms on record in Quincy, the Blizzard of 2011. The city saw 22 inches of snow in two days. She also traveled to Joplin, Missouri three months after the deadly tornado hit the town. Lindsey grew up in the suburbs of Chicago and graduated from Illinois State University. She is happy to trade her snow boots for a beach umbrella. She loves exploring all the First Coast has to offer, including all of the awesome local restaurants. In her spare time, she loves exploring all the First Coast has to offer, including all of the awesome local restaurants. She is trying to get better in the kitchen and is always looking for easy (dairy-free) recipes.