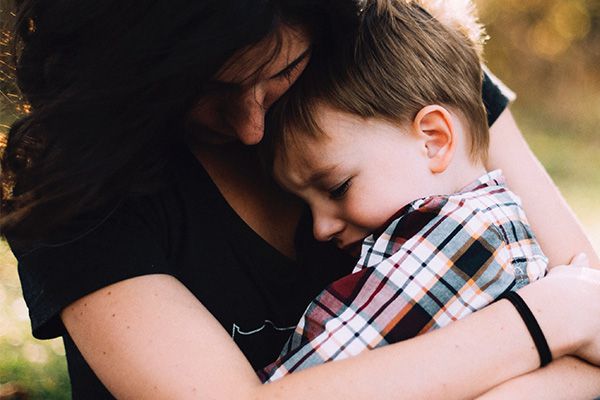 If there is one thing we all have in common as moms — no matter what our beliefs, parenting strategies, religion, skin color, food preferences, hair color, or favorite drink might be — it's that we get up again.
And again.
And again.
It doesn't matter the day, the week, or the hour we are having. The small personal tragedies, slights at work, frustrations played out on social media, sad-nesses at the state of the world — big or small, we keep going. Once you are a mother, you have no choice. You keep going through the death of a pet, the loss of an unborn baby, the loss of an infant, the loss of a spouse, or the loss of a job. Your grief ekes itself out in any free time or free corners you may have. And then you get up again and keep going and keep giving for the children standing in front of you.
We tie shoes and wipe noses, clean laundry and brush hair. We fill out all the forms and find the money, make breakfast, lunch and dinner, plan healthy snacks and try to remember diaper sizes. We pick up crayons. And LEGOs. And more crayons. We get through sunny days and hurricanes and try to always point out the rainbow at the end, the bright flower, the pretty color of an autumn leaf. We figure out Halloween costumes and Christmas presents, how to sprinkle some glitter into the long days of a pandemic, how to keep our babies safe one more night, how to keep them healthy, clean, and warm.
Sometimes we only keep going five minutes at a time, just five minutes, until that five minutes passes, and we make ourselves get through five more minutes. Sometimes we're thinking weeks or years out about where the baby currently snuggled under our chin will go to middle school and how to get them into the magnet program there. Sometimes the weight of the world is crushing us from the outside in. Sometimes our struggles are so internal and personal reaching out to the world for help feels impossible. But still, moms don't stop.
We may finally let the tears go when our children are asleep at night, sitting outside on the front step or in the car to sob so they don't wake up. Or we cry, held tight by arms that love us, while Netflix streams in the background. And sometimes we just pass the f— out, makeup on and clothes in a pile on the floor, dirty hair and mountains of laundry surrounding us, because we are just that tired. Would we have it any other way? Well, yes, a cleaning person, cook, laundry helper, depthless bank account, and chauffeur would be all helpful. But those things don't matter, not really. What matters is the little humans we hold so tightly in our hearts and arms.
So we get up again.