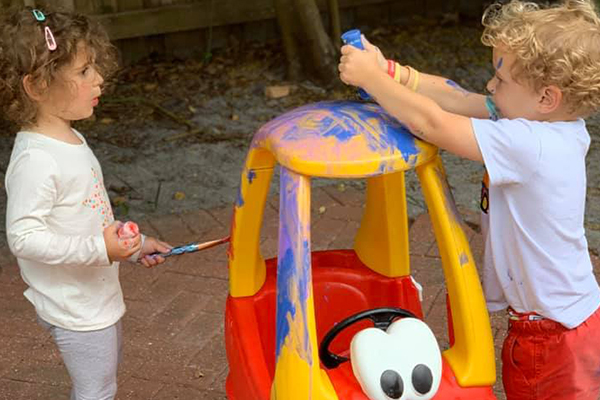 Most days I'm just trying to make it through. That's not how I wanted to go through motherhood, nope. I thought I'd be all flags flying, trumpets blasting, riding through parenting on a big white horse, soother to all babies and superhero to all teens.
Instead, I usually reach the end of the day, let alone the week, second-guessing my choices, puzzled about my children's behavior, and overall just plain doing the best I can. That's a mantra celebrated a lot in motherhood — the "your best is enough" mantra. Maybe it is. I guess I won't know for sure until they are grown and flown. So that concerns me. I mean how often is peanut butter for dinner okay? How many times can they get away with not brushing their teeth? When doing the best I can becomes what I do every day, is that even really close to my best?
Hmmm. I don't have a solution. But these are things I think about when I sit by my kids as they fall asleep and watch their fat cheeks rise and fall with their breath. When they're awake, there's always so much "Mama mama mama mama mama! I have dance until six today but tomorrow I have theatre Mom sign me up for the Heart Walk I don't want to do my homework what's for dinner I want to watch Paw Patrol I need crazy socks for tomorrow it's my teacher's birthday I have to make a card for her I want to wear pajamas to school why can't I bring the fish to school Mommy my nose has boogers Mommy can you help me with my LEGOs I can't do it…"
You get it. There's no time to think let alone wonder if what you're doing is your best. You just get by until they go to bed. You try to do your best but in the moment they usually watch one or two five or six more shows than you planned, and you end up ordering pizza or letting them eat their favorite meal three nights in a row because you can't take anymore crying, let alone think clearly enough to actually come up with another meal idea and get to the store to get groceries. You make a New Year's resolution that you will be more patient, less yell-y, and they will brush their teeth every night, and suddenly it's mid-January — and you can't remember, did they brush their teeth this morning? I don't know if they did last night either. But at least they went to bed on time and had a bath. So score two for Mom. Minus the teeth. So score one for Mom.
Maybe that's the point — we don't know. We don't know how they will turn out. We can hope for the best and plan for the worst and all the clichés but in the end, we can do everything right and they can still end up a disaster living in our house way past their expiration date. Or we can do our "best," and by that I mean, we only can try to do our best. We can get through the day trying our best, and they might turn out alright. So that's my new motto: "Trying to do your best is enough." And thank god their baby teeth are supposed to fall out! Cheers to that.