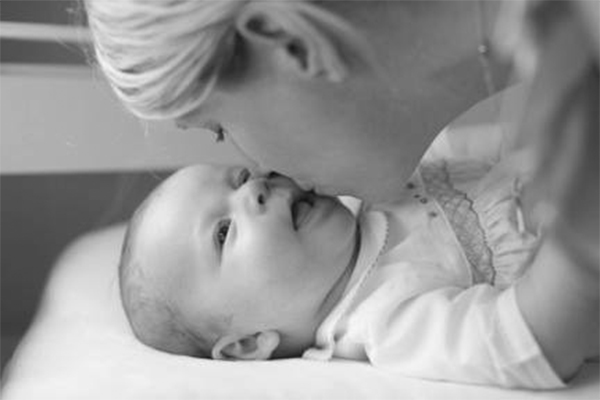 Last night, our 4-year-old son woke up and came into our room before 5 a.m. For the third night in a row. He asked if it was Wednesday. He asked if it was Christmas. He asked if he had to go to school that day. He asked if he was going to ever again see his favorite goat at our local farm, and if that goat was going to go to Heaven like our dog had more than a year ago.
It was not even 5 a.m. For the third night in a row. But even so, the constantly interrupted sleep that starts the bone-tired, eye-twitching, headache-inducing exhaustion I have become so used to now, wasn't even why I was so tired. The lack of sleep just pours more fuel on the fire, leading to shorter tempers, even less patience, and a steel-hearted empathy-less attitude I often cannot shake even around my kids.
Moms are exhausted. Not "need some self-care" exhausted (eye roll), or need a girls' weekend away exhausted. But mentally, physically, emotionally, and physiologically crumbling. And I am not sure there is a fix for this. Even with a helpful partner, the exhaustion is real and unending, and I can't even pretend to understand how single moms or flying-solo-for-an-extended-period-of-time military moms feel. Exhaustion just seems to be the cost of modern (pandemic) mom life.
We are exhausted because we parent as though we have no job, and work as if we have no children. Not because we want to, but because we have to. Few families these days without a dual-income can put food on the table in a safe home, regardless of all the "extras" they give up, the corners they cut to save, the second-hand shopping they do. Working leaves little time or energy for childrearing, yet what mother on the planet is going to say, "Sorry, I can't do virtual learning, watch you play outside, or feed you dinner, I need to spend an hour on self-care"? Not one.
So we bend over backward for our children, hoping to ensure they end up happy and successful, and we help them for hours with homework, online reading, or math assignments we don't understand. We spend precious time battling the system to get them the computer they need, the resource teacher they need, the support at school they have to have to move forward. We make phone calls to get that specialist, that doctor. We line up testing and therapy, speech, and PT. No one else is doing this. There's just us. There is no one else. And we will not shortchange our children, no matter what it costs us in physical or mental health.
Yes, there are choices we make — to sign up for extra activities (if we can afford them), to volunteer, to exercise, to spend lunch with friends. Some of those choices are for the betterment of our children; some of them help us save our sanity or health. But the stress that goes into the preparation of being absent for more than an hour sometimes isn't even worth it. Finding rides to youth group for the oldest, laying out soccer clothes for the other three, ensuring lunch is made, food is in the fridge, uniforms and leotards are clean for the next day, dinner is prepped, homework is done, nap blankets washed. Every second I choose or have to spend away from my children and the daily tasks that keep them prepared, clean, and fed takes unexpendable time away from accomplishing all of those things that have to be done. Most of the time, as badly as I need time "off," an hour out running is just not worth it.
And these are the daily tasks. On top of the daily tasks are things like making appointments for flu shots and teeth cleaning, ensuring their shoes still fit, their pajamas aren't too small, their bangs aren't down to their chin, the prescriptions are filled and refilled, forms are up to date for daycare, snacks are packed, they have a red shirt ready for Tuesday's theme day, crazy socks for Friday, a can of food for the drive, and birthday cards are bought. And then there is a pandemic layered on top of it for the foreseeable future. Do they have their mask/face shield/hand sanitizer? Do we need to send in wipes again? What time is their online class meeting? Did I upload their homework? It.is.never.ending. The minutia normal daily life demands of mothers are mind-blowing.
Don't have kids, you may be thinking, if you don't have kids. You're right, maybe I shouldn't have. But they're here now, I love them more than life itself, and — it's quite clear — more than I love myself. Because I will put their needs above my own until I put myself in a grave dug out of my own exhaustion. So your ridiculous advice is useless. I am not complaining, even if I had no idea what I was getting into when I decided I wanted children. I am employed, healthy, and my kids are in school — I am fortunate in many ways. But if that's the case, and I'm completely wiped out, God help us all.
No wonder moms are so exhausted.
They don't have a choice.