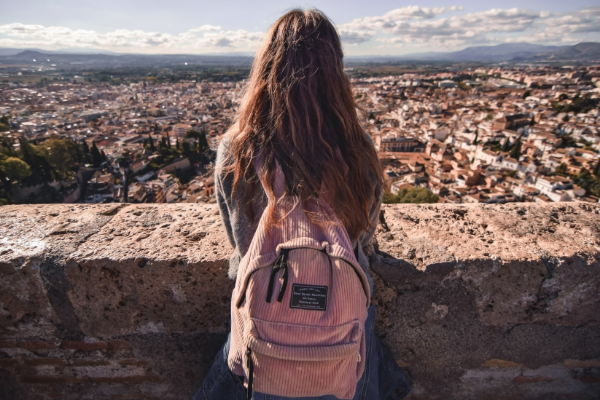 It was a few years ago when I read an article that broke my heart. Written by a social worker, it told the story of a young boy nicknamed Stephen, who made his way through foster care, hoping to be adopted. "Nine-year-old Stephen grips his report card in sweaty hands," she wrote. "And he wants to impress them, these strangers. He wants to win them over, and so he brings his good report card along as tangible proof that he is a child worth loving. A child should never have to prove they are worth loving." No one ever adopted him, though. And he ended up dead at 18.
The story stayed with me, and it ignited an idea: What if we took in one of these older kids, the ones no one wants? Most people, when they look to adopt, they don't want, say, a 15-year-old. They don't want teenagers who will be legal adults in just a few years, who might have problems and issues and baggage. And foster care has a negative connotation to it, even though it shouldn't. But these kids still need homes and families; they need people to love them their entire lives, to be their support systems, their soft place to land when they fall. Kids who age out of foster care are more likely to become homeless, struggle with finding and keeping a job, getting an education, or end up in prison. And there are countless kids out there, just hoping for someone to love them.
I talked to my husband about it. We already have kids, but he was open to the idea, and we figured we would wait until our kids were teenagers also, and then revisit it. We filed the idea away and left it alone… until our new daughter came into our lives.
My husband made friends while attending college, as one does. Many of them are fellow veterans. One of his friends has a younger half-sister he was taking care of after her parents had both passed away. She had been in and out of foster homes her entire life, as her parents were both addicted to drugs. But my husband's friend was struggling and couldn't do it anymore. He was talking about how he was going to send her back to foster care, and so my husband took a leap of faith. He called me and asked if I would be willing to take in this 12-year-old girl I had never met and knew nothing about. I hesitated for about a minute and told him I would be willing to consider it. That same night, they came over and I met my daughter for the first time. After that, it was done; we both were immediately protective over her and even though we knew we should take time to think about it, within a matter of days, we were arranging a home study and having emergency placement orders filed.
From there, things moved quickly. We had the home study, background check, and fingerprinting done within a week. We started visitations, first with her brother for a few hours at a time, and then overnight. My kids took to her immediately, especially one of my daughters. And by the time the school year was over, she had moved in — we received a court order granting us permanent custody, making us her legal guardians. She has to live with us for three months, and then we can begin adoption proceedings.
It hasn't been a perfect transition, of course. While she has fit into our family relatively well, there have been some small issues. She has seen and experienced awful things, including sexual abuse, and she is in counseling. She lies sometimes, occasionally tries to pit us against each other or another of our children, and she wants to continue living the same way she did before. She was allowed to watch horror movies, she had friends who were bad influences, and she wasn't much of a child anymore. We're trying to tamp down on some of those things, which of course means we're getting some resistance. She also doesn't entirely trust us yet, that we won't abandon her, which is more than understandable. But these are all things we expected, so while we're kind of fumbling around with how to handle them, we're not caught off guard by any of it.
The important thing is that we love our daughter, and she is our daughter. And I wish more people would consider opening their homes to preteens and teenagers like her. Whether it's through foster care or adoption, these kids need people to love them unconditionally. While private adoptions can cost tens of thousands of dollars, and take years, adopting through the state is fast, affordable, and provides healthcare and free college tuition to your future child. There are tax credits and financial support. But more importantly, you can make a difference in someone's life.
We didn't plan on adding to our family this quickly, but we're beyond grateful we did. As any parent of multiple children knows, love doesn't divide; it multiplies. And our love has multiplied yet again with the daughter we didn't even know we were missing.